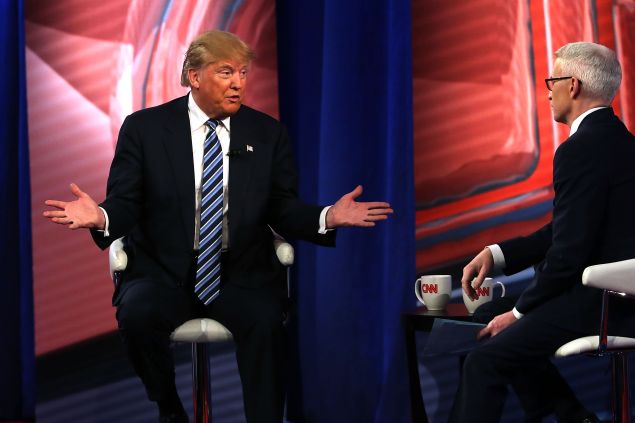 When time constraints force Rachel Maddow to get to the point of her stories quickly, she tells them well.
That was the fortunate circumstance on MSNBC Thursday night before Ms. Maddow showed a long, exclusive, recorded interview with Vice President Joe Biden before the Democratic town hall that her network carried from Las Vegas featuring presidential contenders Hillary Clinton and Bernie Sanders.
Instead of unfolding her story in slow-motion as she too often does, Ms. Maddow got straight to the point in the few minutes she had before showing the interview. She reported that Republican presidential contender Donald Trump got into a war of words Thursday with the Pope.
Yes, that Pope, the same Pope Francis who recently toured the United States to much acclaim. And Ms. Maddow skillfully used a brief clip of the Biden interview to illustrate the ludicrous level to which this campaign has sunk.
"As a Catholic and as an observer of 2016, what do you think of that?" Ms. Maddow asked the vice president.
Mr. Biden smiled and slowly raised his hands, palms up, as if weighing two alternatives.
"Pope Francis," Mr. Biden said, "Trump."
He smiled.
"That's not a hard call for me," Mr. Biden said. "It's not even close."
The Pope actually started it and his comments came out of the blue, literally. After saying Mass for the multitudes in Mexico at the U.S. border, he did a news conference on his flight back to Rome.
Someone asked him about Mr. Trump's plan to build a Great Wall on the southern border to keep Mexicans and others out of the United States.
"This man is not Christian if he has said things like that," the Pope said.
Mr. Trump warned the Pope that ISIS would love to capture the Vatican and said, if the Vatican was attacked, the Pope would wish Mr. Trump was President.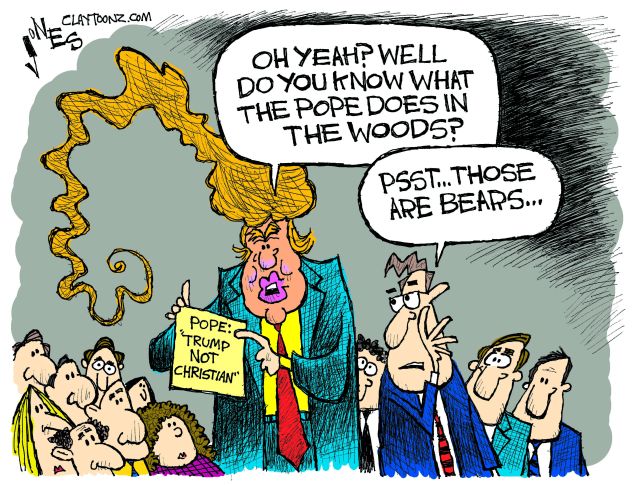 Earlier in the day, Mr. Trump responded by calling the Pope's comments "Ridiculous."
Was the Pope fair in what he said? Ms. Maddow asked Mr. Biden.
Mr. Biden paused.
"I am not a theologian, nor am I a priest or a minister," Mr. Biden said. "But I think building walls is fundamentally contrary to what made this country what it is. We're a pluralistic society . . . the idea of the United States erecting a wall for the world to see makes a lie of everything we say about ourselves."
Ms. Maddow came back on air live with a bemused look on her face. Mr. Biden also said he could see Mr. Trump winning the Republican nomination but not the White House.
"My God, this presidential race is weird," Ms. Maddow said. It resumes Saturday with the Republican primary in South Carolina and the Democratic caucuses in Nevada.
Mr. Biden's appearance also made a subtle but unspoken point: He's still around. He's not running to replace President Obama. But if Ms. Clinton and Mr. Sanders should both happen to falter and drop out later in the race for any reason, well, Mr. Biden looms in the wings as a possible replacement.
An attack ad from Jeb Bush supporters showed Mr. Trump as an ice sculpture, melting and dripping, breaking apart and falling down in pieces in a puddle.
The same goes for Paul Ryan, the Wisconsin Congressman who reluctantly agreed to be drafted to serve as Speaker of the House, currently second in line to the Presidency.
If Mr. Trump and Ted Cruz and other four should play out as damaged goods or unworthy candidates in this dirty brawl, the Republicans might seek at their convention a fresh, clean and young face. And, look! Mr. Ryan's standing there in the other wings—the right wings, to be precise—unblemished.
Mr. Biden and Mr. Ryan ran against each other four years ago. A rematch at the next level may sound far-fetched. But does it feel more realistic to imagine Donald Trump of Queens vs. Bernie Sanders of Brooklyn battling for the White House?
In a tape Ms. Maddow and others showed, Mr. Trump warned the Pope that ISIS would love to capture the Vatican and said, if the Vatican was attacked, the Pope would wish Mr. Trump was President.
"I will not allow Christianity to be consistently attacked and weakened," Mr. Trump vowed.
Other networks carried the story, of course, but Fox News Channel was the only one to shrug it off. During "Special Report" in the 6 p.m. hour, commentator Charles Krauthammer said:
"Trump did sort of jump the shark on this. You've got to wonder, after everybody he's taken on now, he takes on the Pope. Who's left? Is it the Big Guy upstairs?"
Mr. Trump is favored to win Saturday in a state that includes many evangelical Protestant voters. Therefore, Mr. Krauthammer said, the Pope fight won't hurt Mr. Trump there.
"South Carolina is not that friendly to Papists," Mr. Krauthammer said. "And the Pope is a Papist, apparently."
Mr. Krauthammer's eyes twinkled as if he found himself amusing. It was somewhat surprising to hear Mr. Krauthammer use such a word.
Perhaps some of his Catholic co-workers will mention to him that "Papist" is sometimes perceived as an anti-Catholic religious slur not usually used by refined people of any faith. In certain bars, it'll get your teeth knocked out.
It is rare to hear such a term from a man as sophisticated, learned and brilliant as Mr. Krauthammer. But, then, this is a rare campaign. Thursday's dizzying fare had also had a Republican town hall on CNN with Anderson Cooper.
After John Kasich and Jeb Bush took their turns, the finale featured Mr. Trump, who blamed the Mexican government for influencing the Pope and journalists for exaggerating what the Holy Father said.
In a later aside, Mr. Trump told Mr. Cooper that Ambassador to Japan, Caroline Kennedy, is among the "political hacks" who make bad trade deals.
"She doesn't even know," Mr. Trump said, referring to deals for automobiles.
Mr. Trump spoke in such extended streams of consciousness that Mr. Cooper had to let the show run four minutes past its scheduled conclusion of 11 p.m.
One of the South Carolina citizens, Oran Smith of the Palmetto Family Council, told Mr. Trump he was offended when his children heard what Mr. Trump said about former President George Bush.
"That stung me very deeply," the man told Mr. Trump. "Will you be willing to retract that?"
Although Mr. Trump did not call the man a loser or a weakling, he politely declined and moved on to other thoughts.
But Mr. Cooper pressed Mr. Trump to affirm or take back his comment that President Bush lied about weapons of mass destruction to push the U.S. into a quagmire of a war in Iraq in 2003. Mr. Trump didn't do either.
"That's all the time we have," Mr. Cooper said.
At about this time, on Fox, an attack ad from Jeb Bush supporters showed Mr. Trump as an ice sculpture, melting and dripping, breaking apart and falling down in pieces in a puddle.
"Look past the boasting and you'll see through him," a voice said as the camera peered through the ice sculpture. "If Trump wins, conservatives lose."
Disclosure: Donald Trump is the father-in-law of Jared Kushner, the publisher of Observer Media.