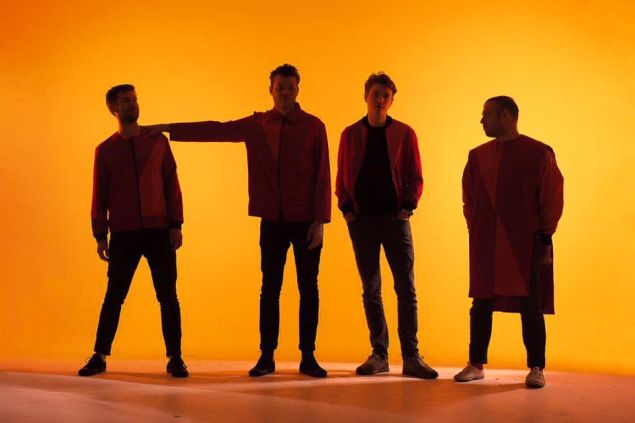 How to describe the music of Everything Everything in three words? "A bit bonkers" will do rather nicely. You can find evidence supporting this basic characterization pretty much anywhere on the British rock quartet's third album, Get to Heaven, which is just receiving its official U.S. release now, eight months after it came out in the U.K. and Europe. But one particularly fine example is the album's penultimate track, the slow-building "No Reptiles."
Over a robotic electro-drum pulse and eerie guitar/keyboard atmospherics, lead singer Jonathan Higgs spits out words—so fast that you need a lyric sheet to catch them all—in a piping one-note falsetto, like a choirboy Kanye. Confusing references to soft-boiled eggs and toad-in-the-hole are punctuated by the sinister clattering of a low-register piano that could have been flown in from an old Tears for Fears record.
READ THIS: The Songs and Shows You Can't Afford to Miss This Spring
Then, about a minute and a half in, the mood changes. The melody becomes slower and more sweeping, synthesized strings play regal chords, the volume gradually swells. We've reached the big sing-along moment. Except that this is what Higgs is singing, over and over: "Oh baby, it's all right/It's all right to feel like a fat child in a pushchair/Old enough to run/Old enough to fire a gun."
Certainly not the stuff of anthems. And yet, as the cycle repeats and repeats, with instruments getting louder and Higgs adding a sweet high harmony to his melody, something remarkable happens: The song simultaneously grows more comforting and more disturbing. Eventually, the words change and Higgs' voice takes on a tone of greater desperation. He's praying now, to find "the path that takes me home." What started out feeling more than a little ridiculous has turned into an abject tug at the heart.
[youtube https://www.youtube.com/watch?v=R2RR8kEv-Y8&w=560&h=315]
Wild emotional swings like this are a well-established Everything Everything trademark. In fact, you could argue they've actually toned down the bonkers over time.
Their debut, 2010's Man Alive, was a mad rush of ideas bouncing off each other, less an album than a melodic cyclotron, with lyrics to match. ("And it's mine, the fault, mine the dream, and the vein, home of whale-flesh, make soap out of it!" is just one rapid-fire line from the drolly titled "Qwerty Finger".) Realizing that such a no-holds-barred approach could lead to exhaustion as well as exhilaration, the band wisely smoothed things out on its second album, Arc (2013). Tracks like "Kemosabe" and the superb string-driven ballad "Duet" added accessibility to the music while maintaining its essential quirkiness and underlying sense of menace.
That mellowing trend continues on Get to Heaven, which was produced by Stuart Price, best known for the dance music he created in the 1990s under the moniker Les Rythmes Digitales as well as more recent collaborations with Madonna and Pet Shop Boys. It's an appropriate matchup; Everything Everything is grounded just as much in modern R&B, hip-hop, and EDM as it is in rock. On "Blast Doors", Higgs moves from an aggressive semi-rap to a falsetto freakout over supple drum 'n' bass-style backing.
[youtube https://www.youtube.com/watch?v=nph9IW5KGbc&w=560&h=315]
"Spring/Sun/Winter/Dread" floats graceful melodies reminiscent of Radiohead above a gritty, highly syncopated rhythm track worthy of Beyoncé. And "Distant Past" grafts a Brian Wilson fantasia of an intro—all "Be My Baby" drums, thundering bass, and huge reverb—onto a stripped-down, mechanistic verse that sounds like a product of Timbaland's studio, before bringing it all back home with a deliciously Duran Duran-esque refrain.
Lyrics are another matter entirely. Based on recent interviews, it appears that Jonathan Higgs spent much of the time between Arc and Get to Heaven watching TV news—in other words, paying attention to what most sensitive people these days would prefer to avoid. Not surprisingly, the words he's written for these songs are grim, often grotesquely so. Terrorist beheadings, viral epidemics and the corrosive rise of nationalism in Europe and elsewhere are all more or less clearly referenced here, along with the curious mixture of shock and apathy that many of us experience when confronted by such things. "A fat child in a pushchair" indeed.
HEAR THIS: Listen to Kendrick Lamar's New Record Right Now
But then there's that other line from the same song to reckon with, the one about "the path that takes me home," and the inner response that it triggers. Hope may be getting harder to find in 2016, but it's still there, in flashes that illuminate everything else. Get to Heaven's title track demonstrates this perfectly; in between couplets about tanks rolling by and bodies lying in the road, Higgs pauses to whistle a whimsical, infectious little tune. In dire circumstances, you take beauty where you can find it.
So yes, Everything Everything's music is a bit bonkers, but no more so than our everyday life. And it has one thing that our everyday life sorely lacks: catchy choruses.