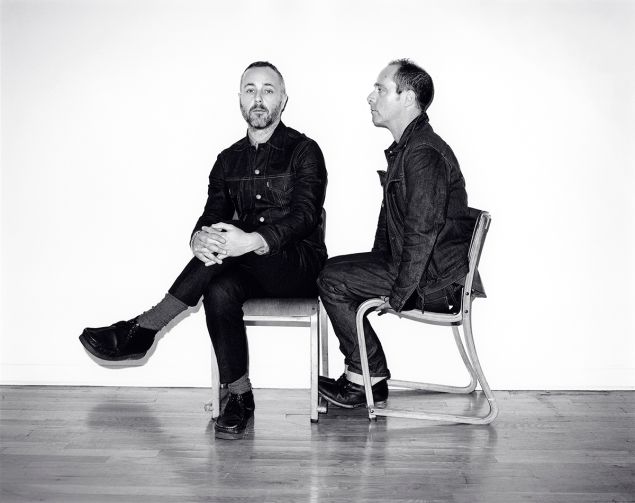 Duckie Brown is about questioning. In an hour and a half interview held a week before their Fall 2016 presentation, a lot of questions were raised. What is a fashion show? What does a man have to wear with a suit? Who are the real designers out there? For that latter question, Duckie Brown's Steven Cox continuously brings up fellow designers such as Christophe Lemaire. Attendees of their six look collection on Tuesday are likely to leave with the same questions or, newlyfound answers.
"When I see something happening everywhere, I run away from it," Mr. Cox said, seated in the brand's Chelsea design studio. "When I see some things that we've done for a long time…and suddenly everyone's doing it, or a big brand is doing it, I don't want to do it anymore."
For a decade Duckie Brown has been questioning gender. What constitutes menswear? What constitutes womenswear? In fact, back in 2009 when the brand did a short-lived commercial brand with Odin, Mr. Cox gave a quote that easily could have been served up by top designers in Europe this season. "What makes a fabric women's?" he asked New York Magazine. "You know, there is no penis or vagina in a fabric. Like, why is chiffon women's and why is it not men's? I don't know." Now, legacy brands such as Gucci have hopped on that train just as much as newer labels, including Gypsy Sport and the Concept Korea brand Ordinary People.
"We were suddenly on trend!" said Daniel Silver, Mr. Cox's partner in both life and business. So now, the Duckies are running.
The basis of this week's runway show is suiting. "I started with this sketch of a black suit," Mr. Cox said offering up a sketch of a fairly widely cut suit.
"You did? No you didn't. You had tons of sketches," Mr. Silver offered. The questions berun to roll.
What started as a multitude of sketches, were ultimately narrowed down to one black suit. That blueprint was excised into six looks of four different fabrics.  Editors will watch a black suit, a grey flannel suit, a navy peacoat and white shirting go down the runway. But, this number of models is actually more than the original vision had in mind.
"I had a dream six months ago about doing a runway show with three looks," Mr. Silver said.  "So the idea, originally, was to do three looks and then come out and explain to everyone why we are doing only three looks."
"Why can't you do a show with three looks? Isn't Duckie Brown about trying to reconfigure how things are done or said?" Indeed the brand is. In 2008 the brand inadvertently questioned what the color black was. Instead of showing black itself, the duo showed looks in the darkest version of different colors, which photographed as black. That season, a stylistic trick of showing a suit with technical outerwear was praised by press. The Duckies are revisiting that concept for this show.
The shirts of the range are not shirts; they are outerwear. Sure, they are made of shirting fabric, and yes they are white but these newfangled pieces bring new meaning to the "shacket" term, and visual interest to the capsule collection. "When a man wears a suit, why does he have to wear a white shirt under it?" Mr. Cox inquired. "Could he wear a piece of outerwear under it instead? Could that become a new shirt?" The pair hope that it will.
In addition to swapping out the shirts, the brand has played with the dimensions of the other pieces. Coat silhouettes are cut wide, sleeves, slightly short. The oversized, slightly masculine nature seem new to the naked eye, especially from a brand that showed a yellow organza coat last season, but Duckie Brown has always been steeped in menswear. The brand's creative directors helped usher Perry Ellis back into the fashion conversation with a collaborative line, prior to Michael Maccari being installed as creative director. They were also roped into a deal with Florsheim to give that band a cool factor.
But for now, it's just the two of them. Having let all of their interns, and even a longtime assistant go on to other projects, the two are solely working on their own brand (though Silver says every collection is ultimately a job application to design for other brands). "Right now, at this moment, the reason that we did this show of only six looks is to show people that we are small," Mr. Cox says, threading a needle. "It's just the two of us here, designing Duckie Brown; I'm only doing this to make one person happy and that's me."
But by show time, he could be questioning even that.