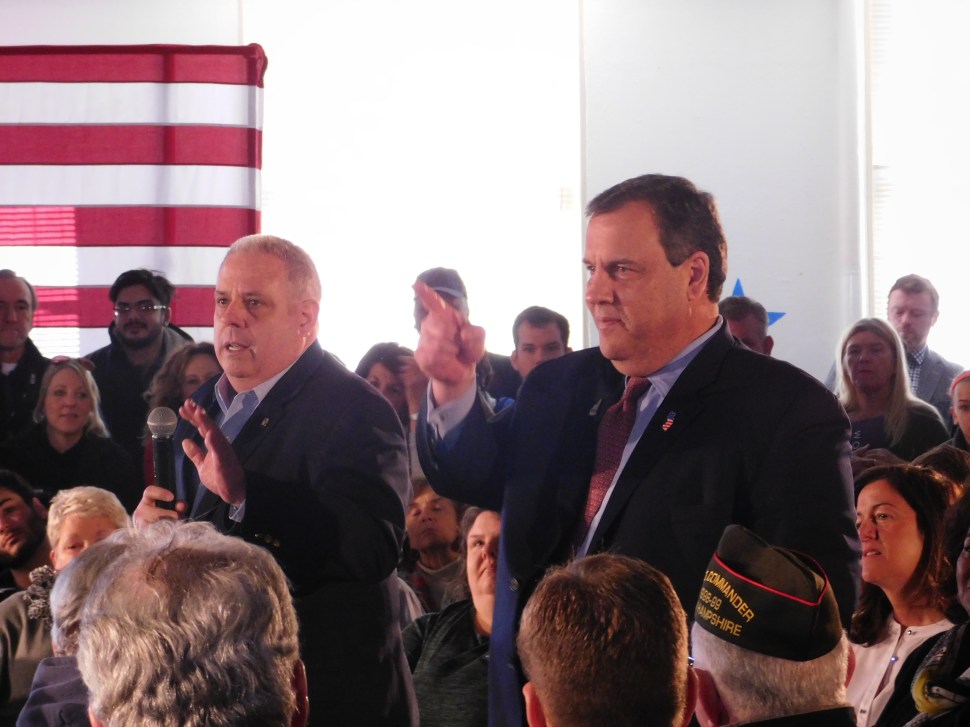 The voters of New Hampshire tonight evidently did to the campaign of Chris Christie what the governor of New Jersey did to Marco Rubio three nights ago: they unhorsed him, mauled him, and all but dragged him through the snow and slush filled streets.
But Christie sought to prove that he can reanimate, even if going forward he can't justify to the establishment that he should be a presidential candidate.
As recently as a few hours ago, Christie was bragging about how he, not crankily mild-mannered Ohio Governor John Kasich, ruled the New Hampshire town hall circuit. Christie technically did, in terms of holding the most of them, and spending the most time away from the state he was sworn to govern.
Yet the idea was to use those events to win this election, or at least nab second or third, not go face down in a snow mound, which is what happened to the presidential apparatus of Governor Christie in this state he said he would dominate.
Christie tanked in Iowa last week, but he was supposed to, he reminded reporters once the buses pushed eastward for fulltime NH duty. The combative Republican hadn't spent nearly the time in Iowa as he had in New Hampshire. In New Hampshire, he swore, he had a feeling. He had, after all, done the work. Pounded on the doors. Connected.
In the end that "feeling" translated into an unraveling campaign as Florida Senator Marco Rubio used his third place finish in Iowa to build momentum over the first half of the past week into New Hampshire. This was Rubio, who had stepped on Jeb Bush to climb into the public eye of this presidential campaign cycle.
Done in the polls, and with Bush and Kasich finding the pulses of their respective campaigns coming alive in the Granite State, Christie at Saturday night's debate went into high octane attack mode and bludgeoned Rubio as not ready for prime time.
Governors run things.
Presidents run things.
First-term senators like Rubio and former Illinoisan Barack Obama don't run things.
"Don't make the same mistake twice," Christie warned New Hampshire voters, a reference to Rubio's resume likeness to that of Democrat Obama.
He had spent most of this campaign focusing his prosecutorial ire on Obama and Hillary Clinton.
For five eviscerating minutes he trained his sites on Rubio.
The attack worked, stopping Rubio in his tracks, but ultimately it simply made Christie the guy in the WWII battalion who falls on a grenade, in this case a grenade engraved with the initials MR, which at the very least as late as Saturday had threatened to detonate the campaign of establishment darling Bush.
Right now, with just under 40% of the vote in, Christie is in sixth place, a few thousand votes shy of Rubio.
Trump.
Kasich.
Cruz.
Bush.
Rubio (threatening Bush).
Christie (not appearing to threaten Rubio).
Fiorina.
Carson.
If Bush can't really rationalize new life as a fourth place finisher in NH – if that's how it eventually goes down – cage fighter Christie keeps intact his reasserted loyalty to the Bushes and the establishment, which tonight appeared in a position to consider Kasich as a real candidate going forward if Bush can't summon traction elsewhere.
Enough of a champ to merit an endorsement by Christie?
"We wouldn't even know who Christie was absent the Bush family," a NJ GOP source told PolitickerNJ prior to the results pouring in tonight. "Now…if Bush craters in NH and Kasich finishes strong second to Trump…maybe he goes Kasich, but Bush will get a long leash from Christie." 
If he couldn't overcome Bridgegate, the economic downturn of New Jersey and the presence in the contest of other governors with better records than he and Trump, who played the bully louder and more outrageously than Christie, the New Jersey governor can do better for either Kasich or Bush than fellow rustbelt Republican Rick Santorum did for Rubio.
Christie strove to prove his worth on Saturday.
Even if handed an ugly loss like the one that went down for him tonight in New Hampshire, Christie the political survivor will never settle for being irrelevant. He's too smart and too instinctive and too compulsive a political player. He refuses to be ashamed or embarrassed. Getting vaporized like Martin O'Malley or Rand Paul or Lindsay Graham, with no stinging soundbite to sear into the public consciousness as he heads for the exits – that would have been embarrassing.
Candidacy over, he showed under the bright lights of politics the very pluck that maybe Kasich – and certainly Bush – lack.
As it turned out, Rubio – with 75% of the vote tallied – would do far better than Christie in placing fifth and evidently within striking distance of Bush.
The race is a mess.
Sources told PolitickerNJ today that NJ Republicans are poised to zigzag in different directions once their largely absentee governor leaves the contest and considers whom to stump for and how in the coming weeks and months of a national-sized GOP war.
But New Jersey doesn't matter anyway in this process, or if it does it will be at the tail end of a long war of attrition.
New Jersey?
Where's that?
If he can't be the candidate, Christie can prosecute on behalf of the candidate in the center of a national three-ring circus, he argued.
Those Republican politics will play out far from Jersey – again – an embattled home state that Christie put on the side for a presidential bid that went bust tonight as going forward he seeks a servicable role of resident big stage bomb thrower.
What must stand forth over everything, however, is Trump's big win tonight, and within that context the possibility that by tomahawking Rubio, Christie simply damaged the establishment's best shot at stopping the billionaire real estate tycoon with their single most intriguing weapon.
Maybe at the end of it Christie simply breathed life into candidacies already past dying on the beach, and hastened the addition to that group the one young and vibrant man who might have united them.