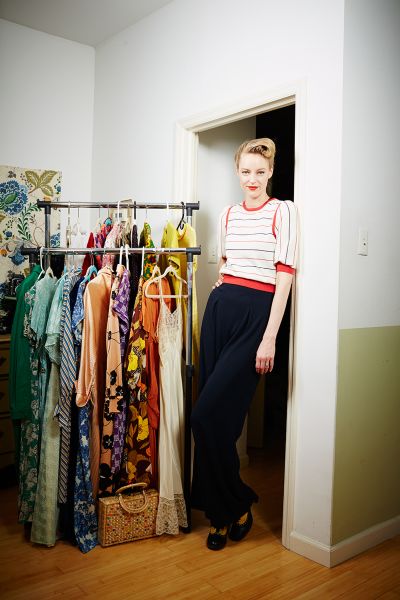 Walking into the Manhattan Vintage Clothing Show, a bazaar of more than 80 vendors held in the cavernous Metropolitan Pavillion on a cold February Friday afternoon, felt like traveling back in time. Maybe it was the David Bowie tribute that greeted perusers as they entered: Ziggy Stardust-era Bowie figures draped in the legendary singer's iconic apparel—including an off-the shoulder Japanese dragon ship top and a ripped wool sweater by Kansai Yamamoto, a rainbow-colored Technicolor robe from the Aladdin Sane period, and a feathered "third eye" headpiece—curated by Boardwalk Empire's costume designer Lisa Padovani. Maybe it was all the Bakelite, bell-bottoms and high-wasted rompers. Or maybe it was the posters for this year's exhibit, titled "New York, 1979," taken by former model-turned-blogger-slash-photographer Laura Okita, of PaperMothballVintage.com, which drew inspiration from the extraordinary second season of FX's show Fargo.
Set in 1979, when Ronald Reagan was still campaigning around Luverne, MN, and South Dakota, Fargo was steeped in iconic Americana: whether it was the soundtrack (which included DEVO's "Too Much Paranoia," Billy Thorpe's "Children of the Sun" and a brilliant use of Black Sabbath's "War Pigs" in the finale), the mise-en-scène (juxtaposing bland wood paneling and stacks of old Life magazines with a climate of dread, post-Vietnam PTSD and literal aliens) or the outfits. Oh, the outfits. Behind Kirsten Dunst's culottes pant-suit and red beret, Jean Smart's Crimplene sweaters and polyester pants, Jesse Plemons' corduroy car coat, and Rachel Keller's array of fringed cowboy jackets, shearling fur coats, high-wasted pants and halters (paired with bold bolts of blue eye shadow), was costume designer Carol Case, who obviously had a field day assembling the various ensembles for the mini-series.
"I was just obsessed with the show," Ms. Okita, a tall, leggy blonde who often gets confused for one of her models, told me over green tea in her East Williamsburg apartment. "I was thinking about vintage inspiration and it was just perfect. Especially because the '70s are having a moment right now."
Ms. Okita, 32, spent her formative years in the fashion industry on the other side of the camera, modeling internationally before finally settling down in New York. One of her earliest jobs, she told me, was working reception at the Gramercy Park Hotel, where she would frequently see celebrities…including Fargo's Kirsten Dunst.
Using skills she picked up from almost two decades of modeling, Ms. Okita quickly learned how to become an ace photographer and clothing curator. "I will direct people from time to time, things [models] should know like how your arm shouldn't be sticking out, or putting your chin up and finding the light. But for the most part I like to let models be themselves." So invested is she in making her models comfortable that Ms. Okita will frequently don (or not don) similar attire while shooting them. "If they're outside without a coat on, I don't wear my coat. Because I want to understand how they feel, how cold they are. I want to know they are taking a water break. I want to make sure they are eating their snacks…whatever they need. I try to take care of them, because I understand how hard the poses are, how your body gets sore, how you get tired. I try to be on the same plane as them."
"In modeling, so often you get treated like a mannequin, or like a product, and I think a lot of models that I work with say they love working with me because I know how they feel."
As she's moved away from the world of street fashion and turned her eye to more editorialized shoots that tell a story, Ms. Okita looks to other eras as inspiration. "I had always focused on the '20s to '40s when blogging, but Fargo really inspired me to expand into more '70s," she said. Her favorite outfits from the season include Ms. Dunst's pink shirt and culotte set, paired with pink glasses and a pink barrette; Ms. Smart's "gorgeous" red turtleneck and coat in the season finale along with Bokeem Woodbine's purple suit and bolero tie. But, like myself, she was most obsessed with Ms. Keller's character Simone Gerhardt, one of the younger members of the South Dakota crime dynasty.
"[Keller's wardrobe was] fun and playful and her hair was always fantastic. Most of all I loved the blue eye shadow." For the shoot, Ms. Okita roped in her husband, Yusuke Okita, a professional hair and makeup artist, to perfect the look on model Lucy Ageeva.
When asked about the Manhattan Vintage Clothing Show, which she has attended for the last several years, Ms. Okita gushed: "It's so amazing. It has everything. It has men's clothes, it has fabrics, it has tons of jewelry and accessories. It even has a food and drink section. Amarcord vintage always has a really nice selection, some of my favorites, the jewelry is always in the back corner, and there's always tables of Bakelite and bangles."
Taking her note, I spent Friday with my sister and an actor friend, perusing the stalls from sellers with design-inspired names like Kitsch N' Wear, Miss Kitty's Litter Box, Bohemian Royalty, Fool's Gold, Gallery of Wearable Art, Recursive Chic, Antique Wardrobe, The American Vernacular, Incogneeto, Jae Jarrell Fem Chic and Paradox Designs NYC. My sister got a Twister-inspired sequined mini-dress by Jenna Benjamin, while my friend acquired a 1970s disco shirt in brown nylon knit with multicolored geometrical print from Rue St. Denis.
I didn't find anything for myself (that was in my price range, anyway), though there was a darling Camel cigarette jean jacket that I lusted over and considered buying before seeing the $350 price tag. I kept coming back to the denim item though, and maybe for a moment actually tried to find my wallet, before remembering Ms. Okita's cautionary tale.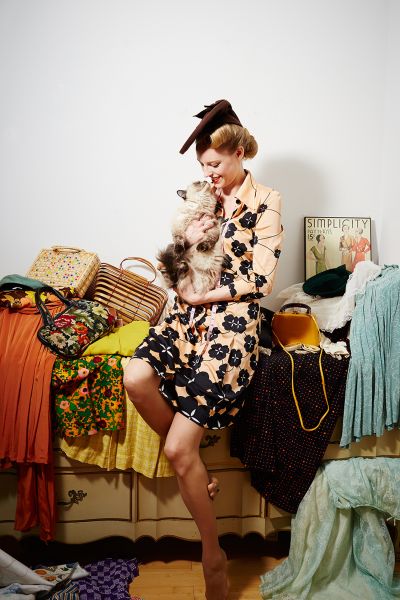 "I have one piece now, it's from Amarcord Vintage, it's a Thierry Mugler," she had told me. I must have looked lost, since she then described for me the '90s French designer famed for his corsets and silhouettes, featuring huge shoulders and angled shapes. "It's this green piece that I've been dying to shoot, but it has to be the right hair and makeup and the right moment."
Ms. Okita sighed. "It's such a special piece, I've been saving it for two years."
Two years? I put the Camel jacket back. If it had taken over three decades for an item to go from trendy to retro, I didn't see what another 24 months could add to the experience of ownership. (Though I did make a note to dig up all my old Skidz, Zubaz and Hypercolor tees from my mother's basement to see what I could get for them on Ebay.)
My final question for Ms. Okita involved what outfits she'd most like to shoot or see make a comeback. "When we go to Japan, I love to shoot kimonos," she told me, before admitting that her mother-in-law isn't such a fan. "In Japan they believe that used or vintage kimonos are kind of really dirty and almost like…possessed. I brought this vintage kimono home to shoot and his mom was like, 'No! No! No!' "
As for comeback clothing?
"I saw a piece about cowboy boots coming back. I have a couple pairs in storage, and I've been dying to break them out."
To which I say: Get in line. I've got some L.A. Lites high tops that need to be unloaded first. As far as I know, they still light up. ν