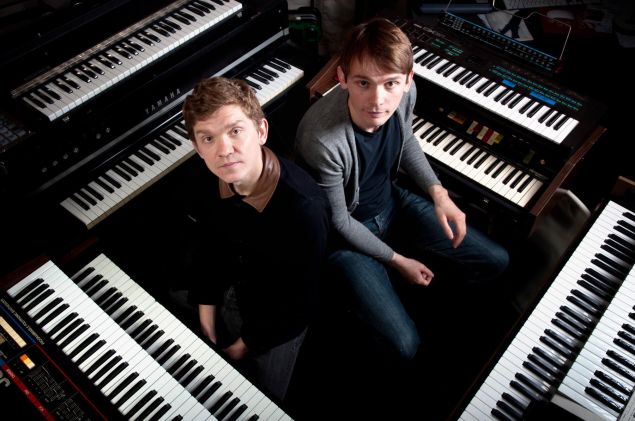 If someone whom many people regard as an absolute genius of late 20th-century popular music were to go on Twitter and post a link to your song, you'd be thrilled, right? That depends. When Prince tweeted "The Noisy Days Are Over," the bouncy first single from Field Music's latest album, Commontime, back in November, he did so without further comment. And that worried the members of Field Music. This is, after all, Prince we're talking about, a man of, shall we say, mercurial character.
"That was a very strange experience," says David Brewis, who, with his older brother Peter, has formed the creative prog-pop core of Field Music since its formation 12 years ago in the northeastern English city of Sunderland. "We were concerned that the reason he tweeted it wasn't because he liked it."
'We haven't offended Prince, and that is important to me.'
Why did they think that? "Well," Brewis says a tad sheepishly via FaceTime from the U.K., "the way we've arranged the horns and the way the outro develops are definitely a nod to two or three tracks on [Prince's 1986 album] Parade. We thought of it as an homage rather than a lift, but…maybe he thought we'd ripped him off once too often."
No harm done, though, or at least so it appears. Shortly after the tweet, Brewis listed and discussed his five favorite Prince songs in a blog post for The Guardian. Another tweet from the Purple One soon followed, linking to that post, again without comment. The exchange—if you want to call it that—was enough to lift Brewis' mood considerably. "He wouldn't have done that second one if he'd been angry. We haven't offended Prince," he laughs, "and that is important to me."
[youtube https://www.youtube.com/watch?v=7FGPDau_QwA&w=560&h=315]
Perhaps some artistic oversensitivity was in play here. Truth be told, it's hard to imagine how "The Noisy Days Are Over" could possibly have offended the President of Paisley Park, and quite easy to hear why he might like it a lot. Stylistic homages aside (and they are no more than that), it has a great loping mid-tempo beat propelled by an insistent bass line with an irresistible downward swoop at its center. The lyrics are clever, too, a tongue-in-cheek set of pointers on coping with the onset of middle age. "Don't forget your name," Peter Brewis sings at one point, to which a multi-voice chorus adds: "Or where you live." There's a winning breeziness to the song that makes it feel much shorter than its 6:30 running time would suggest.
This certainly isn't the first time in Field Music's five-album catalog (augmented substantially by both brothers' side projects, including Peter's the Week that Was and David's School of Language) that the band has stuck with one danceable groove for a track's full duration. But there are more examples of that tactic on Commontime than on any of their previous releases. As in the past, the funkiest songs most often feature the younger of the Brewises; David's "Disappointed" and "Don't You Want to Know?" bear the faint aura of vintage Jimmy Jam/Terry Lewis and Nile Rodgers productions.
"That's been a longer-standing thing for me than it has been for Peter," he tells the Observer. "When it comes to conceptual frameworks, Peter's usually more on the ball than me, but when it comes to writing a song that kind of does one thing through the whole track, that tends to be more my area. It's probably because I'm more of a Prince fan than Peter is."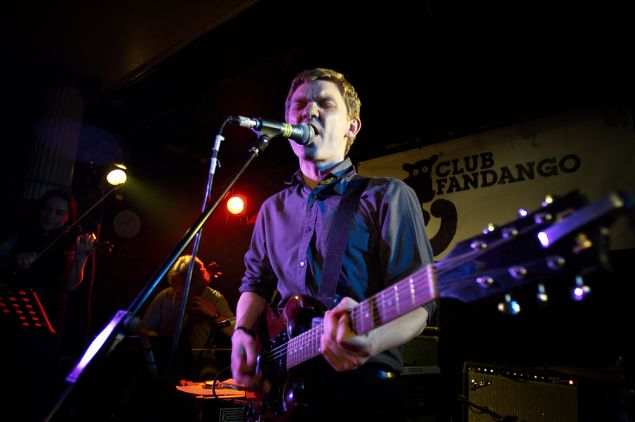 Still, "Noisy Days" is a Peter composition. And even Commontime's non-funky tracks are less overtly complex than much of Field Music's earlier work, especially 2012's Plumb, which consisted in large part of fragments within fragments, changing mood and tempo with alarming frequency. What changed?
"One thing that's tricky with what Field Music have done, where you never repeat anything, is that you can't sustain a mood across a record," Brewis explains. "With the new record, though, there was this conscious desire to embrace…proper songs?" He pauses uncertainly, as if this might have been too bold a statement, then adds with more confidence, "To a degree. For us, that's an interesting experiment: 'Let's see if we can make a real song, the kind that's three and a half minutes with a chorus that repeats three times.'"
As is so often the case in philosophical turnabouts, a child was involved in this one: Peter's son, who at the tender age of 3 has already commandeered the family car radio. "He only wants to listen to things that have been U.S. No. 1s," Peter says with bemusement. "He'll quite happily listen to 'Another One Bites the Dust' 20 times in a row." But that's not necessarily a bad thing—especially since the little guy's playlist also includes hits by Daryl Hall and John Oates, with whom both Brewis brothers have become infatuated.
"We listen to Hall & Oates and just drool over how smooth and perfect the backing vocals are," David says. "Me and Peter always have had upfront backing vocals on our records, which not many contemporary bands do, but to embrace it consciously probably does come from Hall & Oates. There's also a sense of letting rip a little bit with the lead vocals, which we're generally too English and embarrassed to do. But Daryl does it O.K., so if Daryl does it, then maybe we can give it a go."
In support of Commontime, Field Music will be undertaking its first American tour since 2010. Among the scheduled dates is a March 26 appearance at Rough Trade in Williamsburg. Brewis admits that getting those onstage backing vocals as smooth as Daryl and John's won't be easy. "We always know we'll have to rearrange everything when we play live," he says. "But it's all fine. We'll figure it out. It's going to sound like us no matter what we do. It always does."