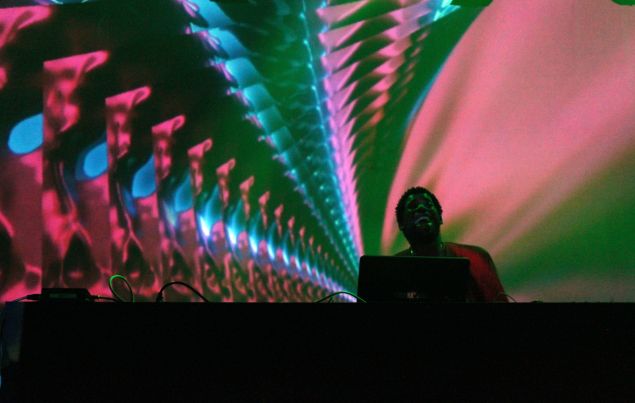 Despite his panoply of astral-projected visuals and stellar on-point remixes that lucidly hop from one thought to another with the celestial ease of his free-jazz forefathers, it was the moments when Flying Lotus talked to the crowd that truly illuminated his desires at Music Hall of Williamsburg on Friday night.
"You know, I usually don't follow the Ticketmaster thing," the man born Steven Ellison said, "but I heard you sold this out in five minutes? That shit is tight! We're growing in 2016."
Where most electronic artists who lean toward hip-hop would boast of such a quick sell-out to stroke their egos, Flylo's concern for our communal and collective growth shows us his third eye remains honed on our culture at large. It's not flighty to take his affirmation of growth into the metaphysical space, either—the great-nephew of Alice Coltrane has not only cultivated a discography of otherworldly music that looks upward to the spheres in the sky, but he's fashioned his record label Brainfeeder around musicians who seek similar answers as to what we mean in the grand scheme of things, too.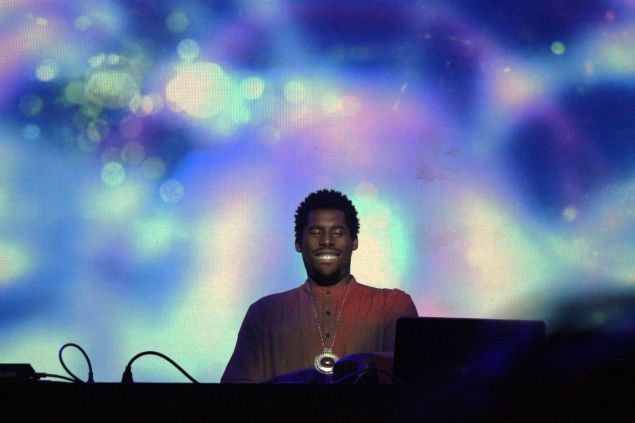 If Flying Lotus' prophecy of spiritual growth begins with an individual before expanding to a collective consciousness, his co-headlining this concert with producer Jon Hopkins made perfect sense—the night was a benefit for the David Lynch Foundation, which teaches the practice of Transcendental Meditation to at-risk populations. TM seeks to eradicate toxic stress and anger through meditation, and the idea of teaching this practice to those who cannot afford it seems inherently well-intentioned.
TM is a closed community and membership doesn't come cheap, but the difference between TM and other vaguely spiritual practices that claim to promote healing is that the TM community wants to share its methods with the poor, the unfortunate and the at-risk. It's a far cry from the initial claims levied against TM founder and guru Maharishi Mahesh Yogi, who helped the Beatles be weird and was often accused of creating TM to get rich. TM may be one of the new hot practices among the enlightened upper-crusters, but that doesn't discredit the positive effect it has had on countless people who seem to be tripping on bliss after practicing it.
Read Also: How J Dilla Wrote the Future With 'Donuts'
When Flylo commented on how high the energy was at the music hall, it was not the standard boast of crowd agitation, either. "I thank you for making me feel welcome in such a scary-ass city," he said through a grin. "And I wish David was here, but he's off filming Twin Peaks."
The imminent return of Mr. Lynch's cult classic Twin Peaks brings to mind his distinctive of non-linear narrative storytelling, prominent in all of his films, but perhaps most familiar to mainstream audiences through that television show's hero, FBI Special Agent Dale Cooper. Over the course of the show, Dale Cooper manages to solve the murder of Laura Palmer by going deep inside his own thoughts and dreams, even going so far as to receive the ancient Native American energies that emanate from the earth in the small Washington town of Twin Peaks.
In this style of storytelling, more akin to a vision quest, images are seen but not often initially understood. Symbols and signs that Mr. Lynch deems relevant are given pause, and as such, rendered significant. Meanwhile, the audience is encouraged to enter into a similar state of free-association with the auteur, a state of clarity that eventually, hopefully evokes profound epiphanies.
Flylo's style lends his work to best be understood through a similar frame, although to what extent TM informs him creatively is still not on record. Consider his remixes at Friday's benefit, particularly his re-workings of the songs he produced on Kendrick Lamar's To Pimp a Butterfly. Opening track "Wesley's Theory," which features a shamanistic invocation from funk deity George Clinton, was chopped and screwed into a buoyant, popping call-and response with the crowd. At one point, Flylo faded his good friend Thundercat's  baseline out of the mix and brought in what we can assume was their sonic inspiration on "Wesley's," George Clinton's 1979 Funkadelic classic "Not Just Knee Deep".
Weaving that tune into his Kendrick production not only demonstrates Flylo's virtuosity, but the deft subtlety of an artist's hand—by surgically re-contextualizing Mr. Clinton's classic alongside this new classic that Mr. Clinton happened to inspire, Flylo demonstrated a skill like Mr. Lynch— the ability to weave past memory and create meaning in our public consciousness. How else could he repurpose the Band-Aid jingle and the Psycho theme into musical suites of sweeping catharsis?
When you look at TM's larger goals to eradicate suffering and pain through meditation, a deeper connection emerges between the practice and Flylo's work. His 2014 opus You're Dead! plays out as an electro-jazz masterwork that laughs at the face of death in all its forms. Most immediately, the album is a trippy exploration of the "death is not the end" maxim, recalling the only psychedelic chemical our body naturally produces.
Dimethyltryptamine, or DMT, is a powerful chemical that has helped countless people overcome addiction, depression and repeated misfortune by showing them visions of a non-dogmatic celestial sentience. It's naturally produced by our brain's pineal gland at two points in our lives—when we're born and when we die. The chemical literally brings our minds in and out of consciousness. Meditation teaches that one can achieve a state of bliss and enlightenment if they focus for long enough in the correct way, and many scholars have surmised that such deep thinking actually stirs the pineal gland to secrete DMT at will. No wonder René Descartes, the father of Western philosophy, called the pineal gland "the seat of the soul."
On the instrumental track "Turtles" Flylo sees the same "turtles all the way down" that alt-country star Sturgill Simpson sings about on his DMT referencing tune of the same name. In each instance, the turtles carry some heady wisdom on their backs.
Now before you go writing this deviation off as drug advocacy, consider the idea that whether pharmacological, spiritual or technological, the end-game of Flying Lotus' music and visuals, of TM's focused meditation, and of DMT's veil-lifting visions is the same—they put us in states of reception and openness, they allow us to look at things from a wide-angled lens. So when Flylo samples The Beastie Boys' "Intergalactic" and some more modern tune with lyrics about a "faux-enlightened drawl," there is a deeper magic on display.
Much of that magic appears to be deliberately conjured by Flylo, who honors several American black musical traditions, be it by sampling poly-rhythmic snare hits and skronking saxophones in homage to the free-jazz of his Great Aunt Alice Coltrane or conjuring the slinky grooves of Funkadelic. When Flylo ends the set with the exuberant You're Dead! track "Never Stop Me," the guest verses from Kendrick Lamar reflect on folding that cosmic omnipresence into the black American experience, wishing the same sort of perspective on communities at large. "Step inside of my mind and you'll find curiosity, animosity, high philosophy, hyper prophesied meditation," raps Kendrick. Whether taken as a simple call for self-reflection or interpreted as a plea for correcting oneself through guided meditation, it's a stunning, apropos rendition to close on.
London producer Jon Hopkins opened the evening with his slow, swelling grooves, the perfect counter to Flylo's portal-jumping, time-warping cosmic exuberance. Wheras Flylo's music is a manic secretion of bliss, Mr. Hopkins' tracks take their time before cresting into epiphany, each one no less profound but more composed into a self-contained climax. Hearing how Mr. Hopkins, who has recorded with Coldplay, Imogen Heap and Brian Eno, builds harmonies that layer into heavenly drones, you can't help but feel that his music might have been composed as a soundtrack to TM. His is a dancier, groovier, more compositionally impressive evolution of all that shitty New Age music your Aunt listens to.
Deftly weaving in tunes off of his awesome 2013 album Immunity, itself a single connected piece of music, Mr. Hopkins slows and stretches the melodies we know into some generally heady alien prayer music that might play best were it sound-tracking the Aurora Borealis.
David Wexler of Strangeloop Studios, who has served as Flying Lotus' visuals for the last 10 years, brought out a pared down version of the images projected onto Flylo's 3-D cube from the You're Dead! tour for the benefit. For Jon Hopkins' set he focused on images capturing sacred geometry, the mentality that ascribes meaning to certain symmetrical shapes and patterns as putting one more closely in touch with god. This manifested behind Mr. Hopkins as patterns in cacti, molecular structures, Fibonacci spirals and cartoon monks. Like the sound of Mr. Hopkins unlocking the door to his studio that opens Immunity, Mr. Wexler's most sustained visual narrative shows some ancient, important-looking stone door opening to Mr. Hopkins' rhythms. And like Flylo's set later that evening, several of the human figures manifesting as visuals touch their foreheads, precisely in the center spot where one would find the pineal gland.
Some say that if you sit with yourself for long enough and meditate really hard, bliss finds you. As the scientific community works toward understanding the reason why this might be, skeptics ought to take note—Mr. Hopkins and Flying Lotus may have already found the answer.