Imagine how great life can be with unlimited free flights on private jets. Now picture a membership program that's designed to make flying private accessible to the 1% – not the uber-privileged .01% – This is JetSmarter.
After downloading the app on iOS or Android, anyone can charter a jet within a few hours of departure. For the frequent flyer in need of a way to fly private, membership is priced at about $1,000 per month for the first year.
Among JetSmarter's features is a JetShuttle where select routes including New York to Miami, Chicago or LA allow members to share a chartered aircraft at no additional charge. Via the JetShuttle, travelers are given the opportunity to book single-seats on already scheduled private jet flights between cities.
Noah Traisman, who splits his time between West Hollywood and the West Village in New York City said, "JetSmarter has allowed me to be truly bicoastal without the cost and inconvenience of commercial flying."
"JetSmarter has allowed me to be truly bicoastal without the cost and inconvenience of commercial flying."
Noah travels to-and-from the coasts three to five times a month. "The biggest difference has been the comfort and convenience of flying private," he said. "I save almost 40 hours a month by avoiding commercial airports, which adds almost a full business week of productivity. Not to mention I am able to relax, decompress, or catch up on sleep, all while en route to my destination so I arrive well rested and ready for whatever lies ahead."
Members receive access to unlimited seats on JetShuttle routes and free empty legs via the app's JetDeals (the whole jet). There is also the option to create your own JetShuttle (a shared aircraft charter where the cost of a flight is split amongst travelers who seek the same itinerary).
Flights offer free helicopter transfers – and allow travelers to avoid hours of TSA lines, lost baggage and more.
JetSmarter is the brainchild of CEO Sergey Petrossov, who founded the company in 2012. Today, JetSmarter has five offices globally and arranges flights within 170 different countries.
View the JetSmarter video to learn more:
https://www.youtube.com/watch?v=x9c1XgeopW4
The company has new planes and innovative app technology which connects people with private jets without owning or operating the aircrafts — much like popular app car services. Think booking private flights with the tap of a button, and receiving around the clock in-app support by aviation experts and a personal concierge team.
German Yakubov of Philadelphia said JetSmarter makes flying a breeze. "I don't have to wait in lines, if I'm running late, I can place a call and the JetSmarter team will hold the plane for me." But, it's not just the convenience he appreciates. "The biggest underrated aspect of the service is the members that you fly with. I have made some lifelong friends on these flights. From flying together with JetSmarter, we go out together, we make money together and we share stories— Relationships are forged that aren't typically, when you travel commercial."
The technology-forward company offers 4,000 free flights each month to its members with access to flights daily. Join the leading private air travel company at jetsmarter.com and download the app today.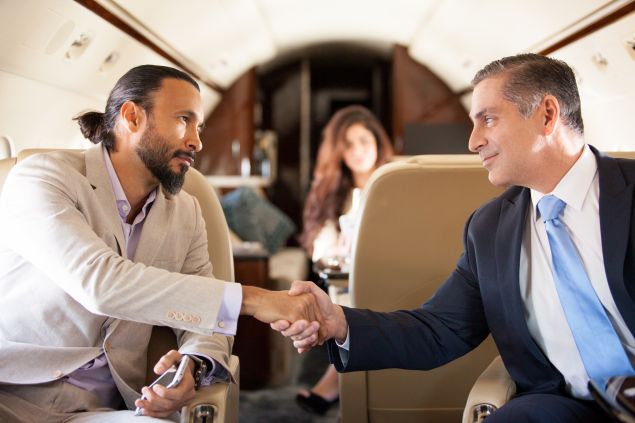 Observer Content Studio is a one-stop, full-service, in-house creative agency connecting brands to a national, affluent audience. Our team of dedicated Content Studio editors flex proven expertise in tailored, multimedia storytelling, developing sponsored articles, videos, interactive ad units, social media campaigns, events and more. The end result? Deeply compelling custom content that resonates with readers who matter. For more information, contact sales@observer.com