While everyone knows the big-name designers who show at New York Fashion Week and the top models who canoodle and collect millions of Instagram followers, few outside of the true fashion set are aware of what's happening behind the scenes. These jobs aren't advertised on LinkedIn; they're obtained through New York's original networking platform—word-of-mouth. The Observer chatted with the brightest minds behind the scenes to discover the details.
When did you know you wanted to be a print designer? I came up straight out of the womb with a paintbrush in my hand. That's what my parents always say. I went to art school, and then at 20 I started my first real business. I had an internship at Kenneth Cole, and somebody knew someone at Donna Karan. I eventually got a meeting with the creative director, Bonnie Young at the time, who bought three prints on the spot.
What's different about your studio? The handmade mark is so sacred to me because so much of this industry has gone toward fast, cheap, easy production. A lot of the other print studios are taking some shape that they made on Adobe Illustrator, and they're putting filters on it—or they take something they found on Google and stretch it out in Photoshop…That's against my belief system when it comes to art because I'm a fine artist, too. Everything goes through my hands. I color correct everything. I adjust colors on everything. I approve everything.
Who are some of your clients? Oscar de la Renta, Etro, Sachin + Babi and Jonathan Simkhai.
Why is it important to make prints by hand? There's something so special about a line or a brush stroke when it's going to be done by the hand of an artist as opposed to when it's done by an algorithm on a computer program trying to imitate a brush stroke. The ink can bleed in a certain way in real life by hand that can not happen on the computer.
What inspires your creative process? I feel like the Contemporary art world tends to be one step ahead of fashion in regards to what's fresh, what's new and what's cool…what's exciting, inspiring and relevant.
Romney Jacob, WGSN Trend Forecaster 
How did your career in fashion begin? I started at Style.com, where I managed trend reporting as the fashion features editor. It was the evolution of trend that was most interesting to me, so I pivoted and started working in trend forecasting.
What does your job entail? My position is director of WGSN's mindset, which is the consulting division within WGSN. We have our amazing team of content editors, who are super-specialized in different areas, whether it's denim or the China market, or the youth market. I take all of that information, and I work on special projects for our retail clients. My role is essentially creating the link between this amazing, forward-thinking information you see on WGSN's website and retail clients.
How do you predict and share trends? We take a trend, and we present it to a retailer. We will start with the WGSN trend information, but then we'll pull in all kinds of analysis and imagery to show how this trend can work for them. We work two to three years out, linking trends into four clear directions for an upcoming season. It's about seeing where the evolution of the story is. It's a refinement of what you've seen. It's not fortunetelling: It's essentially looking at what's happening. What are the most forward-thinking ideas and how do I make them into a story?
How do trends trickle down? It's difficult with the rise of social media; the trend cycle has really radically changed. Everything followed a very predictable pattern. The trend would originate with trend forecasters and designers, forward-thinking department stores then the mall stores, in a linear trajectory. Now, some trends will hit super-fast and then be gone in a second.
How did you get started as a tailor? I went to business school and studied finance, and then I decided to move to New York. I was working for a designer but on the business side. It was a really small designer, and she would need some things handsewn, so I would do little things here and there.
What's the process for getting started in the tailoring world? A lot of people who do my job went to school for fashion design. Unless you're willing to go to work for a corporation where you're just part of their design team, it's hard to make a job out of being your own designer. Production costs are too high, and it's time-consuming.
What was your first fashion job? I got called for a job, and I was terrified because what if I go to set and they ask me to do something that I don't know how to do? And that never happened, so I've been doing it now for eight years. My second job was the Victoria's Secret Fashion Show. It's wild. When I started, I felt like I knew most of the people that did my job, and now it's become a lot more saturated.
Who are some of the celebrities you work with? Naomi Watts, Christina Ricci and Emily Mortimer. I dressed Stephen Curry, and he's not a fashion guy, so bringing someone into that world was interesting because he's an athlete and he wasn't really used to the luxury of all these clothes.
Who are some of your other clients? I have one client who buys all vintage pieces because I can fit everything. Everything you buy should be tailored in some way. When you see an advertisement you think, "This dress looks amazing," and then you try it on, and the dress looks nothing like that because each of those are tailored specifically to the model.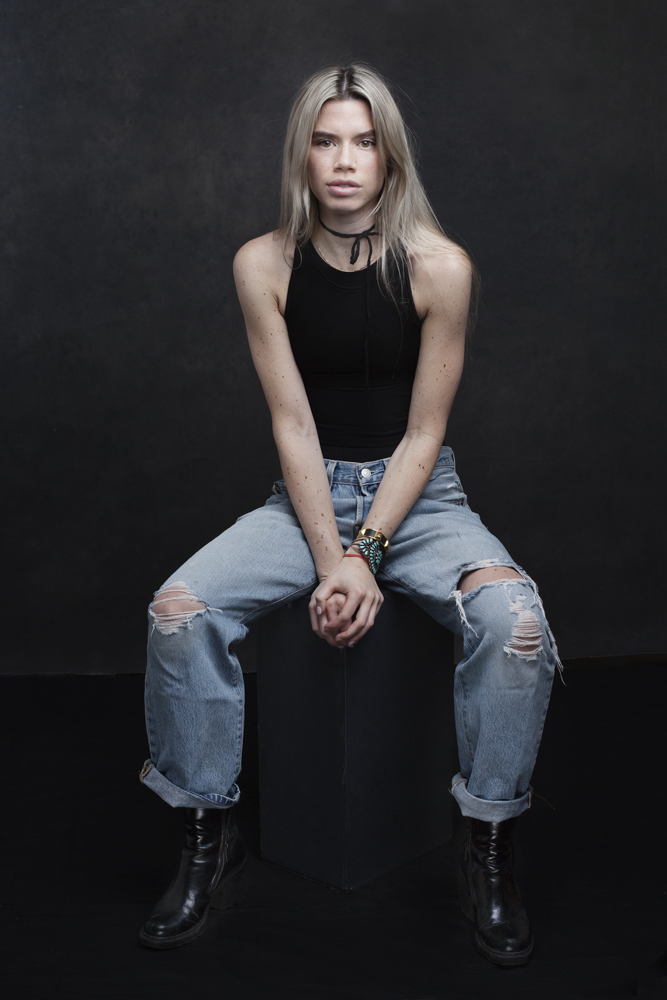 How would you describe Hayward House and its handbag collection? It's the spirit of a luxury handbag company with Dennis Hopper Easy Rider vibes since it's owned by Dennis Hopper's daughter, Marin. It's been so cool creating this live, work, shop space on the Upper East Side.
What's a typical day at Hayward House? I wear a different hat every day. I like to go to the flower district. Usually I do something branchy and more masculine and a fun color pop in the men's and then something feminine and luxe in the women's, and then I rearrange the merchandise. We're doing a lookbook, so I'm helping to style that, and I'll be modeling as well.
How did you get started in fashion? A college roommate said, "You should meet my uncle Bob—he has this showroom in Soho. He used to be the director of vintage for Ralph Lauren, but he never hires anyone. You should talk to him for advice." I walked in, and he opened the door and said, "Someone quit today, so the vintage Gods must like you. You're hired."
What was his showroom? Melet Mercantile, a private vintage fashion showroom for buying and inspiration. Design teams come through, see a piece, purchase it and replicate it or find something special from it.
How has your knowledge of vintage influenced you? I think it's important to be connected to the past but not grounded in it. It's just a giant continuous rolling inspiration board.