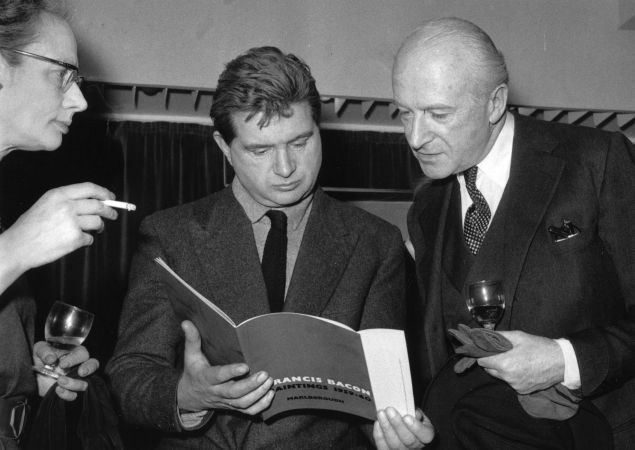 The art world received an unexpected gift last week, when art historian Martin Harrison unveiled the final, completed work by British figurative painter Francis Bacon. Epitomizing liminality, Study of a Bull (1991)―completed when Mr. Bacon was 82―depicts a semitransparent beast entering or exiting an area of black emptiness.
As Mr. Harrison puts it, Mr. Bacon―who passed away in 1992 on a Madrid vacation―was painting his own death. "Bacon is ready to sign off … he was so ill," Mr. Harrison told The Guardian. "He knew exactly what he was doing here."
Mr. Harrison discovered Study of a Bull in a private collection two years ago while editing a compendium of the artist's works, out in April. Of the 584 works in the catalogue, the product of a decade-long project, 100 will be displayed publicly for the first time in that exhibition. Miraculously, Mr. Harrison succeeded in locating all but one of Mr. Bacon's surviving paintings.
At the Grimaldi Forum in Monaco, where Mr. Bacon lived for a time after World War II, drawn to the temperate weather and gambling culture, Mr. Harrison is curating a comprehensive exhibition for July.
Bacons have been hot at auction recently. Last May, for instance, Seated Woman (1961), a moody nude, went for $28.2 million at Phillips Contemporary Art Evening Sale. His paintings have also been listed at Sotheby's in New York and London for tens of millions.
While the Grimaldi exhibit―which also features Mr. Bacon's first known piece, a 1929 watercolor― doesn't open until July, fans of the artist with £1000 to spare can preorder Mr. Harrison's five-volume, clothbound set, Francis Bacon: Catalogue Raisonné, from Heni Publishing.