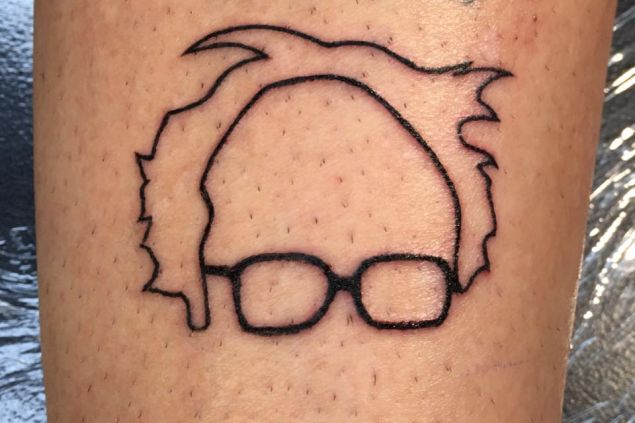 When rumor got around that a New Hampshire tattoo shop was offering Donald Trump supporters free tattoos of their candidate, a Vermont tattoo artist thought "we can't have that" and took action.
Tyre Duvernay, owner of Aartistic Inc tattoo shops, thought to offer free cover ups for those with ink honoring Donald Trump but ultimately decided to take things a step further. For the last week, he's been offering free Bernie Sanders tattoos to help people show their support for the Democratic candidate.
"I knew it was a gimmick when that shop did it for Donald Trump. But here in Vermont, we really do stand behind Bernie Sanders," Mr. Duvernay told the Observer. "I could've offered this without him running for president and people still would have gotten it."
So far, Ms. Duvernay and his co-workers have given about 60 free tattoos of the senator in his two shops, which are located in the capital city of Montpelier and Winooski, a city in northern Vermont. He says more people are coming in for the tattoos every day and that there's no plan to stop anytime soon.
"As long as he's running, we're willing to do it to help the cause," Mr. Duvernay said. "Hopefully it will spread and others will join in as well."
In this short time, that has in fact happened already. Other tattoo shops in various parts of the country have joined Aartistic Inc and began offering the same design free of charge.
"We had shops in Wisconsin, Arkansas Texas and Georgia call," Mr. Duvernay said. "It's weird. They asked my permission as if I have some sort of right to it."
Mr. Duvernay added that he is definitely voting for Sen. Sanders. "It's the only logical choice," he said.
Disclosure: Donald Trump is the father-in-law of Jared Kushner, the publisher of Observer Media.