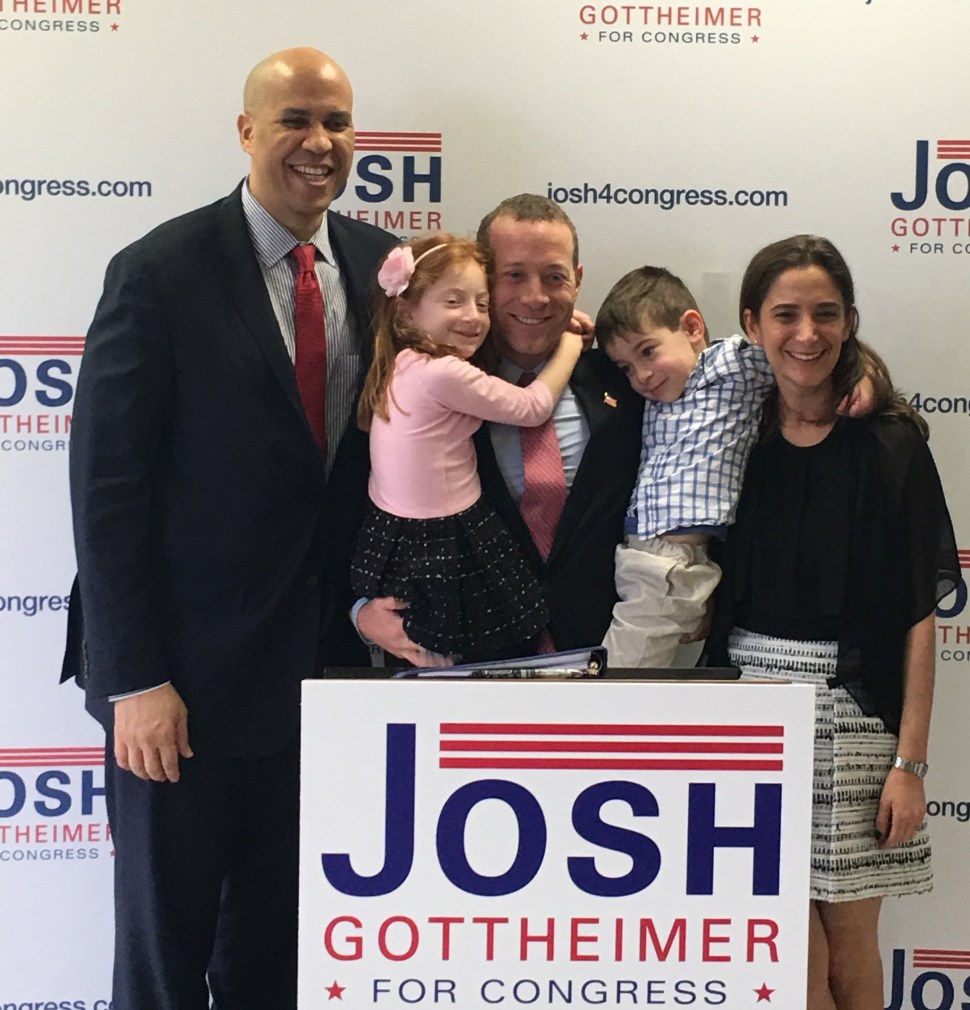 Josh Gottheimer, a Wyckoff democrat and former speechwriter for President Bill Clinton, formally announced his candidacy for Congress in the 5th District this morning at Inrad Optics in Northvale.
U.S. Senator Cory Booker joined the candidate, along with Gottheimer's wife Marla and children, Ellie and Ben.
The district currently occupied by U.S. Rep. Scott Garrett (R-5) has proved unwinnable by Democrats in the past, but Gottheimer and his allies are hoping the movement conservative's reported anti-gay comments along with his hard-line anti-government stances – even on issues like disaster recovery in flood-best North Jersey, coupled with the Democrat's fundraising prowess and deep contacts nationwide, may make CD5 competitive this year.
The Democratic Party establishment at both the state and federal level is making CD5 priority, which in part explains the dearth so far of other hard-boiled Dem challengers backed by the establishment in other congressional districts this year.
PolitickerNJ was not in Northvale this morning, but for more on Gottheimer's kickoff, see this story here in the Bergen Record.
"I'm running for Congress because I think we need someone here in the Fifth District who will bring a get-things-done approach to Washington," said Gottheimer. "Someone who will actually bring people together, regardless of what party they belong to, and work to create jobs, invest in our future, and stand up for Jersey values. This isn't about any one party.  It isn't about some national Tea Party agenda.  It's about problem solving here, for us, across party lines."
Gottheimer said he wants to invest in STEM education and infrastructure, create jobs and opportunity for Fifth District families. He has been traveling the district for more than a year meeting with families, business owners and workers, while building momentum for the run.
He said he wants to eliminate the Garrett Tax – "the gap between the amount we pay in federal taxes and the amount we get back in federal dollars. Right now, in the Fifth District, for every single hard-earned federal tax dollar we are paying out of our pockets, we are getting back about 33 cents in federal spending.  Compare that to a place like West Virginia, where they get $4.23 back for every dollar they pay out in taxes.  The difference is astonishing – about $20,000 per person in the Fifth District – and it is attributable to Scott Garrett's inaction and inability to deliver for the people of our District.
"I think it's time we repealed the Garrett Tax and focused on getting the investments we need to create jobs and grow our businesses here in the Fifth District," he added.
Booker talked up the challenger.
"Josh's background, experience, and range of views really reflects the best of this community," said Booker. "He has tremendous experience in the private sector and knows what it takes to build businesses and create jobs. He's also worked in the public sector, understanding that when his country calls he needs to serve. A person that is representing this district needs to have a balanced approach and understanding to getting things done and that's exactly what we have in Josh."
Gottheimer's challenge to Garrett comes at a time when the incumbent is already facing intense scrutiny. Garrett drew ire from people across the political spectrum when it was reported in July that he vehemently refused to donate to the Congressional campaign arm of the Republican Party because it supported gay congressional candidates.  The Bergen Recordreported last month that election forecasters now rate Garrett as the state's most vulnerable incumbent and that the Democratic Congressional Campaign Committee has targeted him for defeat.