Valentine's Day is about a lot of things but inevitably, the romantic holiday focuses on your lips. This week designers like Tanya Taylor as well as Brother Vellies showed beauty looks that are ideal for copying.
"Well really for Valentine's Day, it's all about love and just being yourself," Uzo, NARS international lead makeup stylist said backstage at the Tanya Taylor show. "For Tanya Taylor, the lip that we chose is a beautiful rosy lip enhances the natural lip color. The thing that I really love is that you see this diversity of models in the presentation and it works across the spectrum."
The magical, one shade fits all product? NARS Anna Audacious Lipstick. Uzo and the rest of the team dabbed it onto the models' lips, spread it with their fingers and complimented it with a low key beauty beat, sans mascara. In fact, the lipstick pulled double duty when dabbed onto the cheekbones and faded for the perfect flushed look.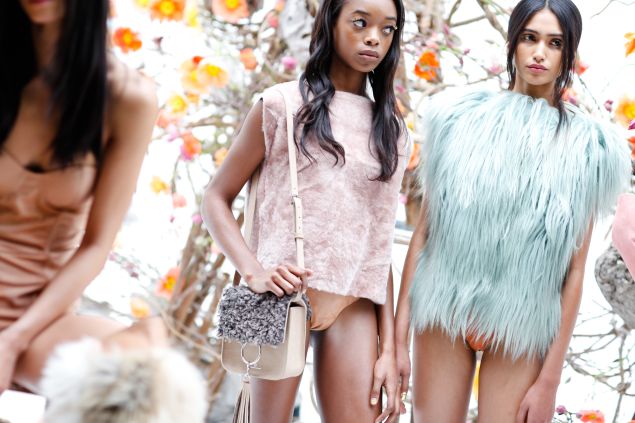 At Brother Vellies, the team upped the look with a pop of berry or nude on the inside of each lip. "It really gives it a sort of 'other worldly' sense," the lead of the Sephora team explained. Specifically the team was using the brand's Bite Beauty products (focusing on the beet root and honeycomb shades) to pull off the kissable look.
If you're a fan of a little more color, go the Cushnie et Ochs route and use a bolder red lip. For that look, the team used the MAC mineralized powder for a clean face that's not too shiny and allows the lips to take center stage. The team also used the brands Quick Fix Stick with concealer and highlighter to give some added emphasis to the cheeks with contour.
But before you put on any color make sure to exfoliate the lips using Bite Beauty's exfoliator with micro beads that hydrates some of the body's thinnest skin.