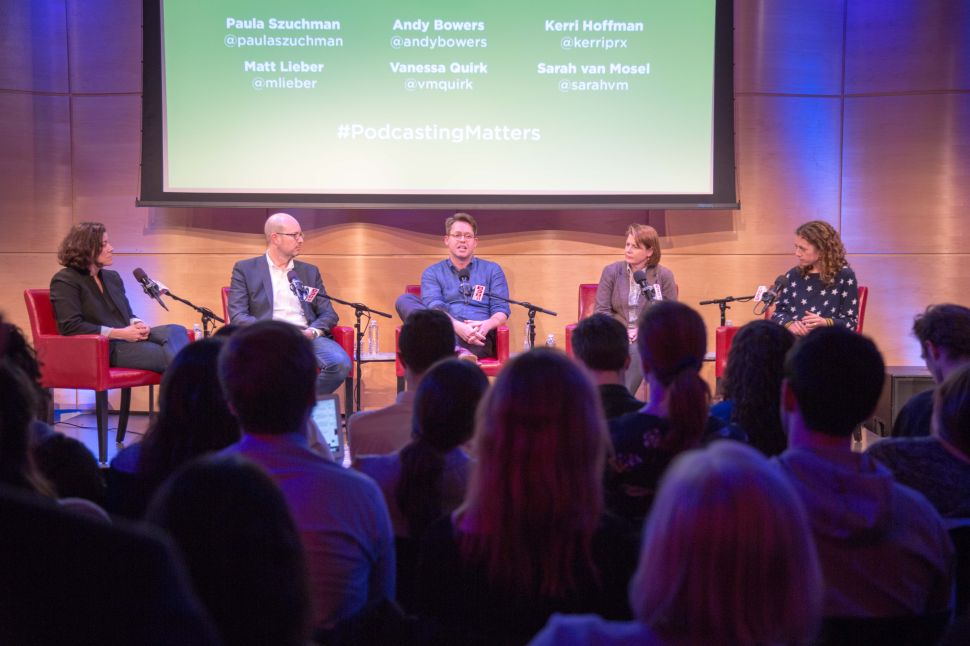 Podcasting network Gimlet Media is going to get weird, for seven days anyway.
Next week will be "mix week" at the company, one of its co-founders, Matt Lieber, said last night at an event at WNYC called "Why Podcasting Matters." The company is going to spend the time making a bunch of experimental podcast episodes.
"We're breaking apart all the teams and forming new teams," he said.
Don't freak out. The shows are all coming back. It's simply an effort to try out new ideas and stay nimble and creative. "We feel like we have a lot of ideas burbling in the building," Mr. Lieber said.
Public radio defines podcasting metrics
He went on to say that the team has created a bunch of special rules for the mini incubator of sorts, giving this example: none of the hosts of the experimental shows could be people who were already hosts on an existing Gimlet show.
Gimlet Media raised a $6 million Series A round in December, according to CrunchBase. Its newest show is Sampler, a podcast about podcasts, which is hosted by Brittany Luse, who the company discovered through a series she co-founded, For Colored Nerds.
Mr. Lieber brought up the week of experiments during WNYC's conversation about the business of podcasting. The event featured representatives from Panoply, the Public Radio Exchange, WNYC and Acast as well. Participants agreed that podcasts have room to succeed right now, not so much by competing, but by attracting more people into the medium.
The idea behind the mix week is to come up with really intriguing new concepts that attract new people to try a podcast.
Andy Bowers of Panoply said that his company is focused on finding new niches that people care a lot about. To that end, Panoply released the first episode of a show for introverts, Quiet, on February 3, hosted by Susan Cain, the bestselling author of a book by the same name. Serial, Mr. Bowers said, isn't the only show that gets emails from people saying some version of, "I've never listened to a podcast before, but…"
More shows that inspire more emails like that is the key to a healthy industry. The generally agreed upon figure on the panel was that 17 percent of Americans listen to podcasts, which means there are still millions of people who have never listened to one.
"We're in a stage of development where it's all about growing the pie," Mr. Lieber said.
Kumbayah, my startups. Kumbayah.