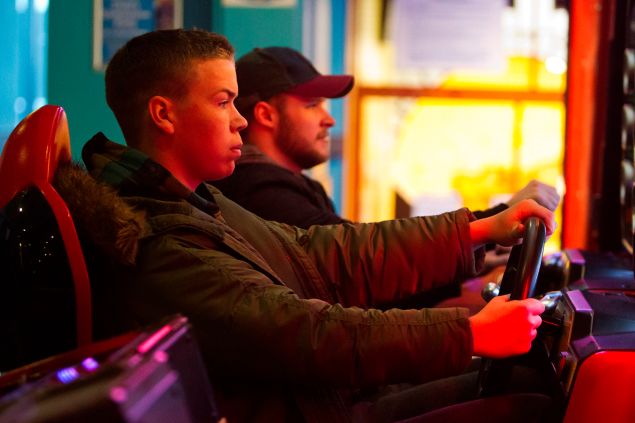 From Ireland, Glassland is a somber and somewhat depressing drama with another exceedingly heartfelt performance by the young actor Jack Reynor as a dutiful son, and another galvanizing, scene-stealing centerpiece by the versatile, multi-faceted Toni Collette as the dysfunctional, alcoholic mother he feels responsible for in a poverty-stricken area of Dublin. Bring plenty of Kleenex. A nickel pack won't do.
---

GLASSLAND ★★★
(3/4 stars)

Written and directed by: Gerard Barrett
Starring: Will Poulter, Jack Reynor and Toni Collette
Running time: 93 min.

---
Like Saoirse Ronan, Mr. Reynor was born in America (Colorado, to be exact) and raised in Ireland, where he has made a solid impact as a handsome young actor with protean skills, first praised in the marvelous Irish film What Richard Did, and most recently displayed as the dashing but cynical British army officer who escorts the teenage Princess Elizabeth on a renegade night on the town in World War Two in A Royal Night Out and as a co-star of Michael Fassbender and Marion Cotillard in Macbeth.
But his most consummate work has been reserved for Glassland, in the role of John, a troubled boy on the verge of manhood who drives an all-night taxi to support a delicate, irresponsible mother dominated by an illness she can't control and a younger brother with Down syndrome who lives in a government facility nearby. Jean, played with passion and force by Ms. Collette, has never felt much maternal connection with either son, and John has reluctantly been forced to act as husband, father, friend and chief caregiver to everyone involved.
The powerful opening scene tells you everything you need to know: John wakes after a night of hard driving through the streets of Dublin and a day of sleep, wanders through the dismal flat to see if his mother is alive or dead, adds some water to the milk to make his breakfast, and goes off to another night of work as a cab driver. When he returns, his mother is still not home for the second morning in a row. When he wakes again, he finds her unconscious in her own vomit, unable to open her eyes. The doctor at the emergency hospital tells him his mom is slowly drinking herself to death and it won't be long before she will need a liver transplant. When she finally comes to, searching for the hidden liquor bottle John has disposed of, the viewer finally sees what he's up against.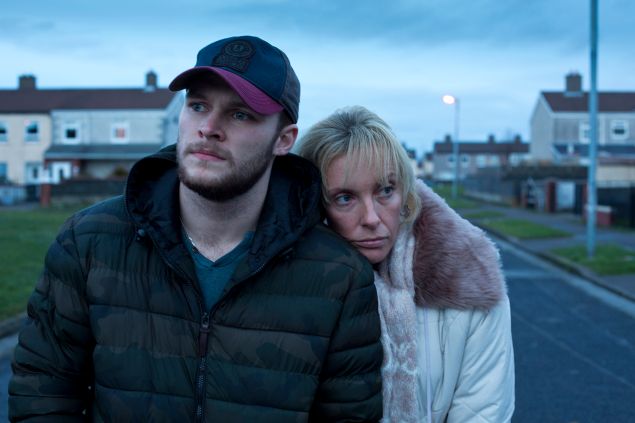 She tears the flat apart, destroys the kitchen and throws dishes violently to the floor, screaming in a delirious rage while John films the whole scene. When she sees the episode, she's a different person—humiliated, guilty, contrite and wondering who will replace the plates so they will have something to eat from. This all happens within the first 15 minutes of the film and sets the tone for everything to come, as John goes about trying to save his mother from self-destruction and carve some kind of life for himself. The carefully calibrated screenplay by writer-director Gerard Barrett chronicles the ups and downs of a boy desperate to unite the broken shreds of despair in his life into something resembling the family life he longs for. With no savings or insurance, his only hope to save his mother from slow suicide and cure her addiction in an expensive rehab clinic he can't afford is to use his nocturnal taxicab in the criminal underworld of human trafficking. The choices he eventually makes change his family's lives forever.
Bring plenty of Kleenex. A nickel pack won't do.
Glassland is a moving example of the powerful intensity that is coming out of so much of the Irish cinema today. Mr. Reynor and Ms. Collette have an undeniable chemistry and play off one another with throbbing, often understated heat. The direction and writing conspire to create a balanced picture of the bleaker side of love, revealing with an almost embarrassing candor both sides of the human condition. The son is not exactly a saint; the mother is not totally doomed and pathetic. The ending promises an air of optimism. The film is at times a sad, depressing study in despair, yet its uncompromising no-frills honesty is admirable.
In the end, Glassland manages a supremely credible job of character development, explaining not only John's dilemma but the reasons Jean has sunk to the depths of her own reckless desolation. The richly nuanced characters and situations tremble with drama, yet never sink to the level of melodrama. Like the landscape of its title, it's a film that leaves you shattered.