The Academy Awards hottest after-party was thrown by Gucci, who paired up with Madonna for the ninth annual event. The party was hosted by talent manager Guy Oseary at his home. The attendees were as A-list as possible, including Gucci creative director Alessandro Michele. "It" girls included Alicia Vikander, Anne Hathaway, Brie Larson, Elizabeth Banks, Emilia Clarke, Emma Roberts, Gwen Stefani, Olivia Wilde, Saoirse Ronan, Zoe Kravitz (her dad was also present), Emma Stone and Margot Robbie.
The men of the evening were no doubt competing to see who would be People's next Sexiest Man Alive. The fierce competition came from Ben Affleck, Bradley Cooper, Eddie Redmayne, Jake Gyllenhaal, James Franco, Jared Leto, Justin Timberlake, Leonardo DiCaprio, Matt Damon and Michael Fassbender. Hollywood heavyweights Harvey Weinstein and James Corden also attended. Performer Dave Grohl reportedly stopped by, along with presenter Chris Rock.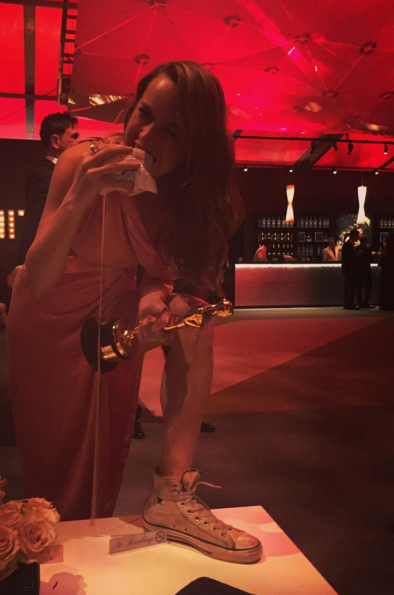 Many of the award winners landed at the Gucci party at the end of the evening. It might be because attendees left with Gucci party favors, far superior to stealing an Oscars centerpiece.
The women took home a velvet and crystal ring from Alessandro Michele's first collection as creative director. The men left with a pair of Gucci feline head cufflinks. While the actual Academy Awards show might have seemed slow, there's no way this party was enough shy of spectacular.