"Squint against the grandeur," croaks a contract director while making the religious epic at the cheeky heart of Hail, Caesar!, and the sentiment couldn't be more apt for the 66th annual Berlinale, an embarrassment of cinematic riches set in grand Teutonic theaters so sumptuous that a few are literally called palaces.
Germany's premier film festival kicked off appropriately enough with the Coen Brothers' movie about movies, an existential lark about the salacious peccadilloes that plague "the swells of Dreamland" circa 1951, both a skewering of Old Hollywood and a Valentine to the studio system's heyday that seems tailor-made for a kino-orgy like this. Festivalgoers ate it up.
"It's magnificent," gushed one Canadian journalist during the film's press conference just hours before its Opening Night gala. "It's a river of jewels—one perfect scene after another. I think I want to make love to this film."
That effusive remark set the tone for some rib-tickling repartee between the game actors in attendance (George Clooney, James Brolin, Tilda Swinton) and a woozy international press. One heavily accented Polish reporter, sporting a bizarrely diminutive white cap perched askew on her crown, rambled at length about Clooney's predilection for pranks—specifically one involving turkey meatballs smeared on his shoes. "Are you flirting with me? I'm a married man," he smiled in mock-indignation. "That sailor hat doesn't do it now. It's not going to work!" After she kept struggling in vain to make her point, Clooney cut her off. "I just like hearing you say 'tur-key meat-balls.' You've said it, like, three times. Emphasis on balls."
The reporter and her kooky headwear didn't fare any better during a press conference earlier in the day with the festival jury, headed this year by Meryl Streep. "I love your little hat!" she cried. "Are you a nurse?" ("It's a boat," the woman replied sheepishly.)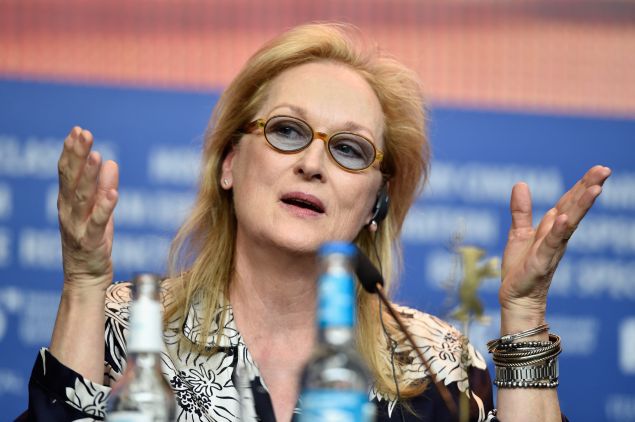 Streep's fellow jurors, who include actors Clive Owen and Alba Rohrwacher, as well as photographer Brigitte Lacombe and Polish filmmaker Małgorzata Szumowska, have been instructed not to look at any plot summaries for the competition films. "Tabula rasa," Streep explained. "I forbade them from reading the catalogs. It's so rare to come to a place without prejudging, to meet something fresh. It's almost impossible."
One questioner asked the Suffragette star about the state of women's rights and equal representation. "Not only are women included but in fact dominate this jury," she replied, referring to her septet's 4-3 gender balance. "So I think the Berlinale is ahead of the game." When pressed on her political views, and of German chancellor Angela Merkel possibly having a female equivalent in the White House come November, Ms. Streep smartly demurred. "The globe should be represented half and half," she said diplomatically. "But it's good to be the boss."
Speaking of Germany's boss, Merkel had an hourlong meeting on Friday with the Clooneys (George and human rights lawyer wife Amal), who wanted to voice their support for the country's controversial open-door policy to the current Syrian refugee crisis. Ever timely about political issues, the Berlinale made the unusual decision to put a refugee documentary in competition for the festival's top prize. Gianfranco Rosi's sobering rumination Fire at Sea examines life on the Italian island of Lampedusa, which lies halfway between Sicily and the North African coast, and which has received hundreds of thousands of immigrants into Europe.
The native population, steeped in Italian pop music and a storied fishing tradition, live side-by-side with boatfuls of Africans desperate to escape their impoverished, war-torn lives in Somalia, Sudan, Syria, and Libya, to name just a few. Those who don't drown during the Mediterranean voyage arrive malnourished, shivering, and sometimes even gas-soaked from the toxic mix of seawater and petrol that collects in the overcrowded ships' basins.
"I wanted to show the tragedy that's playing out in front of our eyes," said Mr. Rosi after the film debuted on Saturday morning. "We're all responsible." After all, what's a world without humanity? Easy: it's very, very quiet. Austrian director Nikolaus Geyrhalter's beautifully bleak documentary Homo Sapiens is a wordless collection of empty, abandoned, man-made structures (churches, malls, schools, military bases, and nuclear reactors, to name a few). The undoctored subjects, from Fukushima to parts of the U.S., Europe, and South America, reveal a stark landscape of decrepitude slowly being reclaimed by nature's obstinate ability to regenerate itself. If great art takes facts and refracts them into multiple truths, then the Berlinale is host to a myriad of glittering prisms.