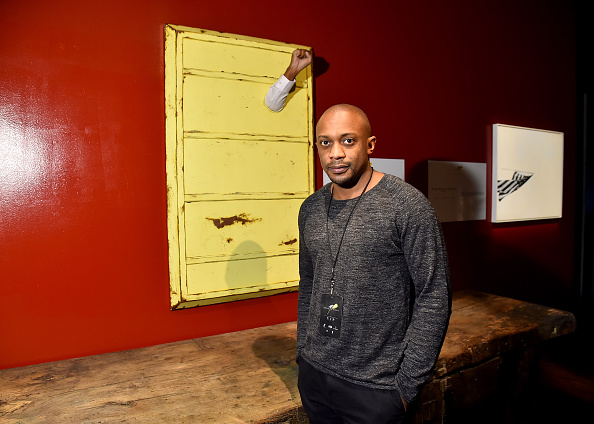 Choosing to pursue an arts-related career is a brave decision. In fact, considering the job prospects—the sparsity of opportunities, the amount of competition and the often low to non-existent pay—some may even say it's an irrational one.
But according to Hank Willis Thomas, a visual artist and photographer, that is precisely what's necessary to succeed. Mr. Thomas has been chiseling his way to artistic recognition for some time now. His video projects have been featured at the Sundance Film Festival and his photography is displayed in museums like the MoMA, the Whitney and the Guggenheim. Indeed, Mr. Thomas appears to be approaching artistic success.
So what's it like for a mid-career artist who has achieved success but is no Damian Hirst, with his sharks selling for millions upon millions? Mr. Thomas discusses his experience in building an artistic career, the anxieties–and the financial struggles in a sweeping interview published in Pacific Standard.
On the keys to success: "Luck," Mr. Thomas says before offering an anecdote containing a more satisfying and surprisingly motivational answer: "My father once told me something when he was talking about his personal successes and personal failures. He said that he'd always had an irrational idea of what he was capable of. I think this irrational idea of what you're capable of is possibly a key to quote unquote success. When you face certain failure, you cannot be dissuaded."
On teaching art students about the financial reality of the career:  "The chances that you'll make any money making art are so few and far between that it is like, 'Why give everyone false hope?' The main thing I try to encourage is that if you want to be an artist, don't be realistic," Mr. Thomas says, continuing the idea that meticulous calculation and planning is redundant because of the amorphous shape art careers take. "No one really knows how to tell you what to do once you get the grant or the opportunity because if you have a lot of experience in that, you probably aren't teaching a class."
On being a banker instead of an artist: "I don't believe there's any security in life. There's only false security," Mr. Thomas says, dwelling on the prospect of eventually moving into a more financially stable career. "Have I wished that I kind of had a job and had certain skills to [do something else]? Yeah. I think everyone has that moment where they are like, 'You know what? I should go live on an island and take it easy. Live off the land. Or maybe I can get a good teaching job.' But you know what? Frequently, we get to those other places, and we realize that there's something that we really miss from whatever we were doing."
It would seem that their are positive and negatives in any of our career choices. And even in something like finance, Mr. Thomas thinks artistic expression can flourish: "[Banking] is awfully creative."