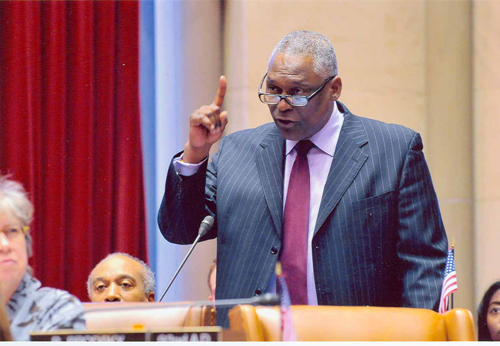 As real estate mogul Donald Trump and Texas Sen. Ted Cruz face off in the cornfields of Iowa, Manhattan Assemblyman Keith Wright is looking to make hay in Harlem and the Bronx.
The aspiring successor to retiring Congressman Charles Rangel blasted a fundraising pitch to supporters yesterday invoking the tight contest between the two Republicans, both seen as political outsiders. Mr. Wright, a Democrat, warned only "strong progressive leaders" like himself could ward off the dire consequences of either man winning the GOP nomination.
"Most polls show the GOP largely divided between Donald Trump and Ted Cruz. Let's repeat that: Donald Trump and Ted Cruz," the email reads. "One has never held office and the other has created campaign videos featuring himself cooking bacon on the barrel of a semi-automatic rifle."
"If either of these two win the nomination, don't we all lose?" the missive continues.
The message also alludes to both Mr. Trump and Mr. Cruz's hardline stances on immigration, and accuses them of prejudice against women and low-income people. The assemblyman boasted that he, by contrast, stands for "empowerment, not elitism."
"Anti-immigrant, anti-woman, anti-poor rhetoric is harmful for our country. Instead of trying to give every American a voice, right wing extremism seeks to reward a select few," the email says, before going into its pitch for donations to Mr. Wright. "In Washington, he can stand against the Tea Party's divisive agenda."
Mr. Wright's campaign has posted impressive fundraising hauls, and insiders expect Mr. Rangel to endorse him to take over his upper Manhattan and South Bronx turf. But he faces a wide field of opponents, including State Senator Adriano Espaillat, Assemblyman Guillermo Linares, State Senator Bill Perkins, former Assemblyman Adam Clayton Powell IV, former Ambassador Suzanne Johnson Cook, former Obama and Clinton administration aide Clyde Williams and stay-at-home dad Mike Gallagher.
Neither the Trump nor Cruz camp immediately responded to requests for comment.
Disclosure: Donald Trump is the father-in-law of Jared Kushner, the publisher of Observer Media.