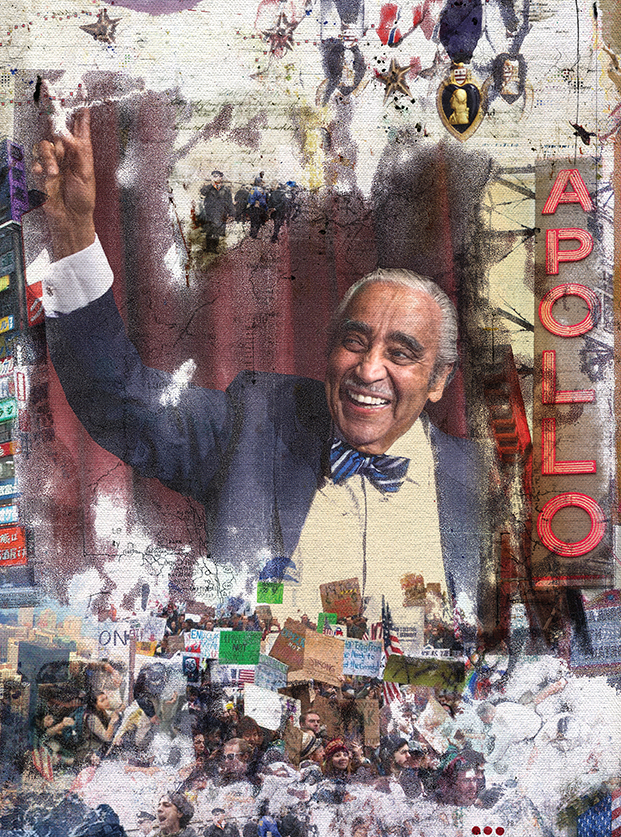 He still had nearly a year left, but it felt like goodbye.
Congressman Charles Rangel came into the Fort Washington Collegiate Church on 181st Street stooping a little, limping a bit, but with all his legendary exuberance intact. The people inside swarmed toward him like iron filings around a magnet.
The crowd had gathered that brisk January night to hear five candidates apply for Mr. Rangel's job. At 85 years old, after 50 years in elected office, the lion of Harlem was finally letting somebody else take over his pride.
Before the debate, Mr. Rangel stepped up in front of the table where the contenders sat and addressed the audience. He had on a soft brown leather jacket, zip-up orange turtleneck and silk scarf  instead of his usual tailored suit and trademark bow-tie. But the oiled-back hair, the manicured mustache, the broad smile and that voice—that unmistakable raspy old-New York accent—were all the same.
"I am really so thrilled, having had the great honor of representing this community for so many years, it hasn't really sunk in yet," he said, before thanking his wife of five decades, Alma, for her years of support. "She's afraid I might jump in there."
He turned to the panel of candidates behind him and for a second seemed to actually struggle to restrain himself from bounding up and joining them.
Mr. Rangel's famous charm and political shrewdness have helped make, and unmake, mayors, governors, senators and maybe even a future president.
Constituents mobbed him for photographs and autographs after the event.
"As long as we could get Charlie up in front of people, and he could speak, we knew we would win," one operative from the congressman's 2014 re-election campaign—a campaign many expected him to lose to his Democratic primary challenger, State Senator Adriano Espaillat—told the Observer.
Over the past half-century, Mr. Rangel's famous charm and political shrewdness have helped make, and unmake, mayors, governors, senators and maybe even a future president. Yet he will leave office next year with a decidedly mixed legacy.
He reshaped Harlem and minority neighborhoods across the city and across the country with his low income housing tax credit and empowerment zone legislation. But he also served as the "the front-line general in the War on Drugs," as a 1989 profile in Ebony magazine called him, pushing rigid narcotics laws that sent millions of men from communities like his own to prison—causing damage that Mr. Rangel himself now describes as "irreparable." And looming over any discussion of his time in Congress is his 2010 censure for an array of ethics violations.
Early days
To hear Mr. Rangel tell it, he never wanted to go to Washington. When he won his upper Manhattan-based seat in 1970, he was 40 years old and had already enjoyed a distinguished career in public service. He had enlisted in the U.S. Army in 1948 and saw combat in Korea, where, despite his rank of private and the Chinese shrapnel just embedded in his back, he led his battalion over an icy mountain ridge out of enemy encirclement. He returned to his native neighborhood with a Purple Heart medal, the Bronze Star with Valor, and three battle stars—plus money from the G.I. Bill that allowed him to attend New York University and get a law degree. In 1961, Attorney General Robert Kennedy named the 31-year-old war hero an assistant federal prosecutor.
Under the leadership of J. Raymond Jones, the first black chairman of the Manhattan Democratic Party, Mr. Rangel, David Dinkins, Percy Sutton and Basil Paterson—later dubbed the "Gang of Four"—united Harlem's squabbling political factions into a single powerful clubhouse. He marched for four days from Selma, Al. to Montgomery behind Dr. Martin Luther King Jr. in 1965, and got elected to the New York Assembly the year after that. He quickly formed a tight bond with Republican Gov. Nelson Rockefeller, and dreamed of becoming the body's speaker.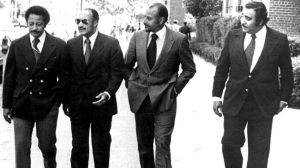 At the time, Harlem's legendary congressman, Adam Clayton Powell Jr., was living in virtual exile on the island of Bimini in the Bahamas. A series of embarrassing scandals—which ranged from giving his third wife a no-show job on his office payroll, to bringing young women along with him on government trips at the public's expense—had nearly gotten him kicked out of the House, and he was often absent from the Capitol. His refusal to pay a slander judgment made him subject to arrest in New York, and so he rarely appeared in his district, either.
Today, a watercolor portrait of the late congressman hangs on the wall of Mr. Rangel's office in the Adam Clayton Powell Jr. building on 125th Street—where he recounted to the Observer how Rockefeller promised to pardon the elder statesman if the then-assemblyman could convince him to return to the city.
But in Bimini Clayton Powell made Mr. Rangel and his wife wait 12 hours for him in a stifling un-air conditioned hotel, and humiliated the younger man with his condescension at a large dinner with local leaders. Mr. Rangel arrived home determined to unseat the congressman in the next election. In a five-way Democratic primary, he won by about 150 votes, but he said he soon regretted his victory.
"What the hell did I want to leave Albany for? Pulling up my roots and going to D.C.? That was like the Southland to me," he said.
Clayton Powell's personal flamboyance and his high-profile fervor for civil rights had made him the most famous black politician in America, eclipsing the nine other African-Americans in the House. But in 1971, Mr. Rangel rode into Washington on a wave that brought that number to 13—and in February of that year, he made the motion that declared them the Congressional Black Caucus.
"Adam took all the oxygen out of the nine. Nobody even knew they were there," Mr. Rangel remembered. "Even though he didn't participate, him not being in Congress caused a big vacuum."
Mr. Rangel's work in creating the caucus has resonated down the generations.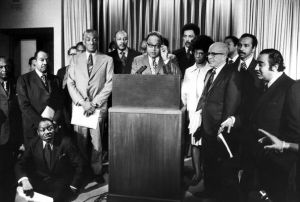 "He helped to transform the collective strength of newly arriving black congress members into a force that could make progressive change across the country," said Brooklyn Congressman Hakeem Jeffries, a CBC member elected in 2012. "That all started as the result of the leadership of Charlie Rangel."
That March, the newly formed group held a secret meeting with President Richard Nixon to present their recommendations and concerns, and soon all wound up on his infamous enemies list.
But Mr. Rangel soon proved more adept at making friends than enemies. One of the most important turned out to be Hugh Carey, then a representative from Brooklyn. When new President Gerald Ford tapped Rockefeller as his understudy, Carey announced his intention to run for governor in the 1974 election, and the two congressmen standing by his side were Ed Koch and Mr. Rangel.
Carey had been a member of the House Ways and Means Committee, which controls tax policy and oversees an array of federal entitlement programs. When he left the Hill for Albany in 1975, he made sure Speaker Carl Albert created a spot for Mr. Rangel on the powerful panel—making the Harlem congressman its first black appointee.
It also made Mr. Rangel an invaluable resource for city leaders who needed something from Congress during the next two decades of Democratic reign in the House.
"All the mayors went to him—Koch, me, all of them," Mr. Dinkins said. "He was no longer the man who defeated Adam Powell. He was Charlie Rangel."
The empowerment broker
On the Ways and Means Committee, Mr. Rangel helped to create and expand the 1975 earned income tax credit for poor and moderate earners, widely regarded as one of the most important tools in the federal government's anti-poverty repertoire. But his most important achievement for Harlem, and for blighted black communities nationwide, may have been the low income housing credit, which he personally wrote into the Tax Reform Act of 1986.
Two decades of absenteeism and arson had left the streetscapes of inner-city America studded with uninhabitable homes and pocked with empty lots—Harlem and the South Bronx maybe worst of all. The city had taken over many of the derelict properties, but struggled to lure private capital into the rougher parts of town to rebuild or rehabilitate the lost apartments.
"We're the beneficiary of the fact that we had more abandoned buildings than any congressional district in the country," he said. "And having mayors like Dinkins and Koch allowed us to take advantage of the city-owned property, and my low-income housing bill with that was a marriage that produced thousands of units a year."
"I heard Hillary give a hell of a speech," said Mr. Rangel. "I told her that, 'God, do we need you badly in New York.' And she just said, 'Charlie, you always are making trouble.'"
Run through public-private partnerships, and administered by the states, the program lets investors write off money put into affordable housing developments on their federal tax returns. To qualify, a construction or renovation project must set aside 40 percent of its apartments for people making no more than 60 percent of the area median income, or 20 percent of the units to those making half the area median income or less.
According to the Department of Housing and Urban Development, the LIHTC has become the largest generator of housing for the poor in America, spawning 90 percent of all low-cost rentals nationwide, some 2.6 million apartments. Of those, 117,210 have been created in New York City, many in Mr. Rangel's district.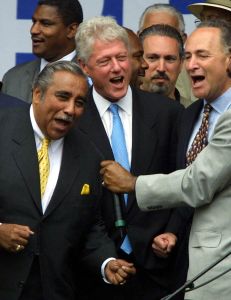 The nonprofit Harlem Restoration Project operates two buildings constructed under the LIHTC. Together, they house 77 families, many fresh from the shelter system, and offer a variety of on-site social services—all of which would have been impossible without Mr. Rangel's tax incentive.
"It made a tremendous impact, because it allowed people who were already here to remain here, and people who were homeless and living in shelter, it gives them a cushion to get themselves together before they move out," Dr. Ricky Jones, executive director of the Harlem Restoration Project, told the Observer.
Dr. Jones said he had watched the neighborhood flower under the program during his 21 years at the Harlem Restoration Project. He noted that LIHTC neither excludes those with a criminal history, like public housing does, nor faces the chronic shortages plaguing the Section 8 voucher program.
"We had run out of a lot of housing stock, and also investors, and one of the ways to entice developers was to offer them tax credits to build in low-income communities," he said, pointing out that subsidized housing has become more precious as the neighborhood has gotten pricier. "I see people who don't have this anxiety that they have to take three of their paychecks to pay their rent, and go to the pantry for food."
A year before the 1994 mid-term election that ended 42 years of Democratic dominance in the House, Mr. Rangel pushed through another key piece of his legislative legacy: the empowerment zone.
The congressman's initiative allowed for city, state and federal governments to cooperatively create local nonprofit entities armed with bonding power and tax incentives. The organizations could then use those carrots to coax private interests into deprived areas and to hire local residents.
President Bill Clinton signed off on the idea, and a bidding war began among inner-city areas to participate in the program. Naturally, Mr. Rangel's district won. The Upper Manhattan Empowerment Zone was born—one of the first of 40 nationwide.
"It was Charlie Rangel who went to leadership in the Democratic Party and the president, and said 'we don't have any programs for the cities," Mr. Dinkins recalled. "That became the empowerment zone."
UMEZ tax breaks, grants and loads helped underwrite the massive Harlem USA retail complex, the renovation of the landmark Apollo Theater and new businesses large and small that soon blossomed in Harlem—businesses the neighborhood could not have dreamed of hosting a decade before. In the new millenium, the UMEZ assisted in the rezoning and revitalization of 125th Street.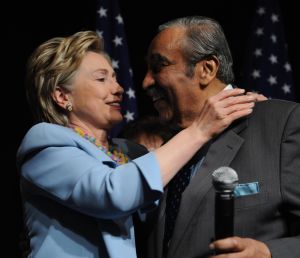 By the nonprofit's own estimates, these projects have directly created 10,000 jobs.
Mr. Rangel also leveraged his connections to the Clinton administration to avenge his friend Mr. Dinkins' defeat at the hands of Rudolph Giuliani. When Sen. Daniel Patrick Moynihan announced his plans to retire after 2000, Mr. Giuliani appeared poised to seize the seat. To prevent that from happening, the congressman decided to draft First Lady Hillary Clinton to run against him.
"We were scared to death of Giuliani running for the Senate. And I was in Chicago, and I heard Hillary give a hell of a speech," he recalled. "I told her that, 'God, do we need you badly in New York.' And she just said, 'Charlie, you always are making trouble.'"
But the veteran legislator continued to make trouble, following up with Ms. Clinton's chief of staff, with the rest of the New York House delegation, with labor and clergy. In 1999, the Clintons bought a house in Chappaqua, and Ms. Clinton formally entered the Senate race. Struggling with falling poll numbers, a disintegrating marriage and prostate cancer, the Republican mayor abandoned his campaign in May 2000.
In 2001, Mr. Clinton set up his foundation's offices in a 125th Street space that Mr. Rangel had helped secure. The past president's organization launched its own small business mentoring program for Harlem the following year.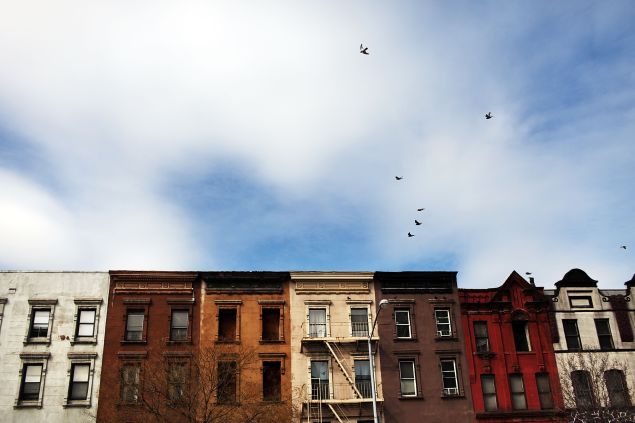 Charlie Rangel's war
But a darker thread runs through the tapestry of the congressman's accomplishments.
The congressman remembered the Harlem that reared him as struggling with crime and poverty, but remaining a relatively strong, family-oriented community. But heroin had started to seep into the neighborhood by the time he enlisted in the Army, and as an assistant U.S. attorney he specialized in prosecuting drug cases.
By the time he reached Congress, black G.I.s were emerging from the steaming jungles of Vietnam hooked on the drug, and the problem had morphed into an all-out epidemic. Yet so far it had passed beneath the notice of white America. Mr. Rangel was determined to change that.
"The streets would be crowded with people selling and bartering and name brands, and cars with one-way glass windows," he said, shutting his eyes as if the scene might reappear before him. "The empty buildings, the burglaries, the robberies. Everybody knew somebody that got mugged that week. Everybody knew somebody whose door was broken down to steal a television."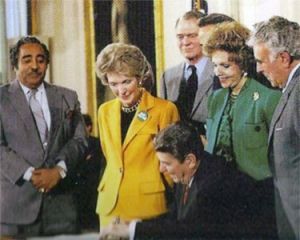 When the CBC sat down with Nixon in 1971, they called on the president to declare narcotics dealing "a major national crisis." Three months after the meeting, Nixon declared the "War on Drugs."
The congressman's vocal and aggressive advocacy on the drug issue soon won him a seat on the House Select Committee on Narcotics Abuse and Control, and in 1983 he became its chairman. From then on, as he put it to the Observer, "if it was narcotics, it was Rangel."
Mr. Rangel stood at President Ronald Reagan's side as the Republican signed the Anti-Drug Abuse Act of 1986, having personally amended the bill to include extra funds for enforcement. Crack cocaine by then had supplanted heroin as the worst scourge in black communities and in the American imagination, and the new law established the infamous 100:1 ratio—a five year mandatory minimum sentence for possession of five grams of crack cocaine, and the same sentence for carrying 500 grams of the drug in powdered form.
"By the time we got to crack, it meant people could be hurt, people could be killed, people could be robbed," he said.
Mr. Rangel endorsed the even harsher Anti-Drug Abuse Act of 1988, but assailed Reagan for what he saw as insufficient zeal in clamping down on dealers.
"This administration refuses to provide either the money or the leadership to fight a real war on drugs," he told the New York Times that year. He repeatedly railed in the press against his favorite foil, the "moral and political suicide" of possibly legalizing illicit substances.
He would similarly accuse President George H.W. Bush of having a "lackadaisical attitude" toward the issue. In a televised debate with National Review founder William F. Buckley in 1991, Mr. Rangel concurred with the conservative icon that the criminal justice system had "not been a deterrent" to drug abuse, but defended heavy sentencing laws on principle.
"We should not allow people to distribute this poison without fear that maybe they might be arrested and put in jail," he said. "If somebody wants to sell drugs to a child, that person should believe they will be arrested and go to jail for the rest of their natural life. That's what I'm talking about when I say 'fear.'"
"His strong advocacy around the 'lock-'em-up-and-throw-away-the-key' approach was instrumental to the devastation of the black family in Harlem," said Julio Medina, executive director of the Exodus Transitional Community in East Harlem.
As of last December, nearly half of the roughly 196,000 people in federal prison were there on narcotics charges. The War on Drugs has become a seemingly interminable offensive that has now dragged out for 45 years, cost upwards of $1 trillion, resulted in more than 45 million arrests and left the United States with the biggest prison population on the planet. And as with so many of Mr. Rangel's endeavors, the fruits of his anti-narcotics crusade are on display in his district.
"His strong advocacy around the 'lock-'em-up-and-throw-away-the-key' approach was instrumental to the devastation of the black family in Harlem," said Julio Medina, executive director of the Exodus Transitional Community in East Harlem, which helps recently released convicts readjust to civilian life. "Communities were devastated by that. By lost fathers, by lost income that's no longer in the community."
Mr. Medina himself spent 12 years in prison on drugs charges in the 80s and 90s. More recently, he served on Gov. Andrew Cuomo's Council on Community Reentry and Reintegration. These days, on top of his work at Exodus, he teaches a course to inmates at a federal correction complex in Petersburg, Va.—and described the human impact of Mr. Rangel's efforts to contain the drug trade, even as he called the congressman "a friend."
"You hear the stories, it's just a sad reality of what they've done to a portion of the black and Latino community with this kind of barbaric sentencing around drugs," he said. "We're still trying to undo so much of the damage of tough policies that Rangel was out there supporting."
Mr. Jeffries, the congressman in Brooklyn, has dedicated his career in the House to trying to undo the legacy of the drug war. But he credits his Harlem counterpart for having elevated the havoc and terror that heroin and crack wrought in minority neighborhoods to the nation's attention.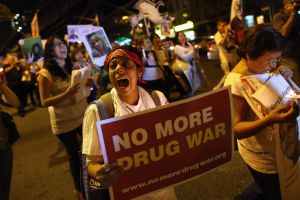 "He was effectively playing the role of advocate for a community that was being ravaged by the drug trade," he said, noting that crack use and trafficking had devastated his own community of Crown Heights in the 80s. "Hindsight is always 20/20."
Mr. Rangel moderated his stance later in the 90s, proposing laws that would reduce the disparity in punishment for crack and powder cocaine. But as late as 2008, in his autobiography  …And I Haven't Had a Bad Day Since, the congressman lamented that the "national passion" for the drug war had "petered out."
In the waning days of his tenure, however, the lawmaker has reversed his old hard-line stance entirely.
"I really thought that the fear of incarceration would be enough," he said. "I was not sophisticated enough to understand—the whole country wasn't sophisticated enough—to recognize the cost of incarceration is out of proportion to any benefits at all."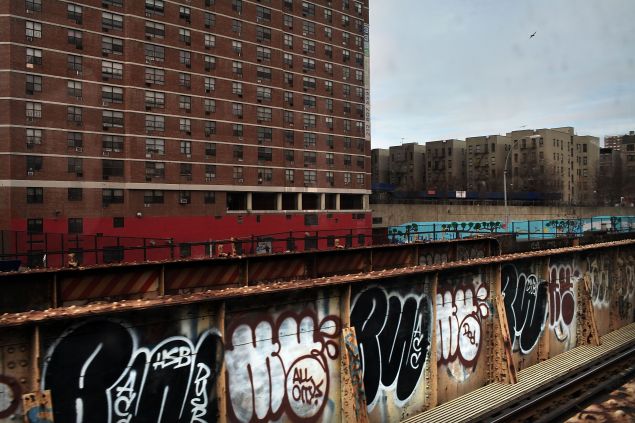 The lion in fall
On January 3, 2008, Ms. Clinton—Mr. Rangel's pick for the presidency—placed third in the presidential primary in Iowa, badly trailing a freshman senator from Illinois named Barack Obama. Suddenly, it seemed black politics in America had a new face.
"I didn't know who the hell he was, really. But I damn sure knew who Hillary was, and Bill was," the congressman said. "It was only after Iowa that I had to talk to Hillary, and make it abundantly clear that we had problems now that we never had before."
Mr. Obama's rapid rise coincided with Mr. Rangel's near-complete political collapse.
That July, reports surfaced that the lawmaker was living in three combined apartments he rented at an extremely preferential rate, and using an additional rent-stabilized unit as a campaign office in violation of state regulations. Hoping to dispel any clouds of suspicion gathering over him, Mr. Rangel asked the House Ethics Committee to investigate.
Around the same time, it came out that he had sent letters written on his official congressional stationery to a number of private companies requesting donations to the new Charles B. Rangel Center for Public Service at City College. Several of those businesses had matters under consideration in the Ways and Means Committee, which Mr. Rangel now chaired, and one donor had gotten a crucial tax break renewed.
Most damaging, the investigation found Mr. Rangel had failed to report thousands upon thousands of dollars of income from renting a vacation property he owned in the Dominican Republic, as well from other sources, on either his taxes or on his federal disclosure forms.
The House probe into the various imbroglios lasted two years, and forced Mr. Rangel to resign as Ways and Means chairman, a post he had worked his whole career to gain. The ordeal ended in the Democratic-controlled Congress voting to censure Mr. Rangel, the most severe punishment it could mete out short of expulsion, and a penalty no member of the House had faced in nearly 30 years.
The congressman, and those close to him, still insist the numerous infractions were all just clumsiness on his part. An insider who was with him in Washington while the scandal unraveled told the Observer that calls poured over the phone from Republican representatives—"you're getting screwed."
Even so,  Congressman Peter King of Long Island and Congressman Don Young from Alaska were the only GOP members to vote against the penalty. President Obama recommended on national television that Mr. Rangel "end his career with dignity," a comment that a source told the Observer wounded Mr. Rangel personally.
When asked about the censure, Mr. Rangel would only insist to the Observer that his colleagues had denied him due process.
His pronouncement before the House the day of the vote in December 2010 was a far more eloquent coda to his career.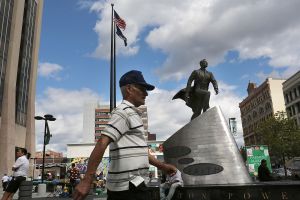 "I know in my heart I am not going to be judged by this Congress. I'll be judged by my life in its entirety."
It merits mentioning that, though Clayton Powell ended his career in ignominy, most remember him today as a hero of the civil rights movement. A great bronze monument to the late lawmaker stands a short distance off from the building christened in his honor. Frozen in inspirational pose, atop a pedestal embossed with uplifting quotations, the statue stares out over a boulevard that bears his name.
And maybe the day is not long off when a statue of Mr. Rangel stands beside it.