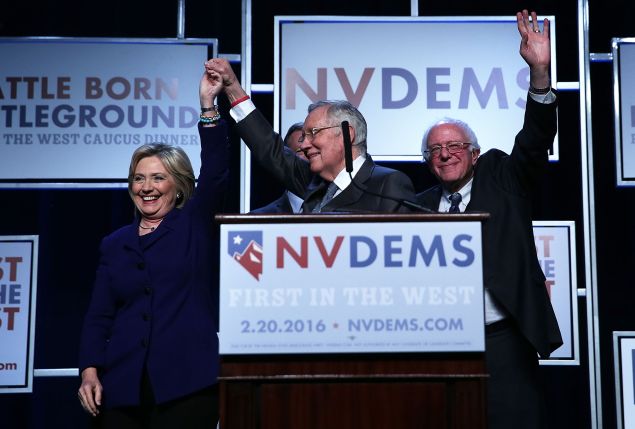 "Harry Reid clearly wants Hillary Clinton to be the next president," began a Politico article published a few days before the Nevada caucuses. It held that the reason Mr. Reid did not endorse a presidential candidate is that he wants to bolster the odds of his chosen successor, former state Attorney General Catherine Cortez Masto, winning his Senate seat in November when Mr. Reid retires. One could also argue that the real reason Mr. Reid refused to endorse a candidate was to influence the caucuses under the guise of neutrality, which would not have otherwise been afforded to him had he not remained publicly impartial.
A week before the Nevada caucuses, as new polls showed Sen. Bernie Sanders' support in the state surging, Mr. Reid made a call to the head of Nevada's most powerful union—the Culinary Workers Union in Las Vegas, which did not plan on engaging in the caucuses—and influenced the union's decision. Mr. Reid also made calls to casino executives along the Las Vegas strip to ensure casino workers were given time off to join the caucuses on the strip, which was predicted to be Ms. Clinton's stronghold in the state. Mr. Reid's gamble paid off, with all six casino caucuses favoring Ms. Clinton over Mr. Sanders by 109 to 52.
Mr. Reid's own precinct favored Ms. Clinton by a wide enough margin that there weren't enough Sanders supporters to win any delegates, essentially deeming his supporters' votes worthless, which demonstrates the flaws inherent in the caucuses themselves. The caucuses are disorganized, offering more opportunities for fraud and corruption, and allow supporters to solicit potential voters as they make their decisions, which is illegal at voting locations because it's contradictory to democracy and makes one's vote public—subjecting participants to influence contrary to their political beliefs. Caucuses also discourage high voter turnout because groups of voters must be counted all at once, making the affair much more time-consuming than simply casting a ballot.
In Nevada, an estimated 80,000 people showed up for the state's Democratic caucuses, a significant drop from 120,000 in 2008, which was also an abysmally low turnout given there are over 470,000 registered Democrat voters in Nevada—and over 200,000 of those voters cast a ballot in the 2014 general election. Nevada is known for having low voter turnouts compared to the rest of the country, and the move to hold caucuses instead of a primary—primarily decided by Mr. Reid—wasn't going to help.
Nevada's first early caucus primary was held in 2008 (again thanks to Mr. Reid's efforts) as a means to better reflect the diversity of the country as a whole—one that was lacking in the voter populations of Iowa and New Hampshire. The first Nevada caucus also provided an opportunity for Mr. Reid, involved in Nevada politics since the 1960s, to rally Democratic volunteers and supporters leading up to the general elections. If Nevada maintains its early primary position along with Iowa and New Hampshire, it will be attributed to Mr. Reid's legacy after he retires, along with his close 2010 re-election to the Senate and the Democratic machine he built in the past few decades.
By the same token, if Ms. Clinton had lost in Nevada, it would have been a major blow to Mr. Reid's Democratic machine (and his reign as its overseer), which has already been under threat from the Republicans. In 2014, Republicans won big in Nevada, taking the governor's seat, majorities in the State House and Senate, and three of the state's four U.S. congressional districts.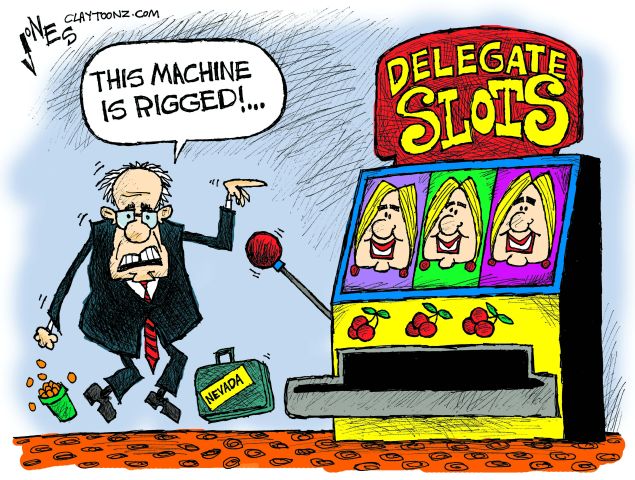 Mr. Reid's influence wasn't the only disconcerting and undemocratic aspect of the Nevada caucuses this year. Supporters from Ms. Clinton's campaign were caught by the union's executive director, RoseAnn DeMoro, impersonating members of the National Nurses United Union, which has endorsed Mr. Sanders. Ms. DeMoro took photos of Ms. Clinton's supporters changing into red shirts identical to the ones worn by members of the union while campaigning for Mr. Sanders. ABC News also reported Clinton supporters were conducting push polls ahead of the caucuses testing attack lines on potential voters.
One of the biggest controversies of the caucuses was a claim made by actress Americana Ferrera and activist Dolores Huerta, both Clinton supporters, of Sanders supporters chanting "English Only" at Ms. Huerta while she attempted to translate during a caucus held at Harrah's Casino on the Las Vegas strip. Actresses Susan Sarandon and Gaby Hoffman, Sanders supporters who were also present, provided video evidence debunking Ms. Ferrera and Ms. Huerta's claims. Snopes also ruled Ms. Ferrera and Ms. Huerta's accusations were false, but not before several major media publications jumped the gun and published stories asserting they were true. DNC Vice Chair Donna Brazile chimed in, despite the impartiality her position requires. The lack of any sort of due diligence to corroborate Ms. Ferrera and Ms. Huerta's allegations is symptomatic of the bias skewed in favor of Ms. Clinton by media and the political establishment.
In 2008, Ms. Huerta supported Ms. Clinton over Barack Obama, and attempted to vilify Obama supporters as racists against Latinos. "In spite of the oppression and the voter suppression and huge intimidation on the part of the Obama supporters of the Latino casino workers, they voted for Hillary," Ms. Huerta said in a 2008 interview with Democracy Now.
This type of smearing has been common by Clinton supporters over the past few months. The Bernie Bros narrative, an attempt to stereotype Mr. Sanders' supporters as sexist white men, was also used against Mr. Obama in calling his supporters Obama Boys. Both accusations had very little evidence despite the attention garnered in the media and from Clinton supporters, while feminism and issues relating to the promotion of gender equality fell to the wayside in favor of policing alleged widespread sexism.
Similar tactics were used by Clinton supporters and by a Clinton-supporting journalist to warp a response from civil rights hero and Congressmen John Lewis, who said he never saw Mr. Sanders during the civil rights movement. The comment was manipulated to suggest Mr. Lewis questioned Mr. Sanders' involvement in the civil rights movement—which was false and was clarified a few days later by Mr. Lewis. Shortly after, another journalist took a quote from Sanders supporter rapper Killer Mike, and manipulated it to appear as though Killer Mike was making a sexist remark. The rapper was actually just quoting a conversation he had with feminist activist Jane Elliot.
This type of propagated manipulation in favor of Ms. Clinton at the expense of Mr. Sanders is not beneficial to the Democratic Party. Ms. Clinton will eventually need Mr. Sanders' supporters and the many independent voters he attracts if she wins the nomination and wants to win the presidency—especially as recent polls predict current GOP frontrunner Donald Trump defeating Ms. Clinton in the general election. Disenfranchising those voters with smear campaigns that stereotype them for political gain may help Ms. Clinton win the Democratic nomination, but it will hurt her and the Democratic Party in the long run as even Republican presidential candidates are not stooping to such levels against one another's supporters.