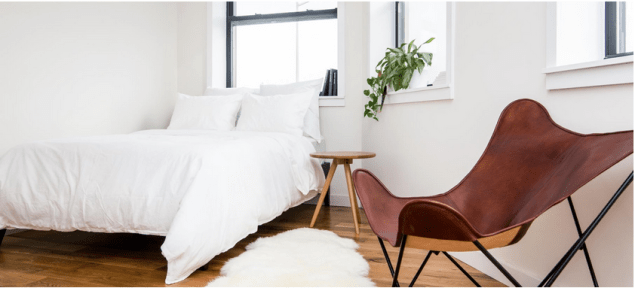 Would you pay $2,700 or more per month to live with 50 other roommates in Williamsburg?
Common, a co-living company that recently opened two upscale shared houses in Crown Heights, is betting that at least 51 people will pay between $1,800 and $2,700 a month for an all-hassles-taken-care-of house share on South 3rd and Havemeyer. The company is partnering with Paul Henry of Henry Development to build a 12-suite, 51-bedroom, 20,000 square foot residence, which will be its first ground-up development in the city. (Common does not own any of its properties—which Mr. Hargreave took care to emphasize were always either vacant before his company stepped in, or in the case of Williamsburg, non-existent—but acts as a master leaser and property manager.)
"It serves how people are living already but does it in a more high-quality way," Common CEO Brad Hargreaves told the Observer in a recent phone conversation about the new property. "It removes a lot of the conflicts that roommates face—we clean the spaces, provide all kitchen and bathroom supplies, furnish them so you don't have the issue of 'My roommate moved out, now I don't have a couch,' and finally, most importantly, you're buying into a collaborative place. There are potluck dinners on Sunday nights and most of the members now run events themselves—movie nights, cookouts."
Common is one of several recently-launched co-housing companies, including an arm of WeWork, attempting to woo wealthy, communally-minded millennials in New York and several other major cities. Residents pay a premium for all-expenses shared housing rented on a month-to-month basis, which includes all utilities, cleaning services, bathroom and kitchen supplies and quality furnishings from the likes of West Elm and Restoration Hardware. Living rooms, kitchens and bathrooms are shared.
In addition, Mr. Hargreaves said that Common kicks in a monthly activities budget for community-building activities, in the ballpark of $50 per person. Rooms at the Williamsburg residence will be furnished with minimalist furniture with mattresses by Caspar and linens by Parachute. The most expensive rooms will also have private baths—a perk that may prove helpful in luring renters who could easily afford their own studios. (The average rent for a studio in Williamsburg is now $3,024, according to recent report from MNS.)
"I think many of the people who move into Common look at it as an alternative to a studio," Mr. Hargreaves said, adding that they try to price rooms about 25 percent cheaper than nearby studios. "Obviously you get less private space, but you have access to much nicer furnishings and amenities than you'd typically have. And there's free laundry, no broker's fee, utilities and cleaning."
Roommates are vetted with background checks and financial screening, but unlike the painstaking and often nit-picky approval processes in many other house shares, the only other requirement is a desire to live in shared housing. Applicants are placed on a first-come, first-served basis.
And were there many comers at that price point?
"Our Crown Heights buildings are fully leased," Mr. Hargreaves assured us. (The company runs a 19-bedroom house on Bedford Avenue and a 10-bedroom house on Albany Avenue, where prices range from $1,050 to $1,900 per month.) "We've had hundreds of applications."