U.S. Senator Cory Booker (D-NJ) today announced that George Helmy will serve as his State Director, succeeding Mo Butler as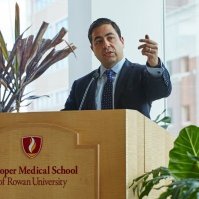 Booker's top staffer in New Jersey.  Helmy, a native of Jersey City, has served as Sen. Booker's Deputy New Jersey Chief of Staff for two years, where he ran the day to day operations of his state offices.
"George embodies the greatest qualities of our state: he's hard-working, tenacious, and compassionate," said Booker. "He's already made lasting contributions to advancing vital New Jersey priorities, from his leadership on infrastructure projects like Gateway, to his efforts to bring more resources to our municipalities and state, to his responsiveness to individual constituents. He is well respected across the state and has a deep understanding of the issues facing our region.  George has proven his commitment to the people of New Jersey time and time again, and I look forward to continuing to work with him to stand up for the Garden State in his new role."
Prior to joining Booker's staff, Helmy worked for 15 years in the private sector and served as an aide to the late U.S. Senator Frank Lautenberg, where he led the senator's efforts in New Jersey on gun and crime legislation and banking and consumer affairs. Helmy, who lives in Morris County with his wife and two children, received a BA from Rutgers University and a Master's degree from Harvard University.