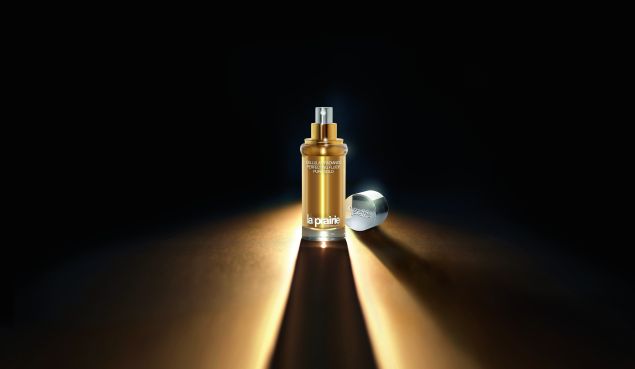 They say that diamonds are forever, but did you know that gold can better your complexion? La Prairie is banking on that sparkling detail with their latest product: Cellular Radiance Perfecting Fluide Pure Gold.
Seriously, there are gold flakes in the formula and those precious flecks promise to do more than just offer immediate satisfaction; they will benefit the skin in the long term by increasing collagen production. The result? Smoother skin texture and less noticeable wrinkles.
The formula doesn't come out of the pump in a molten gold liquid, but rather the La Prairie concoction looks like a pink mid-weight face cream. When smoothed over the skin, the Perfecting Fluide grips onto the surface, in a way that allows for penetration into the pores, without being sticky. It also brilliantly layers, playing well with other serums, moisturizers and sunscreens; it actually works well as a primer before BB cream or liquid foundation.
With a focus on promoting flawlessness, the Perfecting Fluide isn't just for women in Beyoncé's age bracket. La Prairie's Director of Innovation, Dr. Daniel Stangl explained to Observer: "There is a very broad age range for this product. You can start using it in your 20's and up to your 60's and 70's because it's really about perfection and this flawless look of your skin. It's not about getting rid of wrinkles, it's about getting that radiant glow which is associated with healthy, beautiful and attractive skin. I think this is independent of age. Even for men."
Further, this formula will emulate the theory of the golden hour, but for your face. That time before dusk, when a golden light from the setting sun bathes everything in a glowy embrace is preferred by photographers, as it makes everything look better. So imagine what it can do for one's visage.
Yes, the Perfecting Fluide comes with a steep $525 price tag, but for those who are endlessly chasing the fountain of youth, it's a small price to pay.