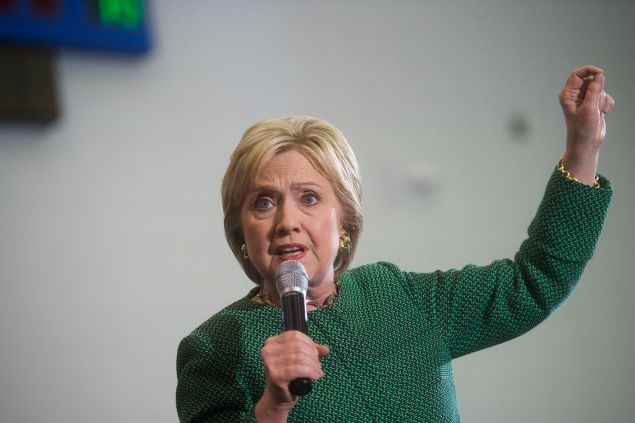 Hillary Clinton is still a prohibitive favorite to win the Democratic nomination, despite Sen. Bernie Sanders' stunning success. Institutional players and nonwhite voters remain firmly in her camp, and she'll likely be able to withstand wins the Sanders campaign may achieve in large, liberal states like Massachusetts, Colorado and Minnesota.
This does not mean Ms. Clinton is an exceptional presidential candidate. Millennials have rejected her en masse. Democratic voters may be loyal to her, but they are not nearly as excited about another Clinton presidency as they were for Barack Obama. Many progressives remain deeply skeptical about the Clinton record, with unforgiving memories of the Iraq War, NAFTA, the 1994 crime bill and welfare reduction.
What's Ms. Clinton to do? A progressive vice presidential candidate from a crucial swing state could be a place to start. Think Sen. Sherrod Brown of Ohio.
The name most bandied about for a Hillary Clinton ticket is Julian Castro, the Housing and Urban Development secretary, and this makes plenty of sense. Ms. Clinton is 68 and white; Mr. Castro is 41 and Latino and is reportedly lobbying already for a place on the ticket. Though President Obama won the Latino vote 71-27 percent in 2012 and Donald Trump, a potential Republican nominee who has built his candidacy on denouncing immigration, would be hard-pressed to improve on those margins, Mr. Castro represents a demographic Democrats hope to turn out in much higher numbers this fall.
But Mr. Castro, a former San Antonio mayor, is an establishment Democrat unlikely to sway any Sanders voters with hurt feelings. Ditto Sen. Tim Kaine of Virginia and Sen. Cory Booker of New Jersey, two other potential candidates. Sen. Elizabeth Warren of Massachusetts, a liberal icon who has so far refused to endorse Ms. Clinton, is an obvious solution, though she's just two years younger than the former secretary of state and also a woman. Would notoriously unforgiving Clinton World really invite Ms. Warren on board?
Mr. Brown, 63, has so far ruled himself out as a vice presidential candidate, though he wouldn't be the first politician to publicly dismiss such an opportunity before taking it later on. "I have no interest in being vice president," Mr. Brown said in a statement to the Observer. "I love working for the people of Ohio, and I have a lot more work to do as their senator."
Despite this, Ohio Democrats are already buzzing about Mr. Brown, who some liberals once hoped would challenge Ms. Clinton. Instead, he endorsed her, which would only help his chances of appearing on a Clinton ticket. (The Clinton campaign did not comment for this story.)
"Sherrod Brown should be on any shortlist of vice presidential candidates they look at," David Pepper, the chairman of the Ohio Democratic Party, told the Observer. "He shares a lot with Bernie Sanders when it comes to the issues he's been fighting for. … He's a clear progressive ahead of his time."
"He'd be a great choice for Hillary," added Joe Schiavoni, the Democratic minority leader of the Ohio State Senate. "He's really in touch with middle class issues. Every politician wants to say that they are, but he truly is."
Mr. Brown, though less famous than Ms. Warren, has a far longer track record in elected office of fighting for the issues she and Mr. Sanders, a Vermont independent, are most concerned about. Elected to the Senate in 2006 after a 14-year House career, Mr. Brown champions the restoration of the Glass-Steagall Act, a law separating investment and commercial banking that was repealed by the Clinton White House. He is a critic of free-trade, a proud supporter of the labor movement and helped scuttle centrist Larry Summer's appointment to head the Federal Reserve.
Put simply, there's nothing in Mr. Brown's record—beyond endorsing Ms. Clinton, an unpardonable sin for some hardcore Bernie backers—that progressives could nitpick.
"There is a rising economic populist tide in America, and it would be a fitting sign of our times for the next Democratic nominee to pick a running mate with a proven record of fighting for working families and challenging corporate power," said Adam Green, the co-founder of the Progressive Change Campaign Committee, a liberal group that is neutral in the primary. "Sherrod Brown is one of numerous people who would fit that bill."
Of more value to a pragmatic presidential campaign, however, would be Mr. Brown's home turf. Pundits do overrate the value a vice presidential candidate and many other factors, including economic forces and the popularity of the Obama White House, will play a role in determining the next president.
Yet without Ohio, which Mr. Obama won twice, it's difficult to imagine any Democrat becoming president. In an era of fewer swing states, the Buckeye State is genuinely in play for either party, and Mr. Brown, a popular senator known to charm even some conservatives, would be an asset there.
"He's just a brand name here in Ohio," said Mr. Pepper, who is neutral in the Democratic primary. "It takes years to get known in Ohio. It's a big state with eight media markets. That's the advantage Sherrod brings."
It may be awkward, though, for Ms. Clinton to tap someone who has been loudly critical of many of the policies she has supported in the past. Until recently, she was an unequivocal proponent of free-trade and doesn't believe Glass-Steagall should come back.
Clinton confidantes insist Ms. Clinton hasn't given a great amount thought to who will be on her ticket. With the Democratic National Convention coming a week after the Republican festivities in July, she would have extra time to pick a vice presidential candidate, potentially adjusting her choice based on the Republican ticket.
"Let's assume Donald Trump at the top of the ticket," said Jay Jacobs, the chairman of the Nassau County Democratic Party and a Clinton insider. "The big question is who does he pick for his vice presidential candidate and what implications does that pick have for various demographic and geographic groups that are important?"
Mark Mellman, a Democratic pollster, called Mr. Brown an "extraordinarily talented" politician who could boost Ms. Clinton in Ohio, though he cautioned vice presidential picks are overblown. With a vast majority of voters already committed to supporting the Democratic or Republican candidate, as much out of hatred for the other party as an embracing of their own, he predicted most Sanders voters will come back to Ms. Clinton.
"No matter who she picks, most Bernie Sanders voters are gonna be voting for her," he said. "She's the nominee."
Disclosure: Donald Trump is the father-in-law of Jared Kushner, the publisher of Observer Media.
An earlier version of this story incorrectly stated the PCCC endorsed Mr. Sanders. In fact, they are neutral in the Democratic primary.