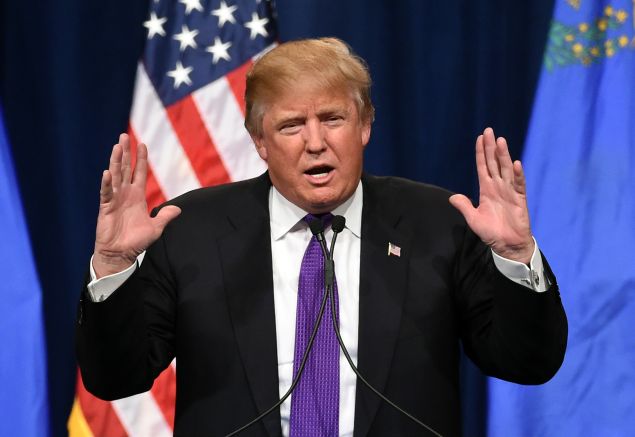 When Democrats campaigned across the nation two years ago, Republicans strenuously tried, with much success, to tie them to a president of middling popularity.
Democrats are now ready to return the favor.
With Donald Trump currently the front-runner for the Republican nomination, Democrats everywhere, including his home state of New York, are licking their chops. They believe Mr. Trump's divisive rhetoric could doom Republicans in downballot races, driving turnout among minorities and alienating moderates who would rather not vote for a candidate belonging to the same party as the billionaire real estate developer. For both parties, the stakes are especially high in New York, where Republicans have a very tenuous grip on the State Senate and could lose some of the congressional seats they picked up in the midterms.
"Of all the options we're looking forward to, we're looking forward to going against Donald Trump this fall," said State Senator Michael Gianaris, the chairman of the Democratic Senate Campaign Committee. "His extremist views do not fit with the people of New York."
The Democrats' strategy would be payback for how New York Republicans gleefully tied Democrats running beyond New York City to Mayor Bill de Blasio, a liberal and something of a bogeyman in the suburban and rural quarters of the state. Mr. Trump, a major celebrity who has steamrolled through three states and incessantly courts controversy, is a far bigger name, and potentially much more toxic in swing districts.
Progressives in the state expect a higher turnout for the Democratic nominee in an effort to stop the Queens native, who routinely insults Latinos and Muslims.
"With Trump, the contradictions of how Republicans have used race and immigration status to solidify support for their pro-corporate, establishment politics are coming home to roost," said Bill Lipton, the New York State director of the left-leaning Working Families Party. "It's actually frightening, but it'll energize black, Latino and other progressive voters and help us win downballot races."
New York Democrats have repeatedly denounced Mr. Trump in recent months. Council Speaker Melissa Mark-Viverito staged a rally outside City Hall aimed specifically at Mr. Trump, who she called a "disgusting" and "racist" demagogue. Mr. de Blasio, a liberal with national aspirations, appears most at ease when he can use Mr. Trump as a punching bag.
Even with his successes across the country, Mr. Trump still suffers from high disapproval ratings; a recent Siena College poll showed the celebrity billionaire has a staggering 71 percent unfavorable rating in New York. Republicans who identify themselves as moderates in Nevada and New Hampshire may be choosing Mr. Trump, but New York moderates are birds of a different feather.
And some of them are nervous. The GOP is trying to rebuild in the Empire State by distancing itself from its more extremist fringes. In New York City, Republicans have embraced immigration reform, moving in the direction the National Republican Committee once hoped the party could go in before the rise of Mr. Trump.
"He just made it a lot harder for Republicans here," said Evan Siegfried, a New York-based GOP consultant. "You're running on a treadmill at a 45 degree incline, and he made it an 80 degree incline."
The worst losses could come in the State Senate. Assuming Republicans, in an April special election, lose the Nassau County seat once occupied by the former majority leader, Dean Skelos, there would be 32 members of the GOP Conference and 26 Democrats, along with five members of a breakaway Democratic conference that has aligned with the Republicans. With the Republican Party billed as the Party of Trump, the Independent Democratic Conference, generally liberal on most issues, could face an inordinate amount of pressure to abandon the GOP.
On the congressional level, Republicans will have to defend several district across the state where Democratic turnout will surge, with or without Mr. Trump. In Suffolk County, first-term Congressman Lee Zeldin is expected to be a prime target. North Country freshman Elise Stefanik, John Katko of Syracuse and even Daniel Donovan of Staten Island (if Democrats can ever dig up a viable challenger for him) could suffer if they aren't able to distance themselves from Mr. Trump. Congressman Tom Reed, a Buffalo Republican, said last month he found Mr. Trump's rhetoric troubling. 
"Simply put, many Cap­it­ol Hill Re­pub­lic­ans are genu­inely frightened that Trump or Cruz may not only guarantee Clin­ton the keys to 1600 Pennsylvania Av­en­ue, but could also badly di­vide the GOP and pro­duce a down-bal­lot apo­ca­lypse," Charlie Cook, the publisher of the nonpartisan Cook Political Report, wrote in January.
Not all Republicans are so afraid of the billionaire dooming them. Though a leading pollster reportedly told House Speaker Paul Ryan last month that Mr. Trump, as well as Sen. Ted Cruz of Texas, could have a deleterious effect on the Republican majority, a spokesman for the National Republican Congressional Committee predicted to the Observer that Hillary Clinton's email troubles would be more of a drag on the Democrats, even if she's a former senator from New York.
Perhaps the most enthusiastic defense of Mr. Trump from a mainstream Republican came from Ed Cox, the chairman of the New York GOP, who said in an interview that he believed the bombastic billionaire would have wide-ranging appeal across the state.
Mr. Cox cited Mr. Trump's ability to win votes from Republicans in various demographic and ideological groups in the early primary states and predicted he, and other Republicans, could even perform well in the most liberal areas of the state, including New York City.
"He could be a tremendously effective general election candidate," Mr. Cox said. "The bottom line is that my Democratic friends should not get too optimistic here. He could be a terrific candidate given his political skills and his ability to read the mood of the people, address their concerns and convince people he can deliver."
Disclosure: Donald Trump is the father-in-law of Jared Kushner, the publisher of Observer Media.