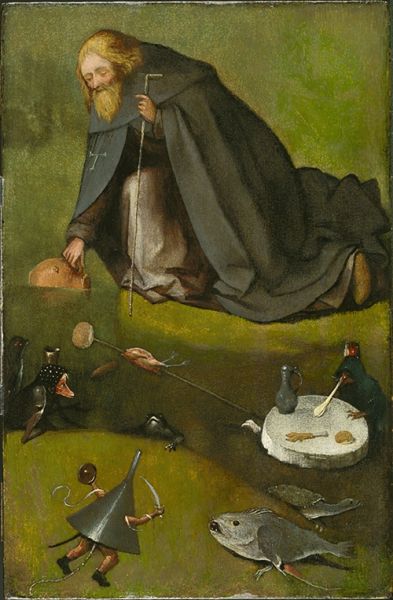 A painting at the Nelson-Atkins Museum in Kansas City, Missouri, has been identified as the handiwork of Dutch master Hieronymus Bosch. The 1500-1510 work, titled The Temptation of St. Anthony, is now among 25 known paintings by the artist in the world.
Islam Gawish, an Edyptian cartoonish who has 1.6 million Facebook followers, was arrested by Egyptian officials for operating a website without a license. Mr. Gawish's detainment is being considered the most high profile since the 2011 uprisings that overthrew the Mubarak regime.
Stained glass windows made during the reign of Henry VIII that were stored in crates and sunk into a garden fish pond are being restored to their full glory at a mansion in Hampshire, England. The windows depict a young Henry and his first wife Catherine of Aragon, and are in pristine condition for stained glass of the period, which has largely been destroyed by war and pollution over the centuries.
Tulsa, Oklahoma isn't the first city that might come to mind for art deco architecture, but the city has some fine examples that it also has an entire museum devoted to the style: the Tulsa Art Deco Museum.
A public art installation in San Jose, California, by artist Jonathan Fung, called Peep, will highlight the impact of human trafficking. The Bay Area is considered one of the largest areas for sex trafficking.
The New Yorker has a lengthy profile on Yves Bouvier, the shipping magnate who specializes in transporting art and is known as the "freeport king."