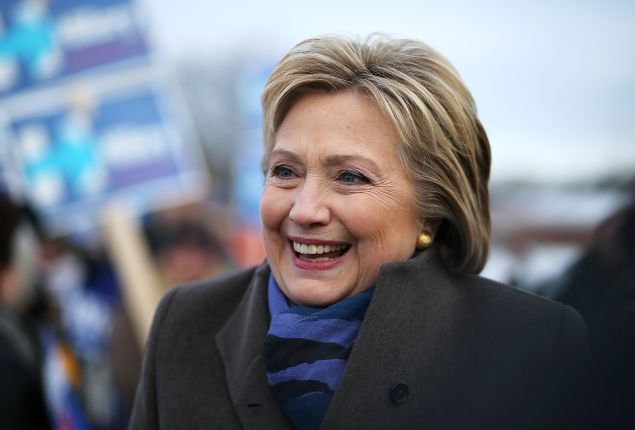 Hillary Clinton's politicization of feminism has gotten so out of hand that, in addition to Bill Clinton's criticism of "Bernie Bros," two of her most respected supporters—Madeline Albright and Gloria Steinem—have jumped aboard the bandwagon. During a Clinton campaign rally in New Hampshire, Ms. Albright said "there's a special place in hell for women who don't help each other," and in an interview with Bill Maher, Ms. Steinem stated young women support Bernie Sanders because "the boys are with Bernie."
Although Ms. Steinem issued an apology, it is unfortunate that thousands of people may have been introduced to her incredible work through such an unsettling statement. This is, of course, the same Gloria Steinem who endorsed Mr. Sanders in 1996, calling him "an honorary woman" during his congressional run against Republican Susan Sweetser.
Mr. Sanders' record on women's rights is indisputable—but hasn't stopped Clinton supporters from resorting to cheap and unfounded attacks. With the conversation being so politically expedient for Ms. Clinton, sexism has become a hot topic.
Instead of using Ms. Clinton's candidacy to enrich feminism, many of her supporters are leveraging it to shame Mr. Sanders. Equal pay and equal rights for women in America—along with many other issues perpetuating sexism and inequality in our society—are falling by the wayside in favor of debasing stereotypes like "Bernie Bro."
'The concoction of the 'Bernie Bro' narrative by pro-Clinton journalists has been a potent political tactic—and a journalistic disgrace.'
This not the first time women's rights have been politicized by Ms. Clinton at the expense of feminism. In April 2008, Rebecca Traister wrote an article for Salon entitled "Hey Obama Boys: Back Off Already," accusing Barack Obama's supporters of sexism against Ms. Clinton during the 2008 Democratic primaries.
In 2008, Kaili Joy Gray—the current Executive Editor of Wonkette, a self-proclaimed "feminist" publication—wrote for Daily Kos, "I am sad that I will not get to vote for Hillary in November. And, at the risk of opening myself up to accusations of racism, I will even admit that I'm sad that once again, it would appear that a black man gets there first. First to vote, first to be elected, first to the Supreme Court. I don't deny the importance of it; it would be nice, though, if just once, a woman could break through first."
"The concoction of the 'Bernie Bro' narrative by pro-Clinton journalists has been a potent political tactic—and a journalistic disgrace," Glenn Greenwald wrote in an article for The Intercept, citing Ms. Gray in his debunking of the Bernie-Bro narrative's legitimacy. "It's intended to imply two equally false claims: (1) a refusal to march enthusiastically behind the Wall Street-enriched, multiple-war-advocating, despot-embracing Hillary Clinton is explainable not by ideology or political conviction, but largely if not exclusively by sexism: demonstrated by the fact that men, not women, support Sanders (his supporters are 'bros'); and (2) Sanders supporters are uniquely abusive and misogynistic in their online behavior."
'She is smart enough to know women in the U.S. endure far more poverty, unemployment and food insecurity—yet she shamelessly made clear she was happy to keep it that way.'
The term 'Bernie-Bro' was originally coined by The Atlantic's Robinson Meyer—not to pejoratively stereotype every Sanders supporter, but rather to criticize the aggressive online arguing in support of Mr. Sanders. Mr. Meyer recently published a follow up article, offering about a dozen new puns to categorize Sanders supporters.
To infer that sexism is a defining characteristic of Mr. Sanders' support base is in itself sexist, and hurts feminism. If Ms. Clinton's supporters want to recruit young female voters, they should appeal to feminist values and more positive elements of Ms. Clinton's campaign platform. Many women believe Mr. Sanders will help women in America more than Ms. Clinton would.
"Of course I'd like to see little girls—still besieged by the pressure to be pretty at the expense of being powerful—to be inspired by the image of a woman president, as they have been by the rise of the U.S. Women's World Cup team. But unless those girls are part of a small elite, most will never grow up to enjoy equality with men absent the kind of reforms that Sanders is advocating," wrote occasional Observer contributor Liza Featherstone in an article for The Nation.
"A Clinton presidency would be symbolically uplifting, even as it slammed the door on the possibility of genuinely improving the lives of most of the world's women, Clinton was honest about how deeply at odds with any democratic-socialist movement she is. 'We're not Denmark,' she said, praising the 'opportunity' and 'freedom' of American capitalism. With this bit of frankness, Clinton helpfully explained why no socialist—indeed, no non-millionaire—should support her. She is smart enough to know that women in the United States endure far more poverty, unemployment, and food insecurity than women in Denmark—yet she shamelessly made clear that she was happy to keep it that way."