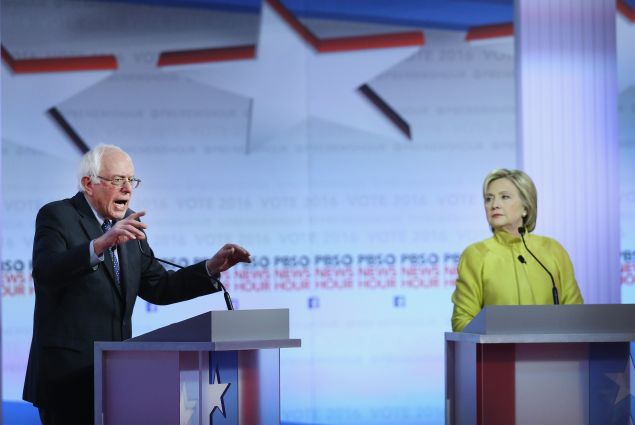 Sen. Bernie Sanders of Vermont and Hillary Clinton met in Milwaukee for the sixth Democratic debate, but their minds were doubtless on two other places: New Hampshire, where Mr. Sanders drubbed Ms. Clinton in the first in the nation primary on Tuesday, and South Carolina, where Democratic voters head to the polls on February 27th.
Mr. Sanders relied on his so far successful strategy of ripping Wall Street and the campaign finance system. Ms. Clinton looked to undercut the plausibility of Mr. Sanders' proposals, while depicting herself as the candidate for the more diverse electorate that will vote in upcoming primaries.
Ms. Clinton seemed to forsake earlier efforts to appear down-to-earth and folksy and instead went for an authoritative, aggressive approach aimed at stopping her rival's momentum.
"All the Barriers"
Mr. Sanders started off halting and hoarse, giving Ms. Clinton, the former secretary of state, ample opportunity to fluster him and highlight what she saw as the limitations of his economic populism.
Mr. Sanders alluded to mass incarceration, an issue with racial overtones, but awkwardly tried to link it to the post-recession failure to jail Wall Street executives. Ms. Clinton, by contrast, went out of her way to explicitly mention African-Americans and "systemic racism" as early as she could—obviously thinking of the large black population of South Carolina, which generally holds her and her husband in high regard.
"Every American" and "all Americans" was her refrain, as was "all the barriers." It was a point she re-emphasized in her closing statement:
"I am not a single-issue candidate. I don't believe we live in a single-issue country," she said, insisting she would take on racism, sexism and homophobia.
Mr. Sanders got in a strong blow while again highlighting the donations Ms. Clinton and the super PACs supporting her have taken from the financial sector and pharmaceutical companies
"Why do they give giant donations?" he asked. "I guess just for the fun of it. They want to throw money around."
"You Need to Level With People"
The other prong of Ms. Clinton's attack was to discredit Mr. Sanders' ambitious plan for "a political revolution." She cited analysts who claimed the self-described democratic socialist senator's universal health care plan was costly and unfeasible—which Mr. Sanders sought to parry by noting that most countries with single-payer systems spend less than the U.S.
She repeatedly stressed that she was "in vigorous agreement" with his desires to tax the wealthy, increase access to secondary education and strengthen the social safety net but warned against making "promises we can't keep."
A frustrated Mr. Sanders lashed at her finally with an odd line:
"Secretary Clinton, you're not in the White House yet."
It is unclear whether this approach will motivate voters to the polls for Ms. Clinton or simply deflate some of the enthusiasm for her opponent.
Hiding Behind Obama
Ms. Clinton forged ahead with her strategy of presenting herself as the heir to President Barack Obama's legacy, doubtless part of her appeal to black voters. When Mr. Sanders hit her for taking donations from large Wall Street firms, she pointed out Mr. Obama did it too. When he attacked her for supporting deporting refugee children from Central America, she noted she was following the president's lead. When Mr. Sanders ripped her for supporting the 2003 Iraq War, she noted that Mr. Obama had opposed the invasion—but hired her as secretary of state anyway.
Ms. Clinton also repeated a past attack on her opponent, noting he had called Mr. Obama "weak," "a disappointment" and that he had said he wanted to see the president primaried.
At last, Mr. Sanders struck back hard.
"One of us ran against Barack Obama. I was not that candidate."
Kissing Up
Perhaps the most bizarre moment in the debate was an extended exchange over Ms. Clinton's having sought advice from President Richard Nixon's Secretary of State Henry Kissinger.
Ms. Clinton wound up in the odd position of defending the Nixon administration for opening relations with China, while Mr. Sanders attacked Mr. Kissinger's advocacy of the "domino theory" of global communism. The question remains open whether the average Democratic primary voter cares about any of this.
Overall, though, Mr. Sanders stumbled on foreign policy, getting tripped up on talking about normalizing relations with Iran and leaning heavily on his vote against the Iraq War to demonstrate his expertise. Ms. Clinton may have finally found a line to counter that last attack.
"I don't believe a 2002 vote is a solution for fighting ISIS in 2016."