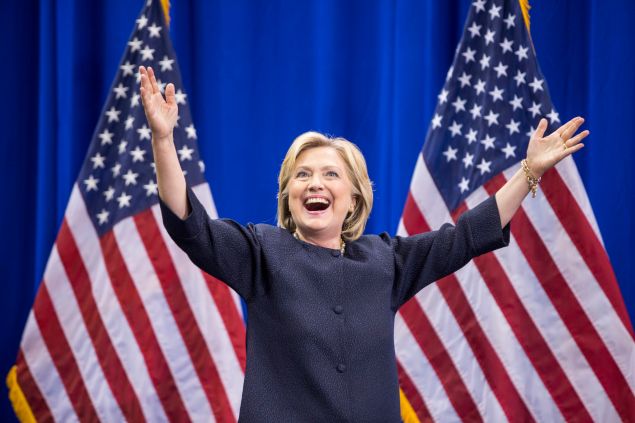 Hillary Clinton topped Bernie Sanders in a tight fight at the Nevada Democratic caucuses today—though it is unclear whether the win will stop the self-described democratic socialist's momentum.
As of this writing, the ex-secretary of state led the senator roughly 52 percent to 48, leading by 400 votes and carrying 21 delegates to his 15 (four remained uncommitted). Both campaigns are likely to depict their performance as a victory in the next several weeks, since the former first lady enjoyed double-digit leads in the state as recently as December, but managed to fend off a last minute push from her rival.
"To everyone who turned out in every corner of Nevada with determination and heart: This is your win. Thank you," Ms. Clinton tweeted shortly after news outlets projected her triumph. "Together, we can win the nomination and keep working to break every barrier holding Americans back."
Mr. Sanders enjoyed a late surge in fundraising that he quickly parlayed into a intensive vote-driving operation in the state. Apparently anticipating lackluster results, Ms. Clinton's campaign began to dismiss Nevada's significance by claiming it is overwhelmingly white, part of a larger strategy to depict the former senator from New York as a champion of minorities (the Silver State is in fact just over half non-Hispanic white, and more than a quarter Latino, making it actually more diverse than the United States as a whole).
Ms. Clinton again stressed her appeal to nonwhites and older female voters in her speech, lashing out at "systemic racism" and unequal earnings between men and women.
"This is your campaign. It is a campaign to break down every barrier that holds you back. We're going to build ladder of opportunity in their place so every American can go as far as your hard work will take you," she told a cheering crowd. "
In his online reaction, Mr. Sanders underscored his strong performance among voters under the age of 30 and his surprisingly competitive finish.
"I am very proud of the campaign we ran. Five weeks ago we were 25 points behind and we ended up in a very close election," he tweeted. "Proud that we brought many working and young people into the political process. We have the wind at our back as we head into Super Tuesday."
But before the "Super Tuesday" on March 1, the two contenders will face off in next week's South Carolina primary, where polls show Ms. Clinton sitting atop a 20-plus point lead, thanks to strong support in the black community.
Updated to include comments from Ms. Clinton and Mr. Sanders, and to update vote and delegate totals.