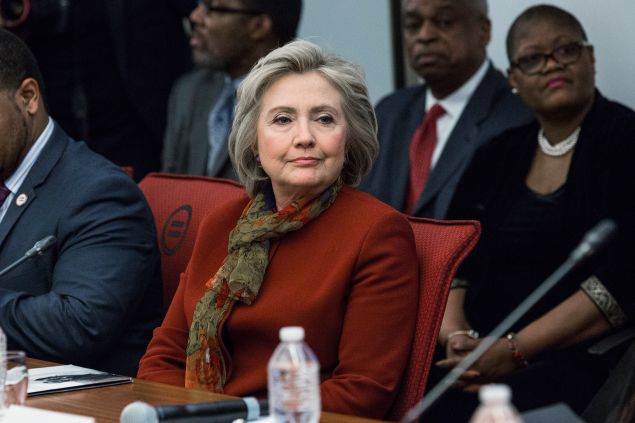 If Sen. Bernie Sanders has learned one thing about trying to undercut Hillary Clinton and win over African-American voters, it's that talking about income inequality by itself isn't enough.
Ta-Nehisi Coates, a leading commentator on race for The Atlantic, chided Mr. Sanders, a Vermont independent, for implying during the presidential campaign that shrinking the gap between the rich and poor was a solution for all that still ails black communities in America. "This is the "class first" approach, originating in the myth that racism and socialism are necessarily incompatible," Mr. Coates wrote in January. "But raising the minimum wage doesn't really address the fact that black men without criminal records have about the same shot at low-wage work as white men with them; nor can making college free address the wage gap between black and white graduates."
Since then, Mr. Coates has indicated he'll support Mr. Sanders, who is touring historically black colleges today and talking at length about racial injustice before the primary in South Carolina later this month. Ms. Clinton, coming off a devastating loss in New Hampshire and staring down a possible defeat in Nevada on Saturday, is also training her sights squarely on the African-American Democrats who will decide South Carolina and many other states in the months to come, traveling to Harlem this afternoon to deliver an address on combating systemic racism.
"We have to begin by facing up to the reality of systemic racism because there are not only problems of economic inequality but there are problems of racial inequality and we have to go say that loudly and clearly," Ms. Clinton said today.
Speaking at the Schomburg Center for Research in Black Culture, following an introduction from Harlem Congressman Charles Rangel, Ms. Clinton derided Mr. Sanders as too narrowly focused on Wall Street at the expense of other concerns.
"It's not enough for your economic plan to be break up the banks," Ms. Clinton said. "You also need a serious plan to create jobs especially in places where unemployment remains stubbornly high."
"You need a plan to address generations of under-investment and neglect," the former secretary of state argued, pivoting to an attack on an oft-repeated talking point of the Sanders campaign. "Even if we succeed in raising taxes on every millionaire and billionaire in America and believe me I do intend to succeed at that, we still need to face the painful reality that African-American are nearly three times as likely as whites to be denied a mortgage."
Implicit in Ms. Clinton's speech and in her morning meeting with Rev. Al Sharpton, who Mr. Sanders powwowed with a week ago, was that she is the lone Democratic candidate speaking to the issues that matter most to black voters. Thanks to her husband's presidency, there's an ongoing affection for the Clinton brand in black strongholds across America, even as some liberal critics argue Bill Clinton's efforts to gut welfare, support free-trade and toughen sentencing laws should disqualify Ms. Clinton from being a candidate for African-Americans.
Ms. Clinton, at one point battling back a coughing fit, seemed to acknowledge this reality, telling the predominately black audience that some of these policies, which went unnamed, caused "disappointment, frustration and even anger."
Otherwise she was unapologetic about her belief that she, and no one else, would be the candidate for black voters. Cycling through a long list of policy proposals aimed specifically at alleviating racial disparities, like banning the federal government from asking job applicants about their criminal history and encouraging black home ownership, she promised to invest billions of dollars in turning around neglected African-American towns and cities. She was often short on specifics, urging the audience to check her website for more, though she spoke forcefully enough about the water crisis in Flint, Mich., inequities in the criminal justice system and resurgent segregation in public schools.
Ms. Clinton toed a fine line between contending that America has a long way to go to rectify racial wrongs and giving President Barack Obama, the man who defeated her in 2008 and made history as the nation's first black president, credit for making progress. It was a reminder of the bitter campaign Ms. Clinton had to wage eight years ago and how many black elected officials, including Mr. Rangel, sided with her over the insurgent senator from Illinois.
"I don't meant to imply we're not making progress," she said, adding that President Obama "brought our economy back from the brink of another Great Depression."
Ms. Clinton's Harlem talking points were repackaged rather than new, timed to a February 27 South Carolina primary that will either stop Mr. Sanders in his tracks or commence the slow, excruciating end of Ms. Clinton's White House dream. There was nothing to please the likes of Mr. Coates, who believes blacks deserve reparations. The Overton Window was not moved.
Her address seemed to underscore that anyone who is anyone in the black political establishment is behind Ms. Clinton, and stragglers better get on board soon. In addition to Mr. Rangel, former Attorney General Eric Holder, the first African-American to hold the post, appeared on stage, joining Mayor Bill de Blasio and Gov. Andrew Cuomo. Many of New York City's black elected officials came to cheer Ms. Clinton on.
Ms. Clinton nodded to the political theater of it all. People may say she's speaking this way "because she's in an election but many of you in this audience know me and know these issues have always been a part of my North Star."
"If we continue to ask black people to vote for us, we cannot minimize the reality of the lives they lead or take their concerns for granted," she said.