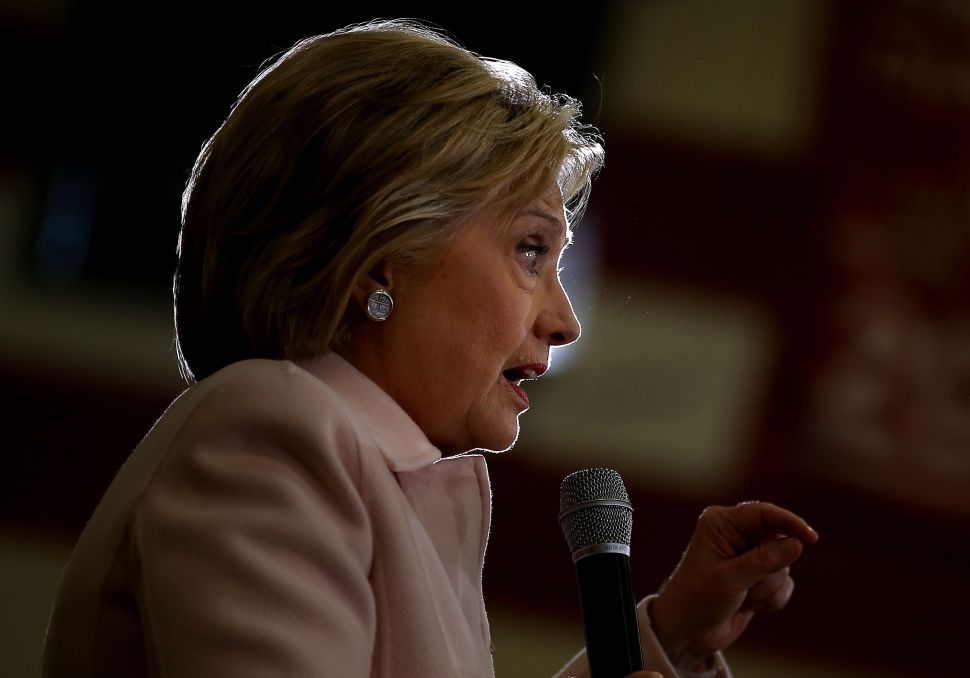 Sidney Blumenthal has been an intimate family friend to Hillary Clinton for two decades, and the emails between them show late night calls, social visits to one another's home, and all the informality expected of two close and trusted friends. We know Mr. Blumenthal was a senior adviser to Ms. Clinton during her 2008 campaign for the presidency and would have continued during her time as secretary of state had his appointment not been stopped by President Obama's staff due to Mr. Blumenthal's penchant for nasty campaign tactics.
Nonetheless, Ms. Clinton valued Mr. Blumenthal's advice to such a degree that she secretly hired him as a private advisor, paying him $120,000 a year for his services.
A number of columns have been written exposing how Mr. Blumenthal sent articles to Ms. Clinton from his son Max, one of America's most notorious Israel haters. Ms. Clinton responded very favorably to them. Some of these writings would later be the basis for Max's anti-Semitic Goliath, whose book launch was thrown by Sid at his own home. The disgraceful writings compare Israel to the Nazis, call for the expulsion of the Jews from Israel and whitewash Palestinian terrorism. For good measure Max also compares the Israel Defense Forces to the SS.
Over Hillary's four years as Secretary of State, Sid Blumenthal sent her email after email containing anti-Israel articles and advice.
The emails thus released show that Mr. Blumenthal sent 19 articles written by Max, most of which contained deep anti-Israel sentiment.
What is truly unsettling is Ms. Clinton's glowing praise for Max's work. On numerous occasions she forwarded the articles to her staff with the words "Pls print," and a number of times she asked for multiple copies so that she could hand them out to her staff and discuss them.
Here are some of Hillary's email responses to Max's missives:
7/6/2010 – "Pls print 5 copies but w/out heading from Sid."
8/17/2010 – "Pls congratulate Max for another impressive piece. He's so good."
11/18/2010- "A very smart piece as usual."
4/7/2011 – "Will Max's piece be published anywhere else? It is powerful and touching."
12/23/2011 – "Max strikes again!"
1/21/2012 – "Interesting reading."
9/13/2012 "Your Max is a mitzvah!"
12/7/2012 – "Good stuff. Where is he now?"
Yes, you heard right. A Jew who compares the IDF to the SS is a mitzvah.
It gets worse.
Over Ms. Clintons four years as Secretary of State, Mr. Blumenthal sent her email after email containing anti-Israel articles and advice—dozens of columns and op-eds attacking Israel in extreme ways. Articles such as:
"With A Victory Like This" by Akiva Eldar.
"The Preemptive Strike On Jodi Rudoren" by Stephen M. Walt.
"Why Israel Should End Its Policy of Nuclear Ambiguity" by Natasha Mozgovaya.
"America's Faltering Search for Peace in the Middle East: Openings for Others?" by Chas W. Freeman, Jr.
"A Poisoned Process Holds Little Hope" by David Gardner.
"Gaza: It's Hamas's Move Now" by Jeremy Greenstock.
The list goes on. In these articles attacks against Israel are the norm.
Ms. Clinton often responds positively to Mr. Blumenthal's suggested reading, asking for them to be printed. In fact, she never once challenged Mr. Blumenthal on their anti-Israel content, and never asked him to stop. Articles and advice ranging from how the alliance with Israel was harming the U.S., to how Bibi was plotting against the U.S. government, to how AIPAC could no longer be trusted, and to why Israel should be forced to reveal its nuclear weapons program were sent.
Mr. Blumenthal's anti-Israel articles were full of falsehoods that are very harmful to the Jewish state:
3/20/2010 – "The policy of the present Israeli government is endangering the lives of American soldiers in Iraq and Afghanistan."
5/16/2010 – "The dilemmas you face when you possess dozens or hundreds of nuclear weapons, and your adversary, however despicable, may acquire one, are not the dilemmas of the Warsaw Ghetto."
6/4/2010 – "The flotilla raid was not 'bungled.' The IDF detailed its violent strategy in advance."
7/6/2010 – "Settlers' theft of water from Palestinian towns."
8/23/2010 – "We'll lose our last partners to a settlement that will prevent Israel from turning into an apartheid state"
9/2/2010 – "Gestures of acceptance can help Israelis overcome their Holocaust-inspired political neuroses and take risks for peace."
Mr. Blumenthal kept these vicious attacks flowing regularly to an eager Ms. Clinton.
A sampling of the many other anti-Israel quotes and ideas he sent:
5/16/2010 "But the message of the American Jewish establishment and its allies in the Netanyahu government is exactly the opposite: since Jews are history's permanent victims, always on the knife-edge of extinction, moral responsibility is a luxury Israel does not have."
5/31/2010 "Netanyahu is pleased by the fact that the Americans failed, so he said…"
9/2/2010 "Israel has worked hard to divide the Palestinians so as to consolidate its conquest of their homeland."
11/18/2010 "The endgame of the far-right is to make Europe less tolerant and more Israeli."
1/29/2011 "[T]he Egyptian revolution augurs an intense focus on the collapse of US initiatives on Israel-Palestine. Be prepared to take the consequences (while Bibi's government and US neocons bark incessantly about 'delegitimation' of Israel…)"
2/18/2012 The Jewish lobby "sought to influence media coverage in a variety of sometimes heavy-handed ways" and "the pressure from these groups is relentless."
In fact, if you do an exhaustive search of Hillary's emails, you will not find a single pro-Israel article or piece of advice from Sid Blumenthal.
The list goes on and on.
In fact, if you do an exhaustive search of Ms. Clinton's emails, you will not find a single pro-Israel article or piece of advice from Mr. Blumenthal throughout the hundreds of missives he sent. (Indeed, you will be hard pressed to find any pro-Israel articles or advice in Ms. Clinton's thousands of released emails.)
Furthermore, Mr. Blumenthal's stream of anti-Israel articles included many written not only by his son Max, but by Paul Blumenthal—his other anti-Israel son. He too contributed to the torrent of articles attacking Israel. The apples don't fall far from the tree and Ms. Clinton was fed a steady diet of Israel disparagement from the Blumenthal trifecta.
In 2013, even before Ms. Clinton's emails were released, Alan Dershowitz—a known supporter of the Clintons—already foresaw the Hillary-Blumenthal debacle. Wary of how damaging Mr. Blumenthal's defense of his son's anti-Israel views would be to Ms. Clinton's future, Mr. Dershowitz warned, "Max Blumenthal is well outside the acceptable range of rhetoric about Israel. His constant comparisons between Nazi Germany and the Jewish state establish him as an extremist bigot whose greatest appeal is to anti-Semites and others who apply a double standard to the Jewish state.  Any political candidate who would associate himself or herself with such views would be unacceptable to Americans… I hope that the Clintons ask Sid to expressly disassociate himself from his son's views–and if he refuses to, that they no longer work with him on any matters."
Mr. Dershowitz's wise words have gone unheeded by both Clintons, and the newly released emails have thrown fuel on the fire.
Rabbi Shmuley Boteach, "America's Rabbi," is the international best-selling author of 30 books, winner of The London Times Preacher of the Year Competition, and recipient of the American Jewish Press Association's Highest Award for Excellence in Commentary. He will shortly publish The Israel Warrior's Handbook.