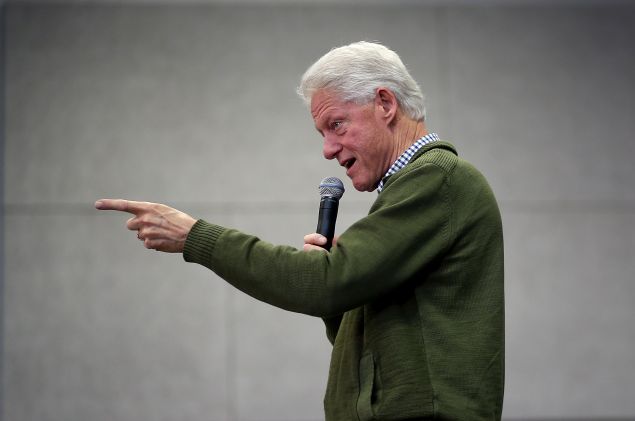 Hillary Clinton's campaign efforts to use Bill Clinton to connect with working class people is comically reminiscent of Phil Hartman and Darrell Hammond's Saturday Night Live impersonations of the former President in the 1990s. The day before the New Hampshire primaries, Mr. Clinton took over his wife's Instagram account in a desperate attempt to speak to everyday Americans—resulting in a fumbled analogy comparing muffins to presidents.
Even after The New York Times and The Washington Post alleged the "Old Bill Clinton magic is gone," the Clinton campaign keeps cavorting him around the campaign trail. But the inspirational Mr. Clinton—who came back to win the 1992 Democratic Presidential nomination after losing both Iowa and New Hampshire to an infidelity scandal and allegations he dodged the Vietnam War draft—is nowhere to be found. Instead, Mr. Clinton evokes an awkwardness that must make his wife's most avid supporters uncomfortable… like that time he wished they weren't married.
"Sometimes when I am on a stage like this, I wish that we weren't married, then I could say what I really think," he told an audience of Clinton supporters in New Hampshire a few days before the primaries. "I don't mean that in a negative way. I am happy."
When Mr. Clinton ran for president in 1992, he could pull off using charm and charisma. Back then, his appeal was the sense that he understood what Americans were going through, and the issues they face, and his campaign backdrop of Little Rock, Arkansas helped convey that message. More than two decades later, between seclusion of their mansion in Chappaqua, New York and the constant traveling they both still do on a regular basis, those roots to any semblance of normalcy are gone. In its place is a power couple whose wealth and celebrity has brought a sense of entitlement to the campaign for Ms. Clinton—off-putting to voters when she ran against Barack Obama in 2008, and off-putting in contrast to her coach-flying opponent, Bernie Sanders, who is still the only candidate to actually pay his interns, and who Mr. Clinton recently accused of sexism.
Mr. Clinton's first speech on behalf of his wife's campaign in New Hampshire was set to a backdrop of women lined up behind him, giving the false sense that he has their rights in his best interest. His record of infidelity, sexual assaults and harassment would suggest otherwise. In short, he's in no position to be criticizing the 'Bernie Bros' in support of Mr. Sanders' campaign.
Mr. Clinton's estimated net worth is $80 million, most of which he made after he left the White House. "I never made any money until I left the White House," he told a group of students during a speech in 2009. "I had the lowest net worth, adjusted for inflation, of any president elected in the last 100 years, including President [Barack] Obama. I was one poor rascal when I took office. But after I got out, I made a lot of money." Between 2000 and 2007, the Clintons made $111 million. Between 2007 and 2014, they earned $139 million in gross adjusted income. In addition to the hefty annual presidential pension of $200,000, thanks to speaking fees and book deals the Clintons lifted themselves into the top one percent of the wealthiest people in America.
In New Hampsire, Mr. Clinton wore a plaid button-down shirt tucked into blue jeans, exuding the image of "down to Earth." He wore the same exact shirt while campaigning for his wife in Iowa. Because nothing says "relatable" like $80 million.