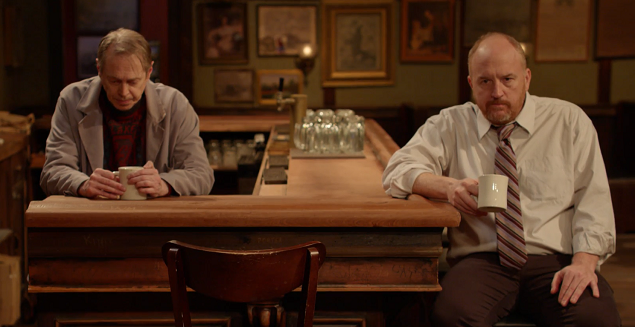 How do you judge something like Louis C.K.'s Horace and Pete, the 67-minute-long drama written and directed by Mr. C.K., dropped with no warning on his website, downloadable to anyone for $5? It's a complicated question. How would you judge a childhood diary, or a friend's newborn child? Something on display, yes, something available for you to look at, but not made for you, not made for anyone really other than the creator?
That's the thing; I didn't enjoy Horace and Pete. I understand some did. More than anything, however, I get the feeling Mr. C.K. doesn't give a fuck either way.
But first, the basics. The debut (only?) episode centers on a drab, windowless Brooklyn bar run by brothers Horace (Mr. C.K.), Pete (Steve Buscemi) and their uncle…Pete (an amazingly dour Alan Alda). In between attempts by Horace and Pete's sister Sylvia (Edie Falco) to shut down the place, patrons come and go. They bitch, they complain, they curse and get drunk on watered down alcohol (But always straight: "No mixed drinks" says Alda's Uncle Pete). It's a dreary setting for a dreary show. It's like if Cheers and the bar from Billy Joel's 'Piano Man' had a very sad, ginger baby.
I'll say this: all the performances range from good to stellar. Mr. Alda is the highlight, giving bitter realism to the often-brutal lines Uncle Pete delivers, which in turn makes them, occasionally, wryly funny. "A pissant is an insect with no value, but it smells like piss," he says in a typical exchange with Horace. "At least a cocksucker can do something."
Jessica Lange–for better or worse–seems in her element as the regular at the end of the bar, quick with a quip that doesn't really add to the conversation, a staple at any bar. Mr. C.K. himself has honed for years on Louie the ability to look like he's had many, many bad days, a talent he turns on full-blast as Horace. We even get signs of Louie's Louis, in a scene where Horace repeatedly calls his daughter (SNL's Aidy Bryant), only to receive text messages in return. Steve Buscemi is Steve Buscemi, and that's never a complaint.
But what is it all for? The bulk of Horace and Pete is conversation between characters, debates on topical subjects that, really, don't hold much dramatic weight just because they're current. Carolina Panthers quarterback Cam Newton is ruining football. Conservatives don't like liberals, liberals don't like conservatives, and neither really understand the other. Old people are kinda racist, but aren't they a product of their times? "Hillary Clinton is a cunt." It's a round-up of discussions already happening in toxic internet comment sections, in the news cycle or, hell, in the actual bar full of alcoholics right outside your office. Assigning some of TV and film's best to give voice to these arguments doesn't make them unique, or compelling, or to be honest worth $5 and an hour of your life. It just transforms them into that time Ian McKellen recited Taylor Swift lyrics–you can't elevate annoying bullshit with a strong voice.
And again, that rounds back to the question–is this for anyone else other than Louis C.K.? If you break Horace and Pete down, it appears you get a bullet point list of subjects Mr. C.K. has an opinion on, but couldn't fit into Louie. "Horace and Pete episode one is available for download. $5. Go here to watch it. We hope you like it," read the original surprise email announcement. "Once you've got it, it's yours to do with as you like: sync it to your Zune, stream it over wi-fi to your spouse, burn it to DVD, etc," reads the show's download page.
Everything—the show, those announcements, the format—translate, to me, simply as Mr. C.K. saying, "I made this because I could." Not arrogant, not forceful, just fact.
Let me tell you about my favorite scene in Horace and Pete, as way of explanation. A disheveled old man walks into the bar, tells the few patrons he met his wife at a table in the corner. Years later, he found his wife and best friend on a date at that very same table. "I shot them both. I just got out of jail today," the old man says, before bursting into tears.
It's dark. It's so dark, and random, and devoid of any humor, and out-of-the-blue surreal on a Twin Peaks level, and you know what? I laughed. Holy shit, I laughed because what else can you do? I laughed, and I admired the balls of Mr. C.K. to just throw out this long, weird, inconsistent, often-kind-of-boring thing to the world and say "whatever." What Mr. C.K. is—genius, comedian, auteur, pretentious asshole, delusional idiot, whatever—isn't really the question. Because he's probably all of the above at this point. But who's going to tell him "no"?