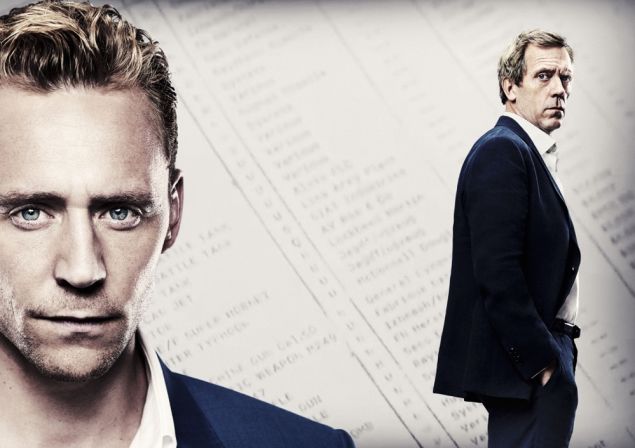 At a screening of the new miniseries The Night Manager (based on the John le Carré novel), former House actor Hugh Laurie described what it was like working with Avengers star Tom Hiddleston.
Mr. Laurie stars as secret arms dealer Richard Roper, and Mr. Hiddleston as former British soldier Jonathan Pine, in a six-part transatlantic production from AMC and the BBC.
The British actor, who recently starred alongside George Clooney in 2015's Tomorrowland, revealed that he tried to option the book soon after its publication in 1993, but admitted his skills as a producer were "absolutely pathetic."
The Night Manager has garnered much interest in the past with Chinatown's Robert Towne writing an adaptation for Sydney Pollack to direct in the early Nineties, while Brad Pitt's company Plan B optioned the novel in 2009; but neither came to fruition on the big screen. Simon Cornwell, author le Carré's son and the new production's executive producer, simply states that the novel, "just doesn't fit into two hours."
Mr. Laurie told the London screening last week that he had "dreamed" of playing the lead character Jonathan Pine ever since he read the book almost 25 years ago. In this version, however, he plays the villain of the piece while a younger actor takes his dream role.
"I had to sit back and watch Tom Hiddleston be virile and charming," Mr. Laurie joked. "It was fucking galling to watch."
The Golden Globe-winning actor revealed that he tried to meet with real life versions of arms dealer Richard Roper, but due to fear of being sued (or worse), the production companies felt a meeting might not be advisable. Though he wouldn't reveal any names as to who these men might be, Mr. Laurie did suggest a simple Google search might render a few suggestions.
The Night Manager also stars Elizabeth Debicki (The Great Gatsby), Tom Hollander (Pirates of the Caribbean) and Olivia Colman (Broadchurch). It is directed by the Oscar-winning Susanne Bier (In A Better World), adapted by David Farr (Hanna) and produced by the BBC, AMC and The Ink Factory.
The Night Manager will air on BBC One later this month and begins on April 19, 2016 on AMC.