There is irony in a terminally ill superhero breathing new life into Ryan Reynolds' career. Aside from the obvious contrast, the 39-year-old was supposed to have left his high-flying heroics behind when his last comic book adventure, 2011's Green Lantern, proved kryptonite to anyone who came near it.
It wasn't always that way: One of the highlights of Mr. Reynolds' "up and down" (his own words) was an association with the Marvel Comics series, Hannibal King in Blade: Trinity. But his numerous romantic comedies—National Lampoon's Van Wilder with Tara Reid, Definitely, Maybe with Isla Fisher, The Proposal with Sandra Bullock—threatened to lead his career down a predicable dead end.
Add to this mix his good looks, high-profile love interests—he was married to Scarlett Johansson from 2008 to 2011 and is now wed to Blake Lively, with whom he has a young daughter, James—and his gym-honed physique (there are websites obsessed with the upkeep of his six-pack), and you dig the foundation for a typecast actor. Mr. Reynolds was all too aware.
"The hunk thing becomes limiting because that's what you're expected to do, and you find it hard to break out of that perception," he said. "It's very easy to get caught up in that kind of wave, and I knew that I had to get off it. I think I was wise not to make a lot of the superhero movies that I could have done, even if that might have been a huge boost to my career—but I didn't want to get trapped in that world. Now I feel I've got the role I was really waiting for."
'I waited a long time to do this movie, and it was very satisfying to be able to take a lot of creative risks.'
That role—as Wade Wilson in Deadpool, the latest in Marvel Comics' ongoing assault on moviegoers—is giving Mr. Reynolds what seems to be the umpteenth renaissance of a checkered career. His character, a mercenary former Special Forces operative, is inadvertently given superhuman healing powers after undergoing treatment for terminal cancer. With a dark sensibility and a "twisted" sense of humor, Wilson vows to track down the man who nearly destroyed his life. As superheroes go, this is uncharted territory—the film is the first mainstream comic book movie to be handed an 'R' rating.
Deadpool has been a long time coming. The film was initially touted as far as back as 2004, when development began, but all plans seemed to be shelved when the character's (and Mr. Reynolds') cameo in 2009's X-Men Origins: Wolverine was met with decidedly apathetic reception.
Everything changed in the summer of 2014. One July morning, Mr. Reynolds awoke to a modern Twitter storm, when previously unseen footage of him as Deadpool leaked online. But, rather than cause a negative furore, it single-handedly revived the project: With reaction from comic book aficionados something close to feverish, the film was immediately put back in production with a studio release date, doing in 24 hours what hadn't been achieved in a decade.
The anticipation ahead of its release—the trailer alone won a standing ovation when unveiled at Comic-Con last year—makes it one of the hottest new releases of 2016. It should ensure another upturn in fortunes for Mr. Reynolds—he certainly hopes so.
'Deadpool gets to say or do anything that he wants. That's his real superpower.'
"It's one of the best roles I've ever had," he said. "It's much more interesting than the usual way you get to approach superheroes and it's very different from anything audiences will have seen from these kinds of movies. I waited a long time to do this movie, and it was very satisfying to be able to take a lot of creative risks."
Indeed, having been associated with the movie for over a decade, Mr. Reynolds recognized the potential of the character very early on. "When I looked through the comic book universe I saw that Deadpool occupies a unique place," he said. "There's no one like him. He has a mercenary way of looking at things, and there's a humor and darkness to his personality that allows you to take him to places that no other superhero character could enter. It's a dream to be able to take on this role and push the envelope."
This doesn't sound like the type of role you'd normally associate with Mr. Reynolds, and that is entirely the point. Since leaving home for Hollywood at 17—with little more than a battered old Jeep with one working door—his roles, even his successful ones, have erred on the side of caution. Lately, though, in a manner similar to Matthew McConaughey, Mr. Reynolds has sought to remedy his image. His work in films like The Captive, Safe House and Mississippi Grind, where he plays a roaming denigrate gambler, have displayed range. Deadpool goes even further—but with that landmark 'R' rating, does it go too far?
"No," was his blunt reply. "That's what makes it so much more interesting, and getting to play him was an incredibly inspiring thing. I think people will be amazed by this character. The movie gave us so many possibilities. Deadpool gets to say or do anything that he wants. That's his real superpower."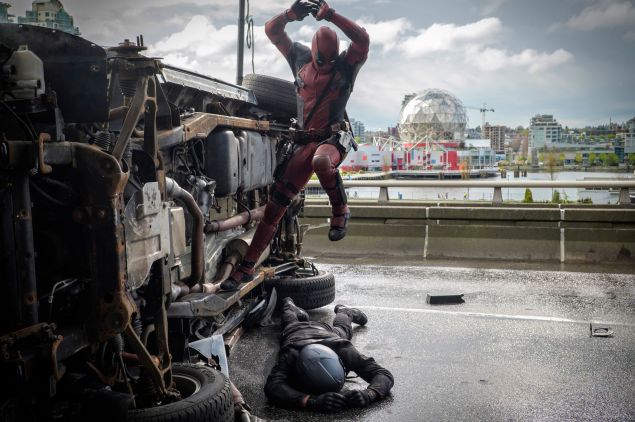 In a difficult time for comic book movies—the recent Fantastic Four reboot flopped at the box office, while much anticipated Marvel projects like Avengers: Age of Ultron and Ant-Man should have done better—Deadpool could be the kick-start. Its cancer angle is also new for the genre. As Breaking Bad's Walter White showed to devastating effect, a terminal illness is no obstacle to behaving like a narcissist, and Mr. Reynolds is taking that baton and running with it. Yet it hasn't been without consequence—as an actor, Mr. Reynolds takes the responsibility seriously.
"It's been very interesting for me to get feedback on this issue," he said. "A lot of cancer support organizations have reached out to me, and this character also resonates with kids who have cancer. I've had the opportunity to meet so many of these young kids that are obviously very ill. … And this has been a very moving and important experience for me.
"I want to do a lot more in the coming years to promote cancer research—to meet these kids and be involved in their lives," he added. "You might worry that the subject matter of the film is very extreme, but these kids are in such a bad state that their parents don't give a sh*t [about allowing] them to watch the movie!"
Besides, Mr. Reynolds had his own terminal illness to contend with—his father died last year after a 20-year battle with Parkinson's disease. "In my dad's dying moments, we were making him laugh," he said and smiled. "We were all in there together, me and my brothers, just joking with him. And of course we ended up busting each other's chops. I recommended that the doctor raise dad's dose of Dilaudid in order to make my other brother more tolerable.
"Laughing can serve you in those dark moments and even help you crawl your way back out. It wasn't a bad way to go. If I could have the same death as my father, I would do it right now."
Given his father's struggle, was playing somebody close to death difficult? "No, it's liberating!" he said. "This kind of role enables you to grow and learn a lot about your own attitude towards mortality. If we knew that we would never die at some point, we would be able to live with any kind of intensity. The fact that you don't know how long you have on this earth pushes you to be more courageous, passionate, and interesting."
Mr. Reynolds is taking that attitude forward, his ambition to "be a better husband, father and man" driving him on. Now edging 40 and with his career on the rise, he is counting his blessings.
"I'm one of the luckiest guys in the world," he said. "I have a beautiful wife who has such a positive spirit and also happens to be an incredible cook. She brings out the best in me and is always there to pick me up when I'm sad or worried about things."
We'd say Ryan Reynolds has little to worry about right now.