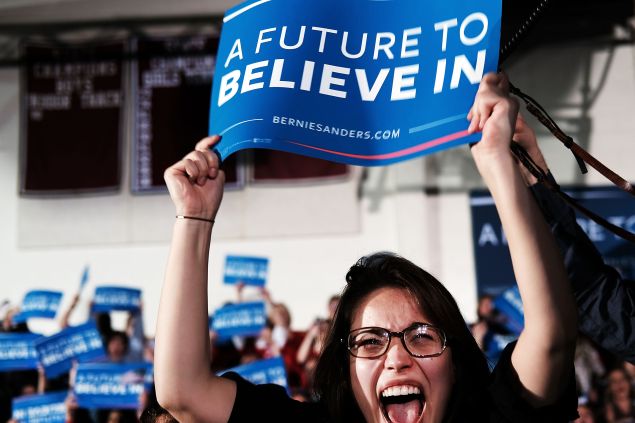 The voters of New Hampshire have fired the political shot that will be heard around the world, creating fear and loathing throughout the Democratic and Republican establishments after the powerful primary victories of Bernie Sanders and Donald Trump.
New Hampshire voters, giving their support to Messrs. Sanders and Trump in large numbers, have inflicted a powerful blow against the political establishments of both parties. As you read these words there are urgent behind the scenes meetings across Washington as political insiders ask each other what their next move should be as their worst political nightmares are in danger of coming true.
For GOP insiders the New Hampshire vote is a double disaster. First, Mr. Trump is the candidate they fear the most because they cannot buy or control him and they worry he could lead the GOP to a devastating general election defeat. Second, the center right candidates the establishment favors have come out of New Hampshire bunched together below Mr. Trump, dividing the pro-establishment vote, effectively cancelling each other out and giving the undisputed GOP frontrunner the upper hand going forward.
The first establishment favorite, Jeb Bush, ran a disastrous campaign over the last year. After the strong finish of Senator Marco Rubio in the Iowa caucus, the establishment privately hoped Mr. Rubio would charge into New Hampshire with a head of steam, and leave New Hampshire as their frontunner challenger to defeat Mr. Trump. After Mr. Rubio then stumbled badly in the last debate he faded, while New Hampshire voters gave Ohio governor John Kasich a strong second place finish.
As Republican candidates head to the all-important South Carolina primary the first two contests have left Mr. Trump with a commanding lead, Senator Ted Cruz (who the GOP establishment dreads as much as Mr. Trump) with high odds of a strong finish in South Carolina, and the three establishment candidates (Messrs. Rubio, Bush and Kasich) remaining in contention well behind Mr. Trump and attacking each other.
Advantage Trump, which means establishment Republican chaos.
Not all revolutions are created equal.
On the Democratic side virtually the entire Democratic political establishment was united in support of Hillary Clinton, and united against Bernie Sanders, whose anti-establishment populism threatens the insider Democratic power base as much as it threatens Wall Street and the Republican establishment.
The victory of Mr. Sanders in New Hampshire was expected, but the magnitude of his landslide over Ms. Clinton stunned insider Democrats who expected her to close the gap and never expected Mr. Sanders to win not only young women voters but a majority of all women voters. In a recent column I warned against the ill-fated strategy of some Clinton supporters to virtually declare a war against young women who support Mr. Sanders. Obviously it backfired, big time.
There are now two revolutions against the political establishments: the Trump revolution against the GOP establishment and the Sanders revolution against all political and financial establishments.
After the New Hampshire primary the Trump and Sanders revolutions appear destined to challenge their parties for months to come, and these two revolutions may well have a rendez-vous with destiny in a final showdown against each other.
The mainstream media has entirely missed the most important political fact of the moment, which is that in general election match-up polls Mr. Sanders usually defeats Mr. Trump by substantial margins, and in a number of recent polls by landslide margins, with enormous implications for the future of American politics.
According to the summary of polling from Real Clear Politics, as of the Wednesday morning following the New Hampshire primary Mr. Sanders would defeat Mr. Trump by an average of 7.7 percent. In the Real Clear Politics chart of most recent polling a Quinnipiac poll that ended February 4 found Mr. Sanders defeating Mr. Trump by 10 percent, an NBC/Wall Street Journal poll that ended January 13 found him defeating Mr. Trump by 15 percent, and a Quinnipiac poll that ended December 20 found Mr. Sanders defeating Mr. Trump by 13 percent.
There will be additional polls soon that may confirm or refute the polling trend in Sanders-Trump general election match-ups, but for now the data makes a strong case that Mr. Sanders would defeat Mr. Trump in a general election by potential landslide margins.
Not all revolutions are created equal. While Mr. Trump and Mr. Sanders are both riding the wave of a powerful national anti-establishment and anti-Washington trend the most profound and powerful trend in American political life is the ascendance of the kind of progressive populist movement that Mr. Sanders represents.
While I expect Ms. Clinton to come back from her devastating loss in New Hampshire in a long campaign for the Democratic nomination with an outcome that is now uncertain, and while I expect the GOP establishment to ultimately regroup and unify behind one favored center right candidate in a battle that could well continue until the balloting at the Republican National Convention, the progressive populist revolution that Mr. Sanders champions is now riding the greatest surge of the most powerful wave.
To dramatize the point stay tuned for the Sanders announcing in the coming days a fundraising yield from small donors, in the aftermath of the New Hampshire primary, that will shatter all historical records for small donations in a presidential campaign.