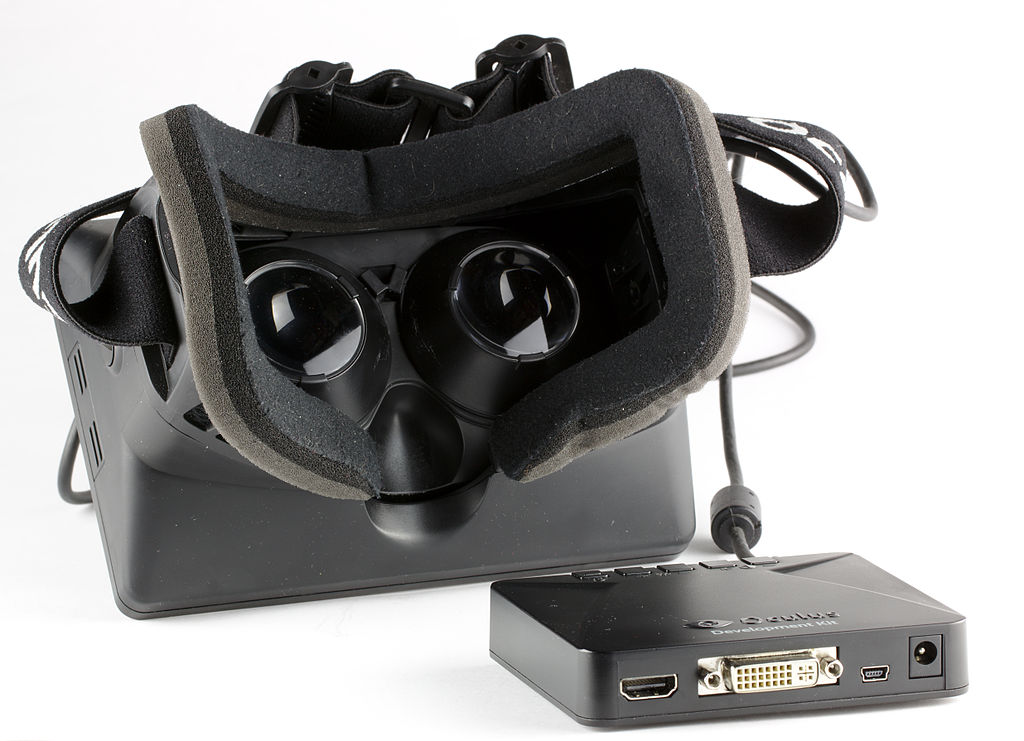 It's no secret, the virtual reality industry is booming.
Lots of very smart people are looking at the Virtual Reality industry to explode in 2016, and the market looks frothy yummy big. Like YUGE. Some estimates see VR as a $150 billion market by 2020.
We also know the last wave of startup mania is coming to an end. We enjoyed a zero-interest decade of spectacular growth thanks in large part to the explosion of mobile, video, and social media. But here we are ten years later, and all of these technologies have now matured, and growth has slowed down.
Enter VR.
If you have $150 billion across media and technology that will need to be generated in less than five years, where do you think the smart players are playing now (this very moment)?  
Of course it makes sense. The smart players are thinking about what is the next big thing before it's even close to here. These are the people who use first mover advantage for leverage in careers, investments, and pocketbooks. They find and hop on trends early, and then ride them until the next one comes knocking.
Are you ready to be proactive and get smarter about using trends with your career? Me too.
For most of us, we think career moves consist of smart things like getting your "foot in the door", or scheduling an "informational interview". Guess what, while you're lamely sending out your resume to no avail, the smart players are already an integral part of newly formed industry. They are helping shape opinion, discussing ideas, and creating actual value.
So, how do you create value, expertise, and a point of view in an emerging industry like VR?
Hack the VR industry.
Hacking a new industry starts with learning the players, the platforms, and the conversation.
When I'm learning a new industry or trend, I immediately try to vacuum as much information as possible, especially real-time data and content. I try to zero in on 5-10 people who most influence the industry, or more importantly publicly share the most about the industry. This is the fastest way to get up to speed. And it's all free as can be.
The following are some of the tools, the data, and the personalities you will need to maneuver specifically in the VR space. Use this as an introduction and brief cheat-sheet for the VR industry:
1. VR Blogs
I suggest starting with RoadToVR and UploadVR. Both are VR industry bibles. They cover every aspect of the industry ranging from content to hardware, virtual worlds to general consumer trends. Both blogs go out of their way to cover every VR startup out there, and foster a real community.  
Set-up a RSS feed through Feedly or follow them on Twitter and Facebook to get a jump on daily news.
2. VR Writers
To maximize your coverage, I suggest you immediately start reading all three writers. Eric covers VR for Re/code and therefore you'll get a reliable experienced view of the space from a Silicon Valley perspective. Ben Lang is the young founder of RoadToVR who knows every micro movement in the space. Drew was recently at Techcrunch, but just split for a VR focused venture fund. Coming from Techcrunch, he has the most pedigree and ability to validate emerging VR startups and trends.
It should also be noted that Ben Lang from RoadToVR (mentioned above) is the hardest working man in the VR business. Nothing gets past him. Following Ben alone will get you up to speed quickly.
3. Twitter
VR and Twitter go together like virtual reality and porn (I joke, I joke!). All of these guys have interesting takes (including yours truly). Watch out for Tipatat and Karl. You can do much worse than just reading all of these guys above for the first few weeks you hack. I'm amazed by how many interesting tidbits are passing through this list on a daily basis. And again, all of it is free. Absurd.
4. Podcasts
Do yourself a favor and listen to this podcast with Eric Romo of AltSpaceVR describing the early challenges of social VR. Essential learning, all in 21 sweet minutes.
Also as a side note, I love the VR podcast guys because I feel like they are the first sign that we'll have front of the camera VR talent emerge soon. Reverend Kyle and Bruce Wooden are both described as VR's first celebrities. Listen to them yuk it up, and you'll get a much better sense of the close knit VR community, and how everybody knows each other.
5. Conferences, Events
VRLA is currently the largest VR conference in the world. The non-profit foundation also produces the Proto Awards (The Oscars of VR), and the VRLA team is generally recognized as some of the sharpest minds in the industry. It should also be noted that VRLA News does a fantastic job of aggregating and curating the weekly top VR stories. Kaleidoscope, a traveling VR film festival, is also interesting as they have quickly grown a vibrant community of VR developers and engaged community. I expect to see the festival explode in 2016.
6. Companies (Venture backed)
This is a short list of the most talked about VR companies of the last six months or so. It's by no means complete, but it is a great starting place for your research. These are the companies that are making big venture backed bets, and will be under pressure to perform in 2016.
Friendly reminder: This is by no means a definitive, comprehensive list, but rather resources I've found incredibly helpful over the last year. Consider this your competitive edge out there in the booming free-for-all that is the VR industry. Make your move.
(Author's note: If you think I missed getting you on this list, let me know. I'll update readers moving forward).
Ben is an active VR investor and advisor, based in Los Angeles. Ben was an early Google and YouTube exec, and has founded and led multiple venture backed video startups. His monthly profiles on "why people are great at what they do" are found here.