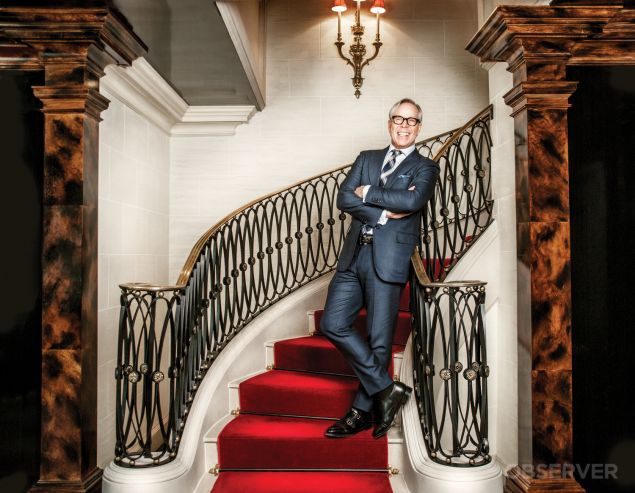 When Hailey Baldwin made her runway debut last September, she didn't step out at the high-profile Marc Jacobs show like pal Kendall Jenner. Nor did she opt for a luxury Paris fashion house, such as Chanel or Balmain. Instead, she splashed across Tommy Hilfiger's "Mustique"-themed runway and created the biggest fashion moment to come out of New York that season. Photographs of the model, clad in a surfer-style baha and floral string bikini, immediately went global, from Vogue to The Daily Mail, garnering millions of social media impressions and online traffic. Ms. Baldwin chose the Tommy Hilfiger stage to let the world know she was, as they say, coming out.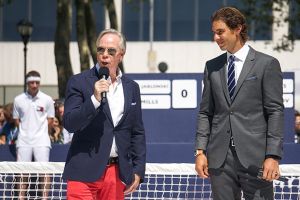 Just one month prior, Rafael Nadal joined Mr. Hilfiger in the middle of Bryant Park where, to celebrate his role as the brand's global ambassador, he engaged in a game of strip tennis alongside supermodels Chanel Iman and Constance Jablonski. The Grand Slam champion, who would go onto play Arthur Ashe stadium the next week, practically got down to his skivvies before a crowd of thousands. Again, Mr. Hilfiger and team spawned a social media firestorm that propelled the brand and the tennis star out into the world of immeasurable likes, comments and shares. During the forthcoming New York collections, Mr. Hilfiger will designate a special spot, ringside, for Instagrammers. The "InstaPit" will add a modern twist to traditional front-of-house photography by offering an exclusive space for digital influencers to capture the fall 2016 looks straight from the runway.
In case you were wondering, Tommy Hilfiger's still got it. At the age of 64, the designer is checked out from the daily doings of his $6.7 billion company, but he's moving the needle as though it were 1985. Only now, fashion moves at lightening speed, where the hands of who's hot can change in the blink of an eye. No matter. Mr. Hilfiger remains ahead of the pack, his finger constantly on the pulse of what's cool at any given moment. The designer calls it F.A.M.E., his mnemonic device for Fashion, Art, Music and Entertainment. F.A.M.E. was his vision for the Tommy Hilfiger brand when it launched 31 years ago. It's what drives Mr. Hilfiger today. In that regard, the designer was ahead of his time. Brands can no longer exist without catering to celebrity or entertainment, as evidenced by the front row of any fashion show. Mr. Hilfiger recognized that relationship early on while partying at Andy Warhol's Factory, or even back in 1971 when he sold used jeans on the hunch that people would start dressing like Mick Jagger and David Bowie. That gut feeling, that instinct—the F.A.M.E.—is what separates Tommy Hilfiger from every other American sportswear brand. It's an essential part of the firm's DNA and is as strong as ever.    
"I'm always thinking about what's next," Mr. Hilfiger said from the study of his apartment overlooking Central Park. "What would be exciting that no one else is doing? What would take eyeballs off Zara and H&M and bring them to me? What would take eyes off the new Apple iPhone and bring them to me? What would Ralph [Lauren] not do? It makes it fun."
For Tommy Hilfiger, eyeballs have never been a problem. The brand's fashion shows are some of the biggest, most exciting spectacles of New York Fashion Week, season after season. Considering the brand's accessible price point, youthful consumers, and happy, preppy aesthetic, it's not as though the front row expects a super-directional showing. But with A-list models, topnotch styling and over-the-top sets, the Tommy show remains a Fashion Week must-see.
"They have created the feeling where you don't want to miss a Tommy show," said Fern Mallis, an international fashion consultant and founder of Mercedes Benz Fashion Week. "That's pretty nice in this crazy world of Fashion Week when there are so many things to see. People may think, 'Why do I need to see a Tommy show?' But they go and they love it and it's great what he's pulled off. You're not going to see the latest, hottest trends, or what's going to push the envelope, but the whole experience comes together and it works and you want to be there, and it's doing what it needs to do for his customer."
The brand is also furthering its relationship with Gigi Hadid, its fall 2016 brand ambassador, by creating a special collaboration for fall. TommyxGigi will feature women's sportswear, footwear, accessories and a new fragrance in the spirit of the model's trademark casual-chic look. "Gigi has great style, it's this Cali vibe that I can't explain but it's so cool," Mr. Hilfiger said. "She likes high-waist sailor pants, stripes, denim, pea coats. So we got together and I had our designer sketch ideas and show her fabrics and we built a line. It's great. I look at her as iconic already. She could go down as another Marilyn Monroe."
This isn't the first time Tommy Hilfiger has helped launch "It" girls and boys of the moment. In the early 1990s, as the brand was growing into a household name, Mr. Hilfiger eschewed the notion of using models in its advertising, ala Ralph and Calvin, and instead gathered a mix of sons and daughters of Hollywood and rock royalty. Ivanka Trump, Kate Hudson, Kimberly Stewart, Mark Ronson, Balthazar Getty and Kidada Jones were relatively unknown when they appeared in an iconic ad that established Tommy Hilfiger as a youthful brand, where classic, preppy style like white button-downs and chinos were fused with a street edge that attracted everyone from California skaters to Wall Street tycoons.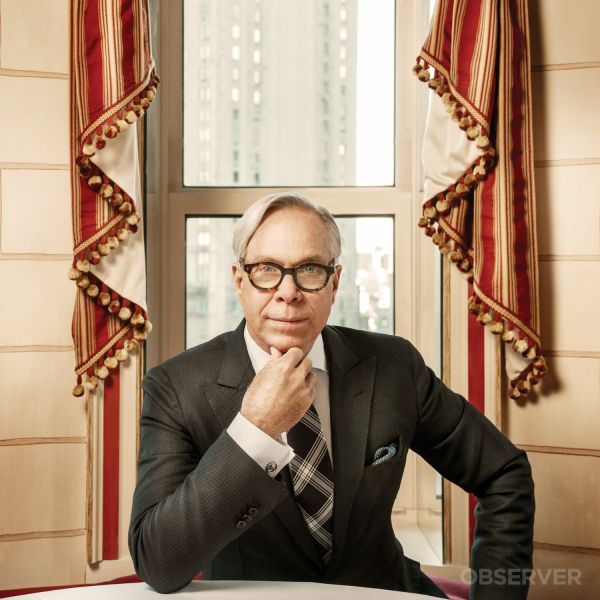 "Tommy is a true student of fashion, and not in terms of clothing but overall trends," said Terry Lundgren, a friend of over 20 years and chief executive officer at Macy's Inc., which has had an exclusive partnership with the brand since 2008. "He knows the people he should form relationships with. And it's all him. It's not some agency saying, 'Have you thought about this person?' He's engaged and gets where fashion is going and who to connect to at any given moment."
Mr. Hilfiger realized the vision for Tommy Hilfiger as a teenager growing up in Elmira, N.Y. Born into a large middle-class family, young Tommy was the second of nine children. He was a poor student but his parents instilled in him a work ethic that began with a paper route at the age of 8. When he set out to start a brand, everyone said he couldn't do it. "I didn't realize I was dyslexic until later in life, I just thought I was stupid and my father thought it and my teachers certainly thought it," Mr. Hilfiger said. "But I used it to my advantage because I learned how to dream. And I learned to have this photogenic memory where I could conjure things up in my mind, much like making a movie. When I thought about building a brand, I could see it and picture it."
At the age of 18, Mr. Hilfiger took $150 in savings and opened a clothing store in downtown Elmira called People's Place. He stocked the store with used bell-bottoms, peasant blouses and jackets he'd buy in New York City and bring back. After seven years, the store closed and Mr. Hilfiger filed for bankruptcy. He then moved to New York and went knocking on doors looking for design jobs. He had a few odd gigs in the early 1980s when he happened to meet Mohan Murjani, chief executive officer at Gloria Vanderbilt Jeans. Mr. Murjani saw something in the designer and gave him the opportunity to start his own line. When Mr. Murjani ran into financial issues, Mr. Hilfiger met another man who would forever change the course of his life—Silas Chou. Along with partner Lawrence Stroll, Mr. Chou had the license for Polo in Europe and was expanding all over the world. With Mr. Hilfiger's partner Joel Horowitz, the foursome was a magical combination, each with his own set of strengths. "It was this mix of Silas' manufacturing experience, Lawrence constantly thinking larger than life, Joel watching the daily P's and Q's and me doing my creative thing, and the business just exploded," Mr. Hilfiger said.
The brand became the first of its kind to go public in 1992. It was one of the first to sign a fragrance license with Estee Lauder and started dressing rock stars like Mr. Jagger and Mr. Bowie, as well as Lenny Kravitz, Usher and Britney Spears. Soon, all of the hip-hop stars came calling, as well as athletes, surfers and college kids. Mr. Hilfiger stood back and watched the business grow and grow. That is, until it imploded. By the end of the 1990s, consumers grew tired of the ubiquitous red, white and blue logo. They had had enough.
What the partners didn't realize was that while Tommy Hilfiger headed to clearance racks in the U.S., its CEO in Europe at the time, Fred Gehring, was positioning the brand alongside Prada and Armani on the most luxurious shopping blocks in London, Paris, Milan, Munich and Rome. Tommy had a different, more upscale association overseas. When the business slowed here, the group decided to follow Europe's lead by tightening retail distribution and elevating the offerings. Mr. Hilfiger took the brand private with Apax Partners in 2006 for $1.6 billion and two years later Phillips-Van Heusen bought it for $3 billion. Now, with over 1,400 stores throughout 115 countries, Tommy Hilfiger is a true global brand. As principal designer, Mr. Hilfiger remains the face and visionary with a lifetime contract, but has stepped out of the daily operations.
Mr. Hilfiger seems content with his position in the business. He's able to spend more time at his primary home in Greenwich, Conn., with his wife, handbag designer Dee Ocleppo Hilfiger, and their seven combined children. (Mr. Hilfiger has four from his first marriage, while Mrs. Hilfiger has two from hers and together they have one.) The group spends a great deal of time together. They're hiking, cycling and enjoying nature in Connecticut. They're paddle boarding off of his estate in Mustique. Mr. and Ms. Hilfiger are also becoming leaders in the Miami art and real estate scene near their North Miami home. In 2014, Mr. Hilfiger purchased the famed Raleigh Hotel, which he's refurbishing this year and turning into a private club. "I love real estate and I'm an avid art collector, which has become quite an obsession and incredibly fun," said the designer. "It all started with meeting Andy [Warhol] in the late '70s. I remember walking through the factory and he said, 'See that picture of Marilyn Monroe? I'll give it to you for couple thousand dollars.' I told him I couldn't afford it. I could kick myself."
If he wanted to, Mr. Hilfiger could rest a bit on his laurels. He's adored by the celebrity and art community, and in 2012 was the recipient of fashion's greatest accolade, the CFDA Geoffrey Beene Lifetime Achievement Award, though he hasn't always had such a warm view of the industry that brought him up. "There was a time I felt they were snooty towards my brand because it wasn't expensive enough," said Mr. Hilfiger. "Like maybe if I had more of a red carpet presence, I'd have more respect. But I got over that really quickly. Because the success we've had and the wave we got to ride in this world has been so incredibly fun. I sometimes think, 'Did God give me this? Was this destiny?' I don't know why I'm in this position, but I'm so grateful."