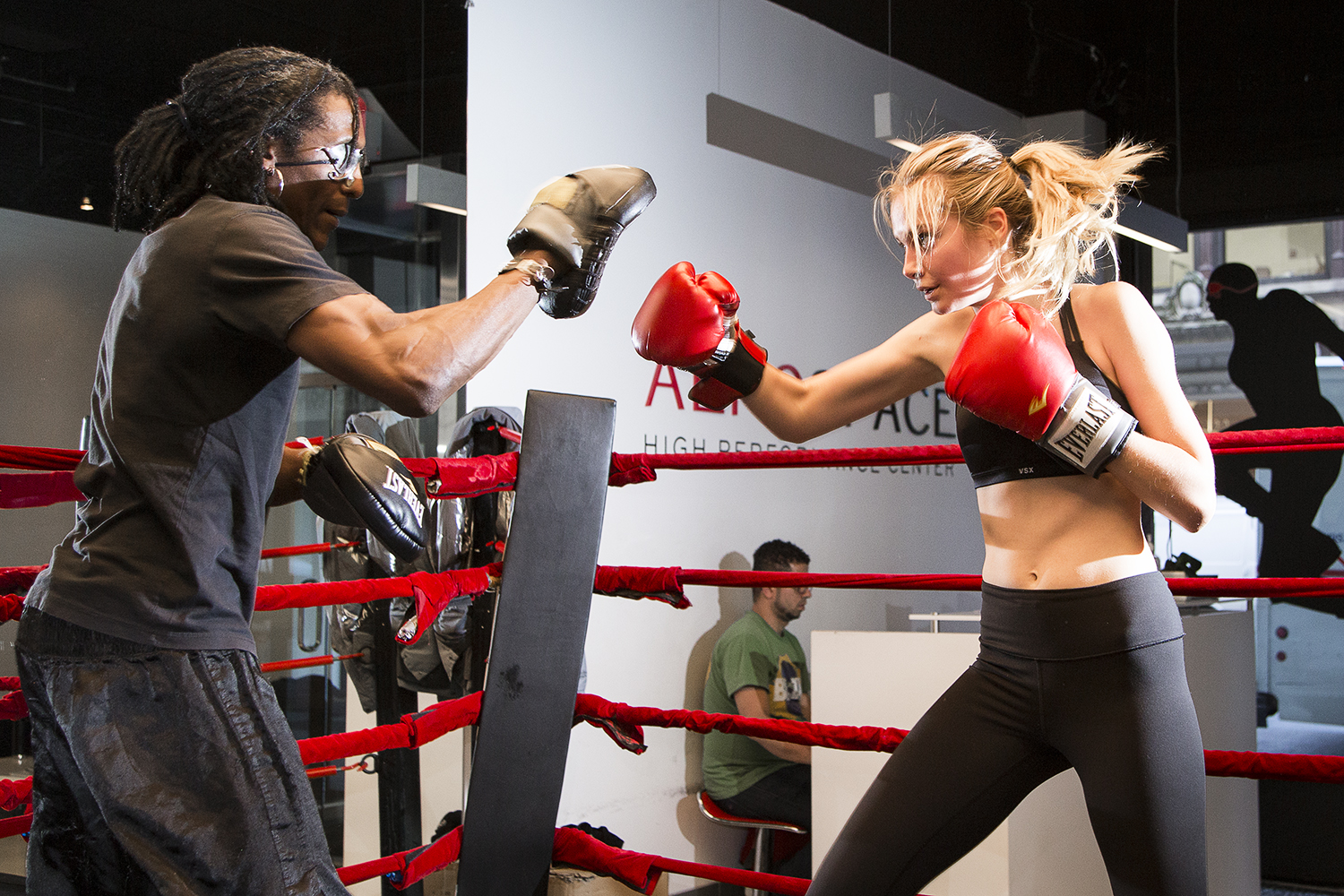 Each expensive New York class seems to boast endlessly about its roster of top models, somehow proving it will get you into tip-top condition. While New York women are increasingly wellness-obsessed, inspired by the A-listers they see in Pilates or at trendy brunch spots eating avocado toast, many don't have the time necessary to get into actual model condition. After all, work, cocktails and life in general seem to get in the way of the constant two-a-days modeling requires.
I've tried a slew of hot spots with model followers, from the bouncy bari to the sweaty Y7. I drew the line at Tone House, where model Nina Agdal is a regular, because boot camp conditioning in a red room seems downright terrifying. Still, I was dying to know how models get, and stay, in shape.
I accompanied Australian born, New York-based Bridget Malcolm to a hardcore work out at Aerospace High Performance Center to see how models truly train for New York Fashion Week. On my way in, the actress Patina Miller walked out. Unfortunately, I fell asleep during the last Hunger Games installment and failed to recognize her. Other regulars include Adriana Lima, Doutzen Kroes, Kelly Gale and Grace Mahary.
The down-to-earth Ms. Malcolm was impossibly tall, blonde, and girl-next-door gorgeous, with a vibe that could only be described as chill. She lives in the East Village with her musician fiancé and is busy planning two weddings, one on an island full of quokkas, her favorite Aussie animal. Ms. Malcolm proves obtaining a top model physique involves far more than being #blessed with good genes.
Ms. Malcolm trains for shows the way a runner prepares for a marathon or a boxer preps to enter the ring; which makes sense, as she trains with Michael Olajide, Jr., the co-founder of Aerospace and a former professional boxer who's often referred to as the godfather of boxing fitness techniques. After an injury, he left the ring to start turning A-listers into athletes.
The workout began with an jump rope warm up with Mr. Olajide's custom weighted jump rope; it would exhaust a mere mortal, but Ms. Malcolm only looked slightly winded. Throughout her regular fitness regime, Mr. Olajide explained his workouts, which focus on sculpting and cardio. For those who aren't in the New York City vicinity, his workouts can be done at home by video, and they don't need expensive props, as only a jump rope is necessary.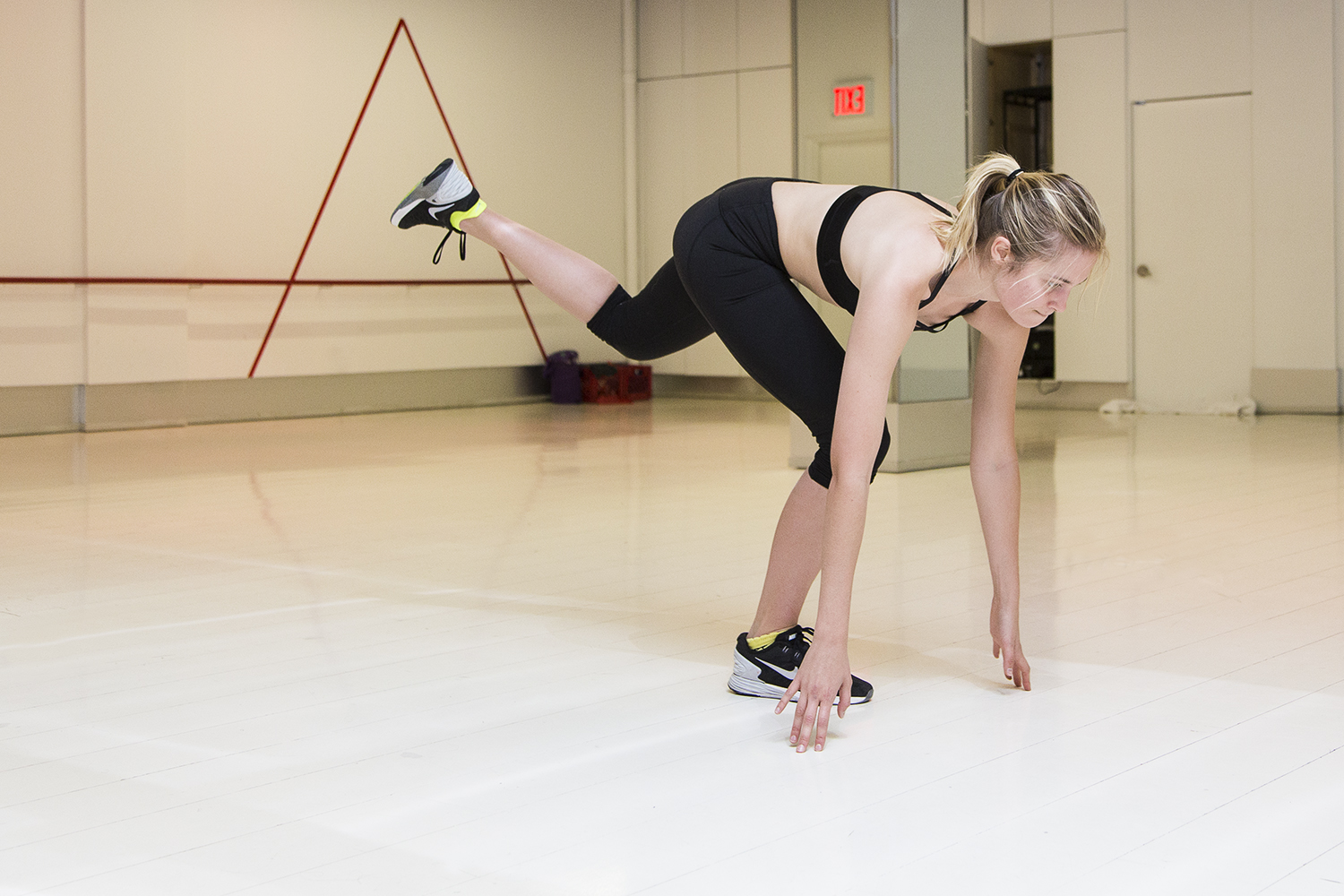 "When the exercise dominates, you see muscle," Mr. Olajide told Observer. "Sometimes, even the abs can look too hard. You want that softness. It's a different kind of body. It's a show body, which is what they need. Everyone's eyes are looking for the smallest detail, so they want to feel very comfortable and confident. It's a challenge, but a fun challenge," he said.
The surprisingly soft-spoken Mr. Olajide wore gold sneakers with wings (he sometimes has custom ones added to his kicks), while explaining how Aerospace focuses on turning the body into a machine. His workouts last 30 minutes or an hour, and some models do two workouts a day leading up to a show.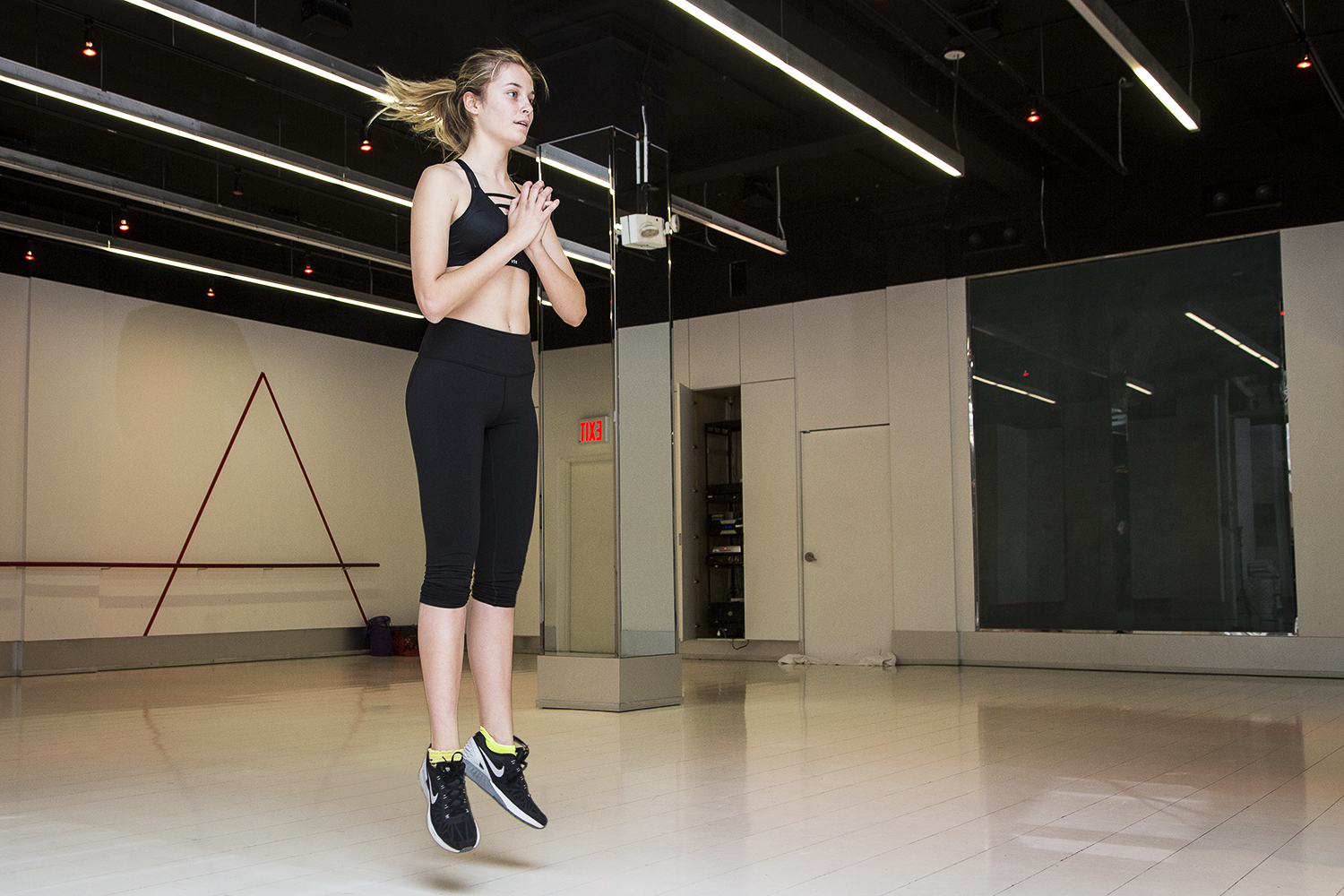 When boxing, he firmly believes confidence is key. "If you go into the ring, you have to have a healthy sense of self. When boxing for fitness, life is your opponent. You're going every single day toe-to-toe with life, and in New York City there are so many stressors and no outlet. It's hard to get rid of that angst with spinning or boxing," he explained while Ms. Malcolm went through complex-looking jump rope routines nowhere near playground Double Dutch.
If Ms. Malcolm has a familiar face, it's because she's the next big thing on the model scene. She has starred in Ralph Lauren and Lilly Pulitzer campaigns, and she walked the lauded Victoria's Secret Angel runway for the first time last year. Before Ms. Malcolm stepped into the ring, she shared, "I don't like jumping rope that much, I do it because I have to; I prefer boxing."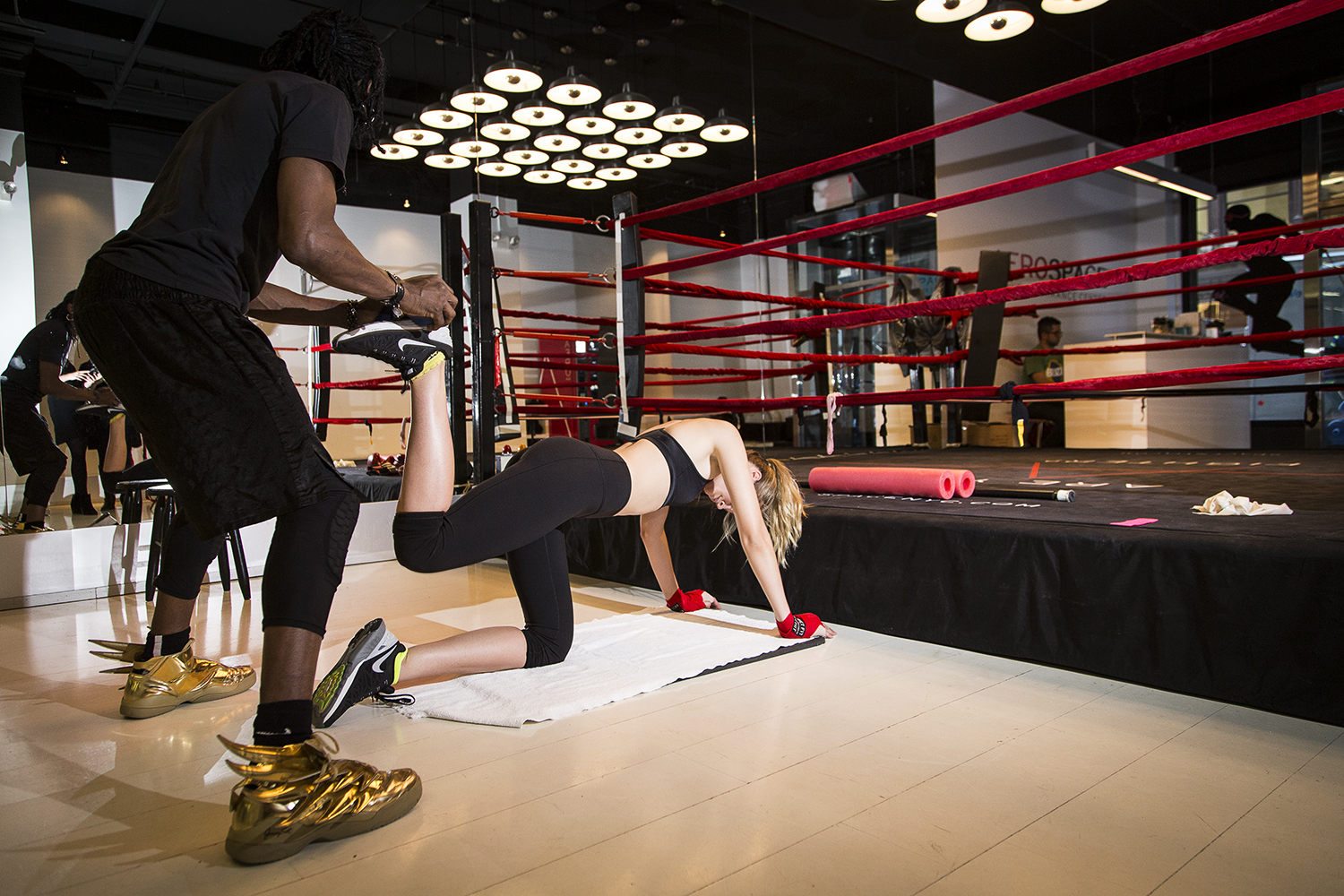 Watching Ms. Malcolm in the ring, it's obvious that she isn't just in great shape; she's incredibly strong. One would not want to enter the ring with her, unless they were professionally trained. As she dodged and weaved against Mr. Olajide, she looked happier than anyone has the right to be at a gym. Surprisingly, when she first attempted the class it was too difficult for her.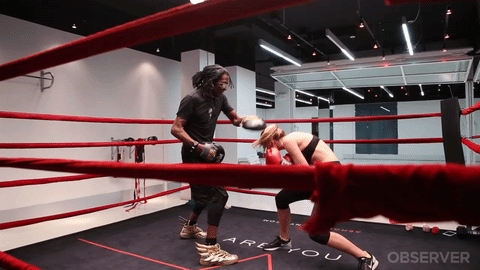 "I actually came here three times and it was too hard and I couldn't do it. So I didn't come back for another month or two, and then I just had to put up with the fact that it was going to hurt for a bit, and I'm so glad I did because it's amazing," Ms. Malcolm said, proving everyone should attempt a workout, even if it seems impossible. Now, she has boxing gyms all over the world she frequents when she's traveling.
New wave and Nirvana blared through the sparse studio while Ms. Malcolm and Mr. Olajide boxed. The playlist was designed by the 24-year-old Ms. Malcolm, who always provides a soundtrack. Ms. Malcolm, who also plays the oboe, said, "Music is a massive part of my life. I don't like working out with pop music, I want to really be getting into the music because it's another source of distraction."
Models and other celebrities used to have to lie about what they eat, leading people to believe they too could gain a perfect physique by chowing down on pizza. Ms. Malcolm was honest about her diet, which is vegan and plant based, although she never wants to be a "vegan preacher." She swears by starting the day with black coffee and coconut oil, adores protein shakes and loads up on veggies, including the kale salad from Australian Tuck Shop in Chelsea Market. She always makes sure to leave 12 hours between breakfast and dinner.
On the topic of the Victoria's Secret Fashion Show, Ms. Malcolm said she would try to train seven days a week. "When Victoria's Secret was on, I was training seven days a week. Sometimes I was leaving here at 8 at night and then I have a training at 8 in the morning."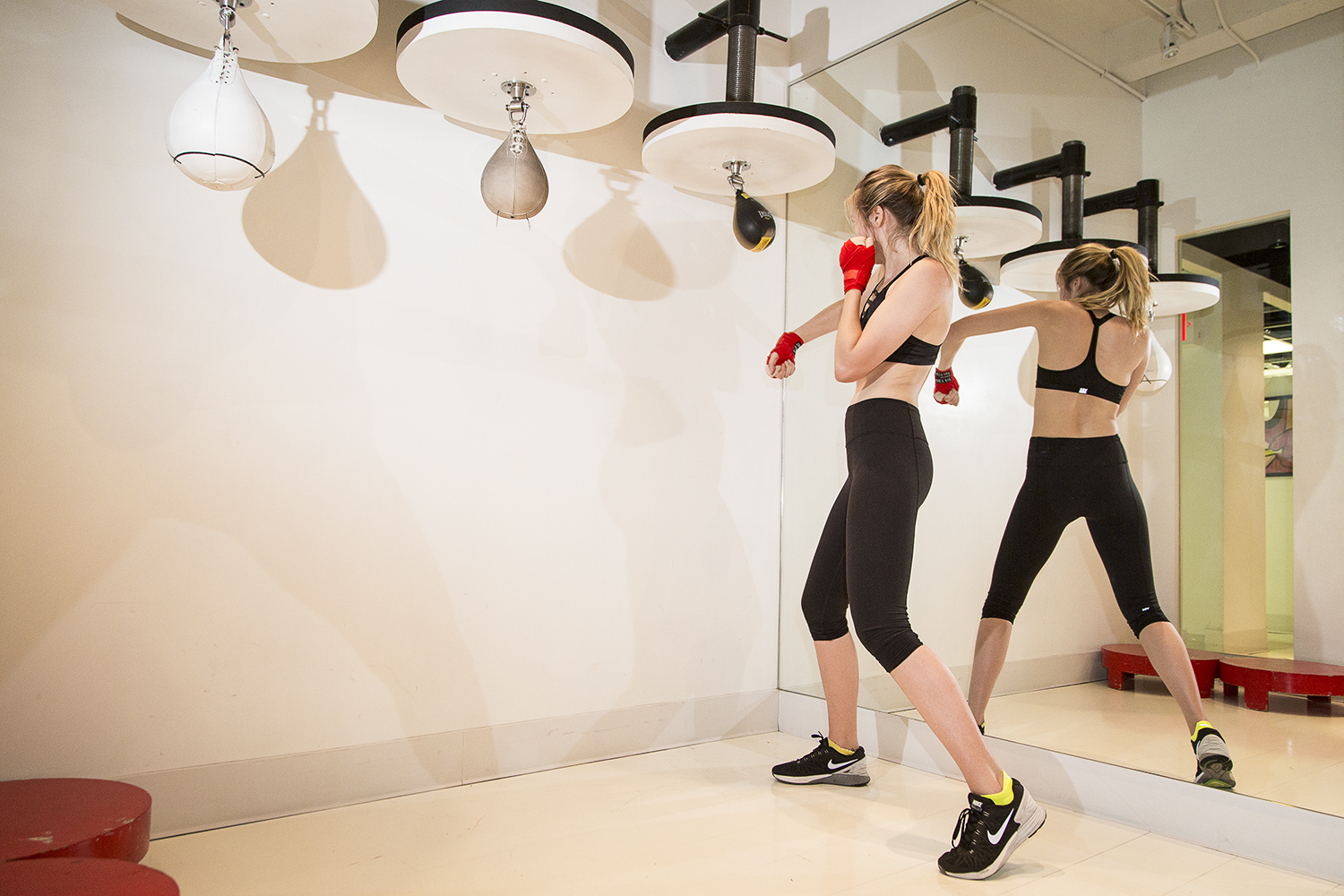 After the Victoria's Secret Show, Ms. Malcolm experienced comments from body shamers, especially on Instagram. "It was hurtful to read 'you're not a real woman,' or 'you're anorexic.' It's uncalled for to comment on other women's bodies like that. Clearly, my training is really important for me because I can't do this and be unhealthy. It's not possible. So many models who work out are not unhealthy. Yes, genetics comes into play a bit, but at the end of the day I'm really fit and this is my body that I have as a result of that. I'm not embarrassed of that, and I don't think body shaming is right in any shape or size—pun intended," said Ms. Malcolm.