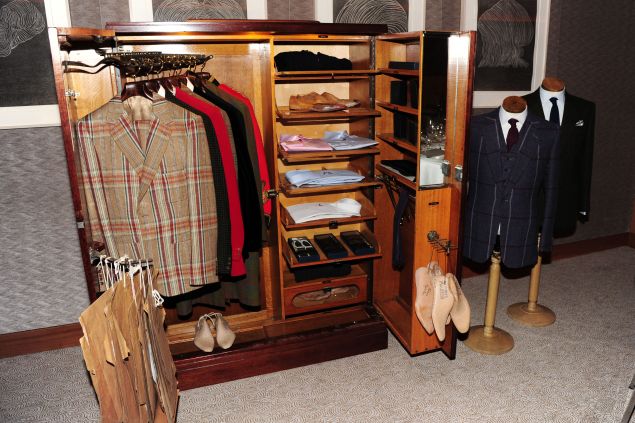 Last week, Belgian hedge fund millionaire Pierre Lagrange hosted a dinner at Le Bernardin to celebrate the permanent arrival of Huntsman, the first Savile Row tailor to make the trip across the pond. Mr. LaGrange, who purchased the 166-year-old bespoke suit maker in January 2013, chose a discreet seventh floor space in a partially residential building across from the new Park Hyatt hotel on West 57th Street, for the firm's Manhattan outpost. It is just two modest rooms decorated in subdued tweed. There is not even a sign on the door. It simply reads "7A." After just one day of business, though, the shop had already attracted several deep-pocketed titans as clients.
While Huntsman will create its trademark bespoke suits, it will also offer ready-to-wear garments and accessories in both New York and London—"bread-and-butter stuff," noted Huntsman's creative director Campbell Carey at the dinner.
"Guys that come in here want a navy, one-button, slant-pocket suit, and then we kind of build the guy's wardrobe around that," Mr. Carey said. "That's the basis of what we're about, and we're looking to fill in the gaps with classic pieces."
Two rooms on the seventh floor of a nondescript building on 57th Street might seem insignificant, but the arrival of Huntsman in New York marks a massive leap forward for the Savile Row community. Many of London's acclaimed bespoke tailors have struggled to compete with fast fashion.
Mr. Carey has worked alongside mills in the United Kingdom to develop new custom fabrics—most notably tweed—that suit the firm's timeless brand. The catch: The ready-to-wear line cannot resemble any of the house's bespoke garments. "This guy that owns this mill has a really great eye," he said, while flipping through a swatch book. "I've been working with him to produce patterns that don't annoy our bespoke clients, because we're going to be offering this as ready-to-wear at a lower price point."
"Lower" is relative. While a bespoke suit from Huntsman starts at $8,000, a ready-to-wear iteration in "Gregory Peck Tweed," for instance, will still cost at least $4,000.
Anthony and Zack Peck, respectively the son and grandson of Gregory Peck who had his suits made exclusively by Huntsman, attended the dinner. "My father was not a dandy, or a clotheshorse, but he appreciated the craftsmanship and the excellence," Anthony Peck recalled. "I inherited the clothes, and it's one of the great privileges of my life to wear his clothes that are, 50 years later, indistinguishable from new."
Mr. Carey estimated that Huntsman counts just 20 customers in New York as regulars, but each is likely to purchase tens of thousands of dollars worth of goods every year. "We were coming out here four times a year, and schlepping these huge trunks with us. Sometimes a dozen cases," Mr. Carey said. "Huntsman has a huge business here, so now we can use this as a home base."