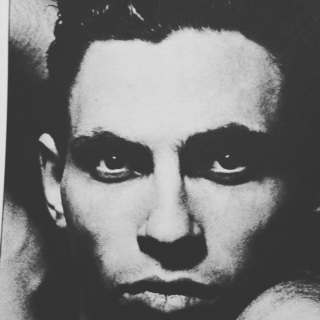 I was first "discovered" at my day job working in the home furnishings department at a Washington D.C. department store called Woodward and Lothrop, aka Woodies. The year was 1987.
A girl I was in love with who worked in the drapery section told a fashion photographer friend of hers that he should check me out, without saying anything to me about it. A week later, he came in and clandestinely inspected me selling dusty rose throw pillows with lime green piping to a colorblind interior decorator.
After seeing me in action, the photographer told me he wanted to shoot me. Nineteen eighties Washington D.C. was a pretty violent place, and I had just had a one-night stand with a woman who told me, after the fact, that she was in a relationship with a very jealous man. My clouded judgment made me think this guy was that man, and that his offer to shoot me was a threat. I immediately put him in a headlock and told a co-worker to call security before he could grab his piece. Fortunately, the pretty lady from the drapery section intervened, the misunderstanding was sorted, and the seeds were sown for my career as a male model.
At that time, the D.C. men's fashion scene was super conservative; lots of cherry loafers, side-parted George Bush hairdos, and boutiques owned by Iranians who insisted on being called Persians. The photographer took some pictures of me he felt would appeal to the D.C. market; gray suit, power tie, fondling the Washington Post. He then suggested doing some pictures with me wearing no clothes, holding the Post, but in a more strategic position. I was young and adventurous, and the Sunday edition was of adequate proportions, so I went with it.
I was full-time, modeling anywhere I could—a whirlwind of cheekbones and abs.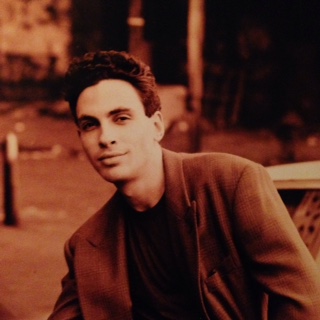 I brought the photos to an agent who, after commenting that I must really, really, like the news, told me my "sexy-ugly look" would get me work as a model. Soon, I had a composite card of photos, my measurements, with only one name across the top— "Ben."
My first gig was in the perfume section of Neiman Marcus. I was to sit on a Harley Davidson, wear butt-less leather chaps, and spray people with Jean Paul Gaultier cologne, as part of a promotion. It was embarrassing; not just because of the chaps, but because my roommate got wind of it and would walk by every ten minutes singing "Born To Be Wild" at the top of his lungs.
Even though that job didn't go so well, more gigs started to come. At that time, there were subcategories of modeling; first there was print or runway, which was being in photographs versus appearing in fashion shows. In print, there was catalog versus high fashion; basically appearing in a Sears catalog versus an advertisement for Saks. High fashion was prestigious; catalog, not so much but it paid good money.
While I did appear in a few catalog ads; as the wholesome Latino dad at the cookout for J.C. Penney, as "My Foreign Valentine" in the immensely cheesy Washingtonian magazine, and in a Brooks Brothers catalog wearing wide wale corduroys embossed with whales, my "sexy-ugly" swarthiness translated better into high fashion, which was where the bulk of my work was.
Soon, I quit working at the department store and was full-time modeling anywhere I could; a whirlwind of cheekbones and abs.
Because of my ethnic look, I also got work on the "urban fashion circuit." I loved working black hair extravaganzas, where black hairdressers and designers, put on their own shows in anywhere from community centers to theaters to convention centers. These had a special flair, all unto themselves.
Mostly, I would get booked to escort a big-boned woman in stilettos down the runway for plus-sized segments of the show, which often were the grand finale. The crowd would go nuts when the big girls came out, giving attitude while the air filled with shouts of "Work it!" and "Fierce!"
Occasionally there was a creative variation on the formula for the finale. Once, the 300+ lb. producer/commentator of one of the shows, a man named Hervae with a Jherii curl and an ego to match his waistline, decided that instead of the main big girl, he would walk out in drag.
When it happened, I was standing off to the side listening to security guards comment as he took the runway wrapped in a purple, sequined gown.
While it was nice being 'sexy-ugly' in a little pond, I knew the real money was in New York, so I resolved to get there faster than you could say: 'shoulder pads and pleats.'
Security guard one: "Man, that girl is fine!"
Security guard two: "Man, that ain't no girl…"
Security guard one: "That's right. She a LADY."
My other favorite memory was working the Congressional Black Caucus Wives fashion show, a huge D.C. event, where myself and another young man were the finale, wearing "swiss cheese" bathing suits; basically a collection of holes with just enough fabric to fit over the nether regions.
We were thunderously well-received by the 400 wives in attendance, and my picture made it into the Washington Post fashion section. I had come full circle; the paper I had literally once used to cover my stuff had now, in print, covered my stuff.
While it was nice being the big "sexy-ugly" in a little pond, I knew the real money was in New York, so I resolved to get an agent there and relocate faster than you could say: "big shoulder pads and multiple pleats." I had started performing stand-up comedy, and my plan was to model for my income until my talent as a comedian was recognized and I rocketed to fame and didn't need to model anymore. Why wouldn't that work?
As luck would have it, after several trips to the Big Apple, a well-established agency in SoHo signed me.
The main booker seemed very excited about my prospects, although I always had trouble understanding her thick, European accent.
"I'm going to send you to Milan for a season. You are perfect for Versace. I'm already speak to Gianni and Donatella about you. I faxed her you test photos. They LOVE you. You do Versace, then come back New York, you gonna work like crazy. You'll leave in two months. Meantime, you must prepare. Do you smoke?"
"No"
"Start"
"O.K."
"You shave everyday?"
"I mean, pretty much…"
"Stop. Once a week only trim. Gianni likes pretty face. Donatella like rough face. You do both and be pretty rough. "
"O.K. "
"Last and most important; stay away from Brad."
"Brad? Who's that?"
"BRAD! BRAD! What you eat; a loaf of Brad"
"Oh, bread. No bread?! At all? In Italy? That's all they eat over there!"
"No. They eat pasta."
"Can I have pasta?"
"No. None."
"What do I eat when I'm hungry?"
"Have a cigarette, then a coffee, then another cigarette. Now you feel full; only thing hungry is your heart…for stardom. Yes?"
"Yes"
I felt awful and looked like a suicidal poet with mono in my black anarchist jeans, but I was ready for Milan.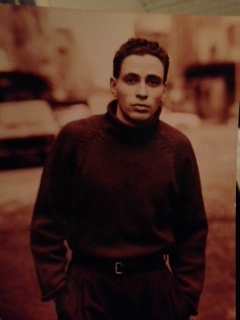 That was what New York dreams were about; sacrifice. You want to make bread you gotta stop eating Brad, no matter how delicious he may taste.
I saved up my pennies, stopped eating, started chain-smoking, and moved to New York in the early nineties.
I first lived in a dump in the Bronx where all my neighbors thought I was a cop. Then, when my agent told me she had a friend who needed a roommate, I ended up in a Times Square one bedroom railroad apartment, across from the Port Authority, next to a seedy "strip emporium" called Show World.
My agent's friend and my new roommate, Jim, was a gay Canadian stylist who liked to do butch things like drink beer, watch hockey, and order in male escorts from a cable access tv program called "The Robyn Bird Show."
Robin Byrd was an ex-porn star who looked like Larry Bird and Big Bird had a daughter.
On the show, strippers (some from Show World) would dance, Ms. Byrd would praise their gonads, and then as they wrapped their set, their phone numbers would flash across the screen, and any viewer could order them in like Chinese food. Like Chinese food, when Jim would order one, the dancer would show up at our door in under 20 minutes. Then Jim would tell me to scram, and I'd have to take a walk around Times Square, until the business had concluded, which ranged from ten minutes to two hours, depending on how far Jim's $40 budget would take him.
The very religious building superintendant's wife, who lived across the hall, would often catch glimpses of me leaving and then the arrival of the Jim's guests.
She assumed that Jim and I were a couple and would pull me aside in the hallway to advise me: "Papi, he's no good! He's cheating on you ALL THE TIME with these sucios!"
During this time, I landed a few jobs while I waited for the impending Versace gig. I was in training like Rocky, testing my body's limits. Instead of punching meat and running up stairs, I ate grapefruit, lettuce, and celery, chain-smoked like a suicidal Parisian, and transfused my red blood cells with gallons of espresso.
I felt awful and looked like a suicidal poet with mono in my black anarchist jeans, but I was ready for Milan.
Then, one fateful day, I went by the agency to pick up a check and found it padlocked. My booker had run off with a Brazilian male model half her age, and taken everyone's money with her.
I had been counting on that money and was devastated. I had nothing in the bank. No other agency would take me on; I was told that "sexy-ugly" was now "out," and had been replaced by "male waif."
I scrambled for employment by day, and started hitting more comedy open mics at night. It felt like this was a test and if I kept my eyes open I would see a sign.
Meantime, Jim threw me bits and pieces of work assisting him on his fashion shoots. One day he called me and said he'd pay me to pick up a dog from the village and bring it to a shoot at Columbus Circle. When I got to the apartment in the West Village, the dog turned out to be a big poodle.
A poodle with fur dyed Smurf-blue.
The owner told me the dog was named Bel Air, and cautioned me not to get him wet "because he might run."
I nodded and sat him next to me in the waiting cab. The driver started loudly protesting but I convinced him to let the dog stay.
As we drove, everyone who saw the dog went crazy; tourists, cops, skinny ladies in all black, even other cabdrivers. They laughed, pointed, screamed, and tried to takes pictures.
I have to say that the dog handled his celebrity with measured poise.
When the cab finally dropped us at 59th Street, there was no sign of Jim's shoot.
There was, however a group setting up for a PETA demonstration, signs, red paint, the works. They spied me and a few older women approached, shouting: "How would you like if someone did that to you?! Dyed your hair blue! Bastard!"
"Not mine. I didn't do that."
"Coward! Liar! You won't even admit it."
Things were getting dicey. I heard growls. They weren't Bel-Air's.
Just then, a door to the building I was standing next to opened, and out walked a man in a navy suit with an undulating swoosh of blond hair.
All attention turned to him.
It was Donald Trump.
He stopped, petted Bel-Air, winked at me and said: "GREAT dog!" before getting into a waiting limo and disappearing into traffic.
I still don't know exactly what kind of sign that was, but I took it to mean something, like: "New York is a good place to be funny."
That evening, on a stage at a bar on the Lower East Side, I got big laughs from a small crowd talking about my crazy day.
On the way home, after the show, I did something I hadn't done in a long time. I bought a loaf of warm bread, and ate the whole thing.