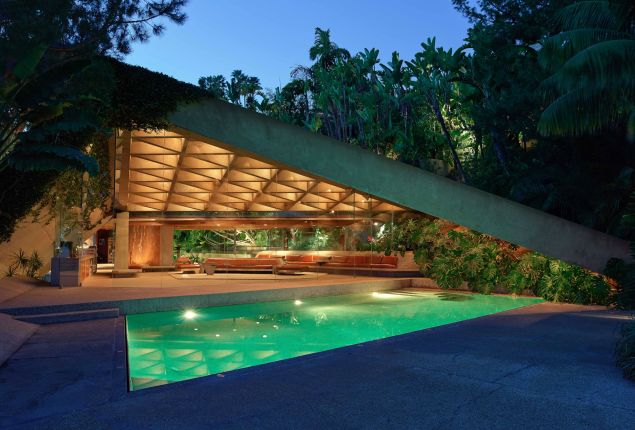 A Los Angeles home immortalized by one of Hollywood's most beloved cult films will get a second life now that its owner, billionaire basketball and fashion enthusiast James Goldstein, has decided to donate the residence to the Los Angeles County Museum of Art. In an announcement made today, the museum said it will acquire the house, its contents and surrounding property.
The home overlooks Los Angeles' San Fernando Valley, and embodies the iconoclastic organic architecture and progressive engineering championed by John Lautner, a major figure of 20th century American design.
The Sheats-Goldstein residence (also referred to in a release from the museum as the James Goldstein House) is currently valued at $40 million, an estimate that Mr. Goldstein told The Los Angeles Times was "conservative."
LACMA director Michael Govan said in a statement, "Over several decades, Jim Goldstein has lovingly cared for this house, which is an exceptional example of domestic architecture and a tremendous legacy in our own backyard. Great architecture is as powerful an inspiration as any artwork."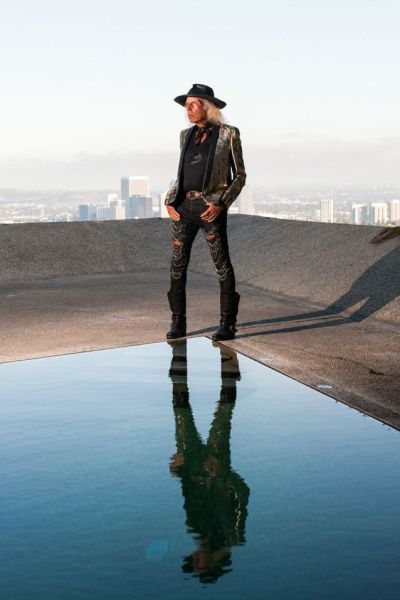 "Hopefully, my gift will serve as a catalyst to encourage others to do the same to preserve and keep alive Los Angeles's architectural gems for future generations," said Mr. Goldstein.
The donation of the Sheats-Goldstein house will become effective upon Mr. Goldstein's death, but until then LACMA will host events and programs within the home "that engage the house as the work of art that it is," LACMA's communications director Miranda Carroll wrote in an email to the Observer. Ms. Carroll explained that the house provides a view to Mr. Goldstein's "eclectic spirit."
In addition to the property itself, the gift includes pieces from Mr. Goldstein's personal art collection, including works by DeWain Valentine, Kenny Scharf and Ed Ruscha, as well as James Turrell-designed Skyspace. Mr. Goldstein's 1961 Rolls Royce Silver Cloud is also included.
The home is perhaps most famous for its appearance in the 1998 Coen brothers film The Big Lebowski starring Jeff Bridges and John Goodman, where it stood in for the party playhouse of pornographer/criminal Jackie Treehorn, played by Ben Gazzara.
According to the L.A. Times, Mr. Goldstein purchased the home in 1972 for a mere $185,000. In the years since, the house has received extensive updates and even a few additions. Construction has been almost ongoing since Mr. Goldstein first began to transform the house and surrounding hillside in 1979, under Mr. Lautner's supervision. The house was originally built for Helen and Paul Sheats in 1963.
Today, the property includes four acres of land in Beverly Crest, and features a tropical garden, built-in concrete furniture, as well as a tennis court-topped three-story nightclub and office complex.
(In the famous words of The Dude, it is currently unclear whether the house ever featured a rug that "really tied the room together.")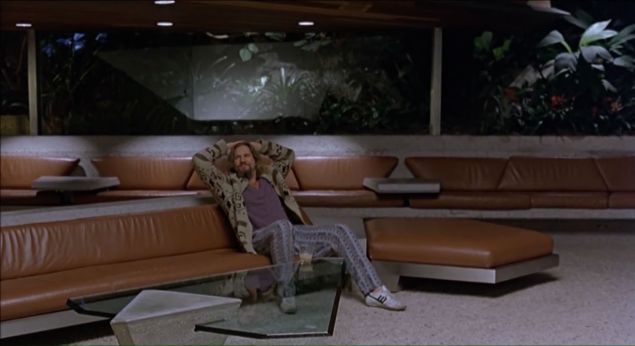 The Sheats-Goldstein residence is one of Mr. Lautner's most noted architectural works, although the Chemosphere—a UFO-like edifice overlooking downtown Los Angeles—is his most visually recognized structure.
The acquisition of a house is new venture for LACMA, which has until now focused acquisitions of art and owns no other architecturally significant properties. However, the museum did acquire a historic 18th century period room from Syria in September 2015.
With the donation to LACMA, the house abides.