MANCHESTER – The mood at the downtown third floor Hillary Clinton headquarters consisted of genial inevitability tinged with mild irritation at the coming uncomfortable humiliation of getting dinged by an estimated 9 to 15 points by a Democratic socialist from Vermont prior to paving him over in the southern states.
Bernie Sanders comes from just across the Connecticut River, practically a New Hampshire resident, so he's supposed to win here.
But some gentle hand wringing among Clinton backers suggested that a national anti-establishment fervor shook up the party favorite in Iowa and is making things more difficult than expected for her. Then there's the surging candidacy of Florida Senator Marco Rubio – who's surpassed fellow Republican Ted Cruz in New Hampshire, according to most Iowa polls.
New Jersey Governor Chris Christie was simultaneously campaigning at a town hall in a Manchester suburb, but Dems relegated the struggling Republican presidential candidate – long their tormentor in Trenton – to little more than a throw away punchline.
They almost all fear Rubio in a general election worse than the others, or so it appears.
Still, for his part, U.S. Senator Cory Booker (D-N.J.) refused to channel uncertainty in the face of Tuesday's Democratic Primary election here.
Agleam with VP readiness as his allies talked him up as a sure bet for a Clinton ticket once she untangles herself from her party rival and wins the Democratic nomination, New Jersey's junior senator anchored the occasion with a pep talk to troops that included a busload of young people up here to canvas for Clinton.
[youtube https://www.youtube.com/watch?v=BHT7xWXx5Pc&w=420&h=315]
Booker stuck to broad strokes on safe subjects in the small, packed room.
"Affordable college, something our grandparents grew up with, is now out of reach.
"Outrageous," he added.
U.S. Rep. Bill Pascrell (D-9) was present, up from Paterson with his longtime friend, former U.S. Rep. Herb Klein.
Pascrell's seen this movie before, or at least others have seen him it: the one where Clinton loses Iowa, as she did in 2008, then has to address stunned supporters in New Hampshire as a C-SPAN camera pans the crowd and catches the congressman among a haze of faces looking heartbroken.
No, she didn't lose Iowa this time, but it was close.
"I think Hillary Clinton is yet to break loose," Pascrell told PolitickerNJ. "Once she does she will simply affirm what we know her capacity is."
What was Pascrell talking about?
A YouTube moment?
"No," he said. "She's a caring person. She has to demonstrate that to people, to voters. Remember what I always say. A vote is an emotional response looking for intellectual support."
She still needs to deliver on that, he maintained, and he's convinced she will.
Pascrell served with Sanders in the congress. So did Klein.
Neither badmouths him.
But they're not overly impressed.
"The major issue in elected office, what I do every time I affirm my responsibility, is to swear to protect the security of the United States; that I will protect our citizens from attacks, foreign and domestic," Pascrell said. "Hillary understands that. With Bernie, it's an addendum. I'm not saying he doesn't love America any less than she does. But it's just that root understanding of responsibility. Our first priority is to protect the public."
Sanders is running a single-payer healthcare, free college campaign.
[youtube https://www.youtube.com/watch?v=inB035GAaiw&w=420&h=315]
Occupying the same frayed rim of carpet as Booker and Pascrell at the front of the room stood Democratic State Party Chairman John Currie, and Democratic state Vice Chair Lizette Delgado-Polanco, Assemblywoman Valerie Vainieri Huttle (D-37) and State Party Treasurer Kelly Stewart-Maer.
Just like his old Passaic ally Pascrell, Currie is fatigued, frankly, with what he describes as Sanders's "pie in the sky" agenda.
"We respect him," Currie said of Sanders. "But I don't see any practical way that he's put forward to pay for all this stuff. Look, Hillary Clinton's the most qualified person for the job."
Delgado-Polanco sees the benefit of Sanders and anticipates the convergence of some of his ideas with Clinton's general election candidacy. "At the end of the day," said the vice chair, "they're both Democrats. Myself and my union [SEIU] both endorsed Clinton because, in part, of her electability and her ability to get things done."
PolitickerNJ poked at the party leaders, noting that given Sanders's strong early anti-establishment showing, maybe the former first lady of a president who's already occupied space in the White House isn't the best option.
"President Clinton left this country with a surplus," said Currie. "It's not too bad to be associated with him. But Hillary Clinton is a strong woman and a strong leader in her own right."
Asked if he believes Booker would complement Clinton on a national ticket, Currie said "I do. This was America's mayor. This is the guy who brought Zuckerberg into Newark."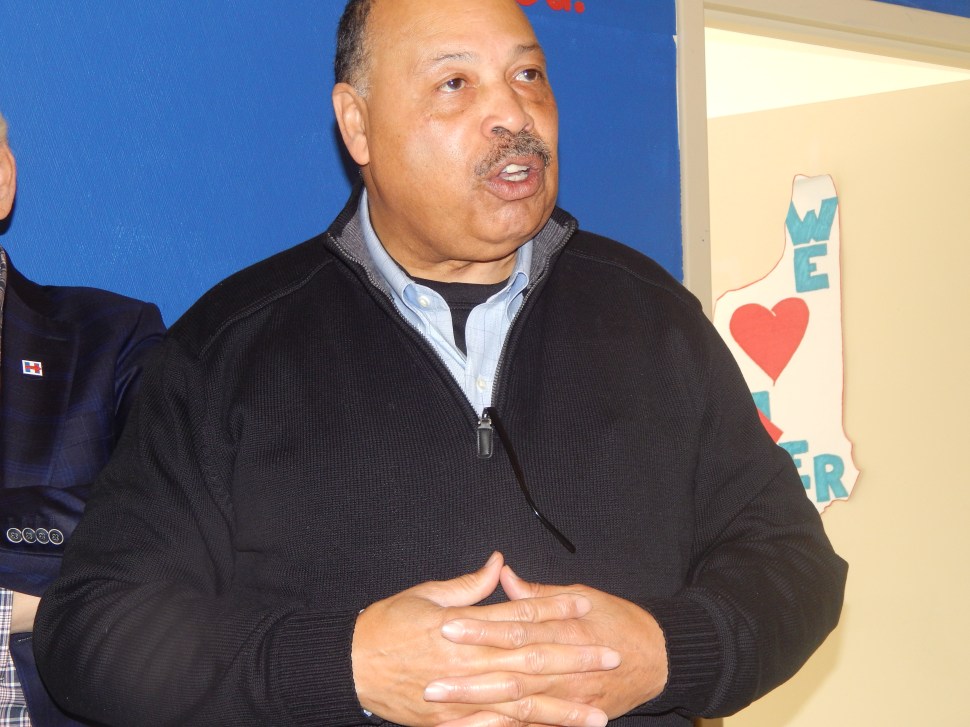 Delgado-Polanco, State Party Executive Director Jen Holdsworth and North Plainfield Councilwoman Keiona R. Miller all agreed.
"He appeals to multiple demographics, including youth," Miller said. "The possibility of him motivating young voters in particular would be of great benefit to Clinton's campaign. But more importantly, he's not a parochial politician; he doesn't just appeal to one type of voter. He has a broad reach."
Not everyone looks ready to embrace Booker in the VP slot, however.
Faced with the same question about his possible candidacy, Pascrell and Klein voiced the need for Clinton to put a white male on the ticket, preferably someone from the mid-west or a swing state. The Democratic Party has lost support among those in that demographic, they argued.
They both fixed on Ohio.
Pascrell likes U.S. Rep. Tim Ryan (D-Ohio) as an option. Klein, who believes the choice should come from a swing state, mentioned U.S. Senator Sherrod brown (D-Ohio).
As for the ticket they most dread, Pascrell said Rubio-John Kasich would present Democrats with the infuriating obstacle of Republicans cornering swing states Florida and Ohio.
But that's not today.
Today, they have an almost local guy from Vermont in front of them named Bernie Sanders.
A crowd of young New Jersey canvassers, many of them Scarlet Knights, headed for the streets of Manchester.