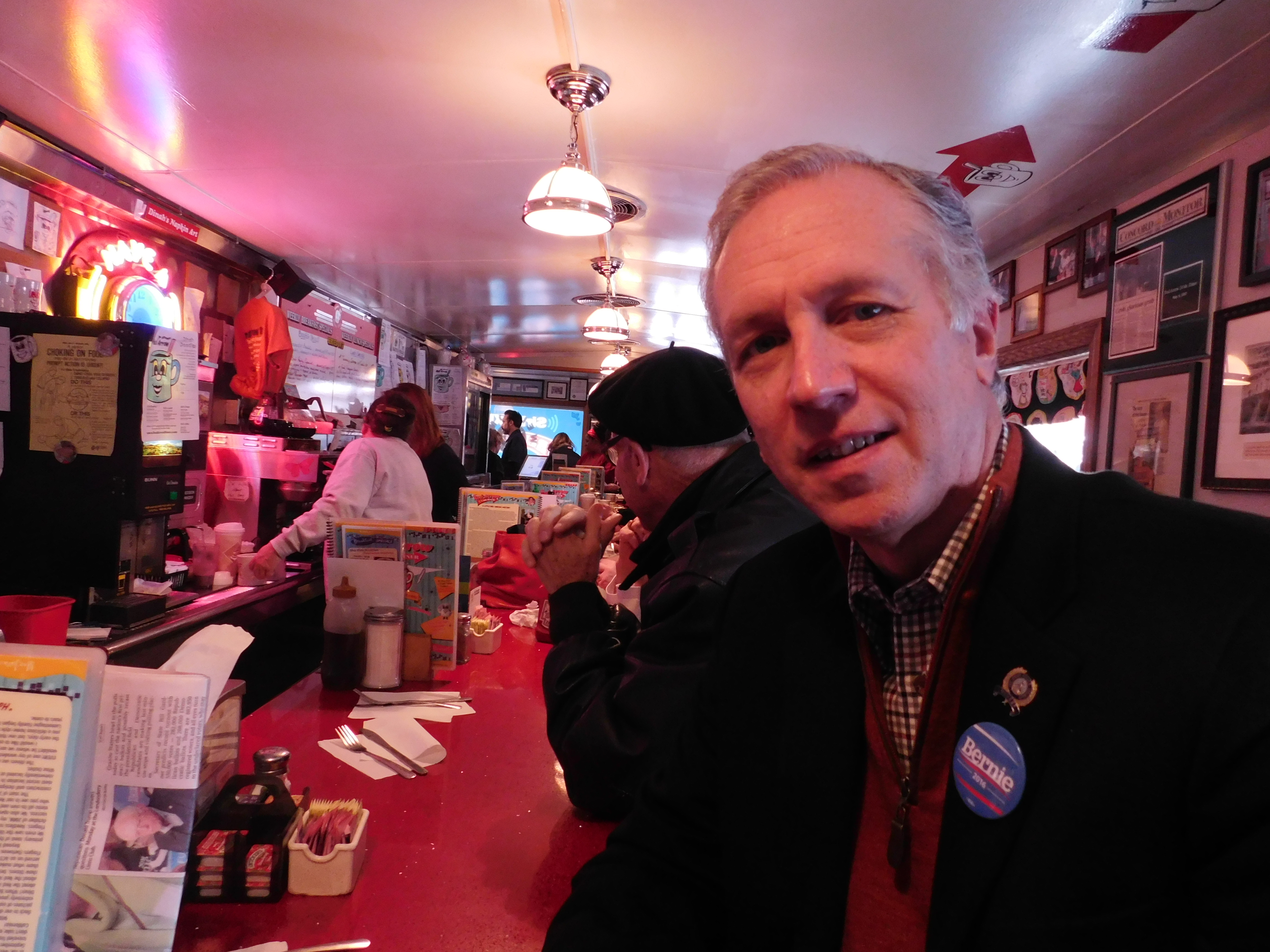 MANCHESTER – The Red Arrow Diner is the quintessential American greasy spoon: circular red bar stools line a red-topped counter, breakfast can be ordered 24 hours a day and rounded metal adorns the building's façade. It is also the unofficial crossroads of the New Hampshire Primary and politicians, voters and media regularly cross over the cramped threshold on the road to primary day.
Assemblyman John Wisniewski (D-19) sat at that red counter on the morning of New Hampshire's first-in-the nation primary. Two plates of breakfast libations—called the "Biporkisan Plate—sat before him.
"Being from New Jersey, you expect diners to be bigger places," Wisniewski said as he cast his glance around the Red Arrow. Standing at the wall behind him was Karen Kasich, the wife of Ohio Governor John Kasich, a GOP presidential hopeful. Her husband was sitting at the front of the diner, in the enclave claimed by SiriusXM Radio for a broadcast.
"They look forward to this, as crazy as the mayhem-infused atmosphere is in this diner," he said.
As New Jersey's Chair for the Bernie Sanders presidential campaign, Wisniewski made a trip to New Hampshire to support the Vermont Senator. He is the only elected official from New Jersey from Bernie's camp. He arrived on Monday, the day before the primary. He plans to leave on Wednesday after what he is sure will be a victory for Sanders.
"The expectation game is so dangerous, but I think he will win," Wisniewski told PolitickerNJ. "There are polls out there that have Senator Sanders at 30 points up and there are polls out there that have him at ten,15 points up. I think he will be somewhere between those but it is hard because those are snapshots in time."
For Wisniewski, his main objective in New Hampshire is to get that margin as high as possible. After his Monday afternoon arrival, the Assemblyman joined volunteers at the Manchester headquarters for phone banking. He also joined volunteers for canvassing and went door-to-door to talk with potential voters about the Senator.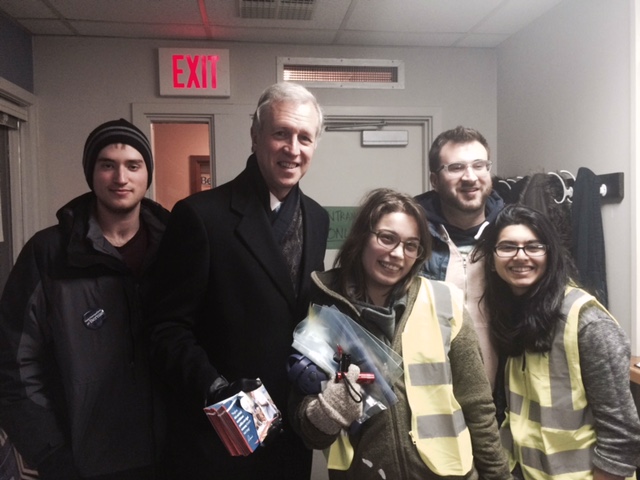 "They were still canvassing at seven o'clock at night which was an unusual experience for me," Wisniewski said. "So I went out canvassing with them and I knocked on a couple of doors."
According to Wisniewski, he is in the "consideration phase" of whether or not he will make a run for New Jersey governor in 2017. There has been considerable speculation that his alliance with Sanders might earn him some favor among New Jersey's progressives, especially as the state grows more discontent with Republican Governor Chris Christie's ongoing presidential run and his continued absence from the State House. Wisniewski is also known for his role as the co-chair of the Bridgegate investigation that he said changed how Trenton reacted to the once highly regarded governor.
"I don't want to say this in a self-serving way, but up until the point of Bridgegate, there were very few people willing to seriously challenge the Governor's narrative," Wisniewski said. "So when he got up in the front of the Assembly chamber and talked about 'The Jersey comeback' that one year, there weren't a lot of voices asking 'What comeback?'"
Wisniewski said that Bridgegate, if nothing else, shows that Christie's managerial skills are lacking in a way that precludes him from being a viable presidential candidate.
"To be able to appoint people to the high office of Deputy Chief of Staff and then say 'I have no idea what they are doing' it is not good," Wisniewski said. "If you can't manage the affairs of the state of New Jersey, how could you pretend to want to manage the state of affairs of the country. I believe that if you are looking for a promotion, you ought to have a resume that sets forth the rationale for that promotion. I will give the Governor high marks on his resume for spin, for aggressiveness. But in actually getting this job done I don't think I could give him better than a 'D' or maybe even worse."
According to Wisniewski, his aspirations to potentially replace Christie in Trenton when the Governor reaches his term limit are not the impetus behind his support of Sanders.
"In the 20 years I have held elected office and all the years I have been actively engaged in politics, Senator Sanders is the first candidate with whom I can say on every single level I agree," Wisniewski said. "There is an ease of my support for him."
Wisnieswki said that, though "2017 is a long way away," much of what he has seen while campaigning for Sanders is not dissimilar from what he has heard in New Jersey.
"People are looking for someone who can talk to them about the problems we face and offer solutions to them that make New Jersey more affordable," the assemblyman said. "When we look at the record our governor has amassed over his six plus years in office, property taxes are up, aid to education is down, the unemployment rate in New Jersey still lags behind nearby states, we are not investing in infrastructure and people are concerned about what that means for the future."
During his presidential campaign, Senator Sanders has made his distrust of big banks like Goldman Sachs and the campaign contributions those institutions often make a hallmark of his platform. Two of Wisniewski's possible opponents are Goldman Sachs alums: Jersey City Mayor Steven Fulop (a bond trader) and former ambassador to Germany Phil Murphy (a longtime Goldman executive).
"They each have sets of skills that they are very proud of and the nuances of working for Goldman Sachs, being an ambassador, being a mayor, we will have to let those work themselves out," Wisniewski said. "I am very comfortable with my history. I think it gives me a good foundation, should I become a candidate."
With the clock ticking and the whirlwind of New Hampshire politics at it's apex, Wisniewski said that the grassroots nature of the Sanders campaign is resonating with people.
"Isn't that how the process is supposed to be?" said Wisniewski about the grassroots nature of Sanders' effort. "Let's take away the issues with the bank, let's take away the issue with the minimum wage, let's take away all those issues. I think one of the things that is most attractive about Senator Sanders is that people at the grassroots level are saying 'I like this candidate and I like what he stands for' and they can have an impact on the race."
The average campaign contribution made to Senator Sanders is $27, something he has been wont to repeat on the campaign trail. According to Wisniewski, that fact is changing perceptions of how campaigns are funded nationwide.
"Five dollar contributions can fuel a race," Wisniewski. "There is a notion, and it is not just national, it is in New Jersey, that if you are not wealthy, or you don't have very wealthy friends that you ought not apply for higher office because you just can't do it."
Looking ahead, Wisniewski said that, though polls are putting Sanders behind former Secretary of State Hillary Clinton in the South, there is still time to bring the grassroots effort that brought Sanders to a double-digit lead in the New Hampshire polls to later primary locations. Wisniewski said he is not yet sure if he will travel to other states but hopes to make it work around his professional and legislative responsibilities in New Jersey. He said he "wants to be as helpful to the senator as possible."
"For all the candidates that are in the race that have not run before, their focus has had to be on Iowa and New Hampshire and then Nevada and South Carolina," Wisniewski said. "Those people who say Secretary Clinton is doing better in South Carolina, well, she has run for president in South Carolina before. And her last name happens to be Clinton so her husband ran for president in South Carolina before."
But, at least until the polls close Tuesday, Wisniewski said the focus is squarely on New Hampshire.
"This is a process that is an incredibly intense vetting process for candidates," he said. "It is a very hand-to-hand political process where candidates like John Kasich go into a diner and talk to you and you go to a bar and you see TV hosts having dinner. It is an amazing, compact process that you don't see anywhere else."
As he prepared to head out to continue advocating for Sanders, Wisniewski made his way through the narrow path that separated the counter from the wall. He shook hands with one Bernie supporter who, like Wisniewski, was certain that the primary would bode well for Sanders. As he introduced himself, the woman said she recognized the name, but couldn't quite place him. He told her he was the lead investigator during Bridgegate.