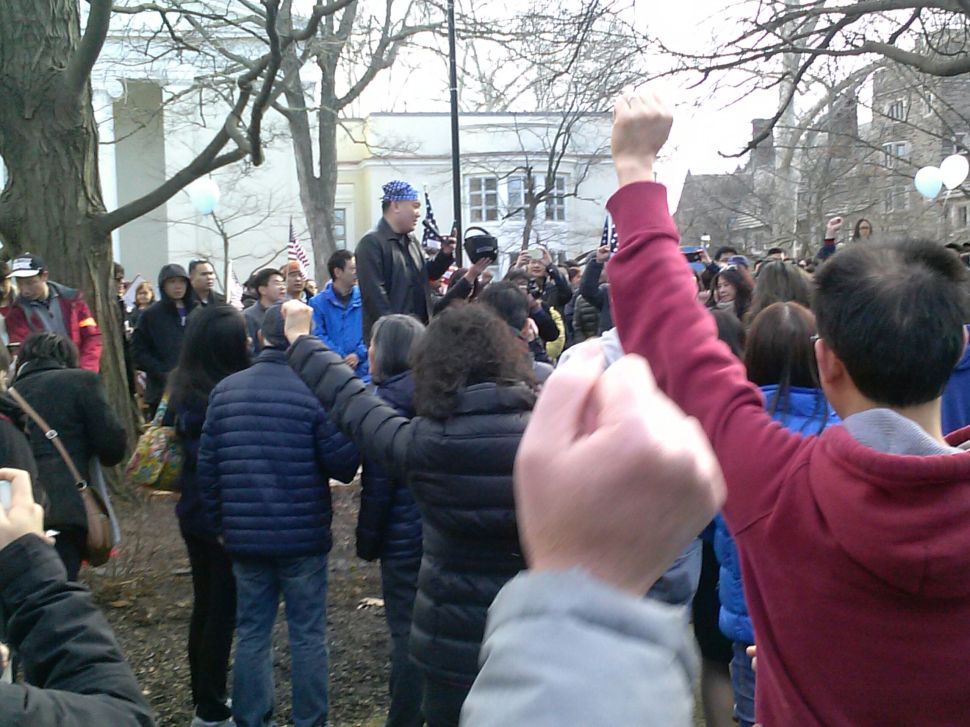 PRINCETON – Interlocking with protests elsewhere this afternoon in the tri-state area, Chinese Americans today flooded the downtown business district of this university market town in a show of outrage over the manslaughter conviction in New York Police Department Officer Peter Liang.
Against the backdrop of shocking displays of police brutality resulting in the killings of people in police custody, the convicted officer's supporters maintain that the department is scapegoating him in what they argue is the accidental death of 28-year-old Akai Gurley, who died as a consequence of a ricocheting bullet fired from Liang's gun in November 2014.
"If our community continues to be silent, the names may change, the circumstances may vary, but one day the same tragedy may come to one of us," said activist Yiguang Ju. "Why do these tragedies repeat so often? It is because our policing and justice systems are failing. it is because we have a large inequality of living. In 2004, a similar tragedy happened in the same area. Unarmed Timothy Stansbury, Jr., was killed by an NYPD officer. The grand jury declined to indict the officer.
"Just one year ago, Eric Garner was killed by and NYPD officer's chokehold while pleading, 'I can't breathe" 11 times. The grand jury again decided not to indict," Ju added. "These unjustifiable deaths and police power abuses fragment our society and fan the flames of mistrust in our police and justice systems."
Ju and his backers argue that the PD improperly assigned rookie cop Liang to night patrol in a dangerous housing project, where a sound caused his gun to accidentally discharge.
"This time, by selective prosecution, Liang was convicted of 'reckless' manslaughter," Ju said. "In NY law, 'reckless' implies that he was 'aware' of and consciously discharging a substantial and unjustifiable risk. In fact, Liang did not even know Akai Gurley was there. Obviously the conviction of reckless manslaughter is not supported by any reasonable and fair examination of the evidence and the environment."
For more on the case in the larger context of today's coordinating protests beyond Princeton, go here.