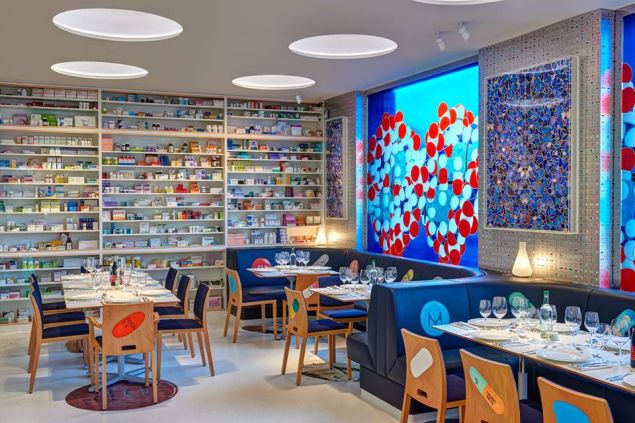 Here's a look inside Damien Hirst's new restaurant with British chef Mark Hix, Pharmacy2, which opens to the public February 23 but is already accepting reservations. The eatery will be housed inside Mr. Hirst's $38 million London Museum, the Newport Steet Gallery, and is lavishly decorated with works by the artist.
Pace Gallery will open its third space in Manhattan's Chelsea neighborhood (fourth in New York) at 537 West 24th Street, which once housed Hasted Kraeutler gallery. The first exhibition at the 24th Street location will be a survey of works by artist Tim Hawkinson, set to open February 26.
Paris' controversial prostitution-themed exhibition "Splendour and Misery: Pictures of Prostitution, 1850-1910" at the Musée d'Orsay will travel to the Van Gogh Museum in Amsterdam and open to the public under the new titled ""Easy Virtue" on February 19. The second iteration of the show—which drew ire from French critics and inspired nude performance art while in Paris—will feature over 100 artworks from artists such as Manet, Picasso and Toulouse-Lautrec, as well as include "unusual objects" like a 19th century bed.
Italy and the UNESCO signed an accord in Rome on Tuesday to create a special Italian task force called the Peacekeepers of Culture and establish a center in Turin for truanting cultural heritage experts.
Jesus Angel Bergantinos Diaz, a businessman accused of taking part in the Knoedler fakes scandal, will be extradited to the United States to face charges in New York. Mr. Bergatinos Diaz's brother is also facing charges in the same case, but has asked to be tried in Spain.
The Seattle Art Fair has named Los Angeles-based curator and writer Laura Fried as its first ever artistic director. Ms. Fried is tasked with developing a "comprehensive curatorial vision" for the fair, as well as overseeing all on-site and off-site installations and programming.
The South Street Seaport Museum was badly damaged by Hurricane Sandy in 2012, but now it prepares to open its first exhibition since it closed after the storm. The show "Street of Ships: The Port and Its People" opens March 16 and will showcase works from the museum's collections about the city's history as a major shipping port.