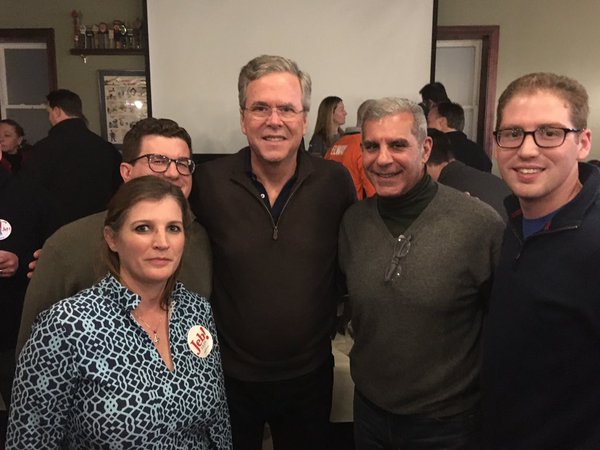 MANCHESTER – A guy in an elf hat watched the car pull in and shook his head grinning as he stared at the license plate.
The driver's side door slammed and PolitickerNJ alighted on the country club parking lot.
"Your governor sure beat up Rubio last night," said the man, still standing there with his back bent and eyes affixed, as he perhaps pondered the irreconcilability of the words "Garden State" and his New England-infused perception of New Jersey.
Christie v. Rubio.
That was the talk all day at events statewide on Sunday.
"I don't want to be here," a secret service agent said at a Bernie Sanders rally in Portsmouth. "I just want to get out of here to watch the Super Bowl." But other faces in the crowd at that moment transmitted fervor for nothing other than the game at hand: the political presidential game; and in that contest, Christie was scoring.
So was Sanders, incidentally; Sanders, whose rally bore the low murmur of conquering army confidence, a hard contrast in the same bleachers-crammed gym that a day earlier had featured Sanders's Democratic Party rival, Hillary Clinton, addressing a much smaller crowd.
They hadn't pulled out the bleachers for Clinton.
Sanders was standing room only.
But even at Sanders, talk invariably turned to Christie – and without provocation by PolitickerNJ.
The general consensus was that Christie had taken Rubio apart in the debate in Manchester, the last one before Tuesday's primary, and perhaps – again – renewed a campaign that if nothing else continues to generate headlines on the basis of the New Jersey governor's competitiveness and combativeness.
Sinking in the polls as Rubio rose, had Christie done enough damage over the course of time since last Monday's caucuses in Iowa to drag Rubio down with him to the lower depths? Was it the kind of political assassination that would require Jeb Bush – he of the unlimited bank account and a commitment to carry on into Super Tuesday – to make him attorney general? Or had Christie – who apparently has spent more time constructing a New Hampshire organization than any other candidate – in fact revived his own presidential fortunes?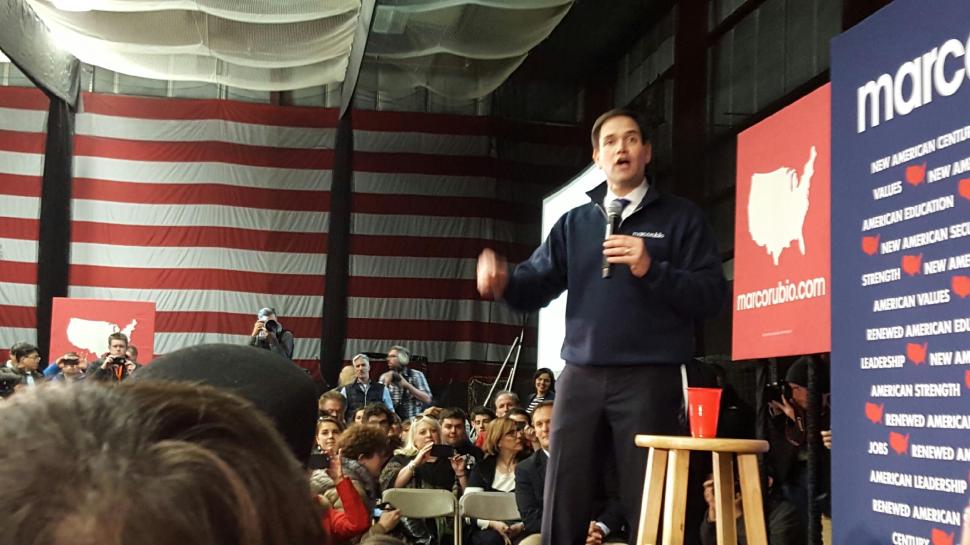 "None of the candidates is normal," a Portsmouth woman in a  threadbare jacket opined in the freezing cold outside Clinton's event on Saturday night.
"None normal – except for Chris Christie," she said, without a trace of irony.
Coming out of Iowa, Florida Senator Marco Rubio appeared to be the Republican establishment's sole hope of putting up a candidate not named Ted Cruz or Donald Trump, one and two in Iowa respectively; two hate-spewing demagogues, by GOP inner sanctum reckoning, and both of whom too far off the reservation to be trusted. Panic ensued. With Jeb Bush tanking horrifically, Rubio looked like the guy.
He had beaten up Bush weeks ago when the two occupied podiums next to each other on a debate stage. The acolyte had made the master look small and ill-prepared and like the last person Republicans would want sitting across a table from Vladmir Putin. If Rubio – a former Bush student – could tear him apart, how could Jeb handle Germany's Angela Merkel, let alone Vlad?
All over western New Hampshire's roads and highways, big red signs crowd out the littler ones bearing, apparently lesser names, proudly visible at key intersections: Jeb! Jeb! Jeb! Jeb! Jeb! Jeb! Jeb! Jeb! Jeb! Jeb! Jeb! Jeb! Jeb! Jeb! Jeb! Jeb! Jeb! Jeb! Jeb!
Of course, it's the essence of politics to take a candidate's weakness and assert the opposite quality about him as the thing that best defines him. It's that dynamic that causes Bernie Sanders people, for example, to stand amid a sea of white faces and passionately make the argument to you that their candidate draws "diverse" crowds. It's why Clinton people insist on buttonholing you in dive bars in downtown Manchester with heads face down all around and make the case for Hillary's "energy." It's why Trump people talk about their "reasonable" candidate.
And it's why Bush's handlers, obviously stung by Rubio's dreadful manners, and Trump's unforgettable put down, "Yeah, Jeb, you're a tough guy," who when reaching for a number one adjective to put on that Jeb! sign, naturally went with "tough."
Jeb!
Tough. Tested. Ready. 
But New Hampshire embraces that idiotic political oratory with a sense of humor and a die-hard belief that in this state, the ruggedly independent people who occupy the hills up here will ferret out the phonies. If they don't pick the winner – and they frequently don't – remember, they went with McCain over Bush, Clinton over Obama, Buchanan over Bush, Tsongas over Clinton – they will at least expose something about the people here that will emerge as a major factor later.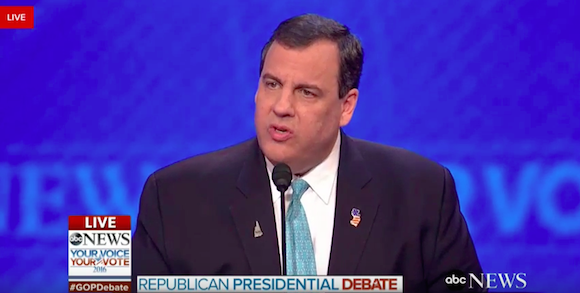 This time it was Christie who did the bulk of that grunt work, essential to the process here. In the ultimate reach-out-and-touch-you politics state, Christie – in jeopardy again post Iowa and post-mop gaffe, if the polls are to be believed, of irrelevance in the political process – heard what others heard and saw what others saw under the exciting and surging young senator from Florida.
It wasn't hard to pinpoint.
Ever since Iowa, the pro-Rube line has been some variation on what former Pa. Senator Rick Santorum offered in defense of Rubio on a New Hampshire radio program last night during the Super Bowl.
"He's experienced," Santorum asserted.
Over and over and over again.
"Marco's experience…"
So quick, what does that say about Rubio?
His ego perhaps still tortured by his humiliating loss in Iowa last week four years after having improbably won there, maybe privately agonizing over getting more air time as a Rubio surrogate than he did as a 2016 candidate, and yet unable to resist the chance to be heard, Santorum stumbled through the radio interview.
Rubio not sufficiently experienced?
"Heck, he's got six years in the U.S. Senate," noted the Pennsylvanian, himself obviously a former senator.
Of course, that's relevant experience.
Moments later, Santorum, with none of the stampeding pep in Christie's voice as he ran over Rubio Saturday night, complained that with Harry Reid and Democrats in charge of the U.S. Senate, it's been impossible for Rubio to get anything done.
So New Hampshire was already onto this Rubio problem, and Christie simply pounced on it with both feet and kicked it into play to considerable applause. He busted through the slogans and newspeak and dredged an immature-looking and wriggling Rubio up for everyone in New Hampshire – and now the country – to  reexamine publicly.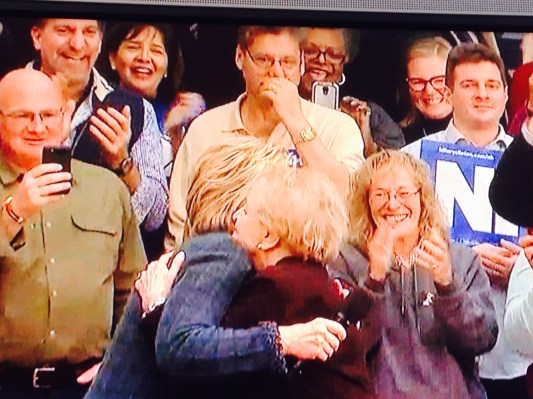 Live Free or Die guys love that kind of moment.
If slickness and over-packaging and lack of experience ultimately prove to be Rubio's undoing, that all will have first gotten exposed here, or so runs the Granite State logic of their politics. Outside his Super Bowl party last night in Manchester, a small crowd held signs aloft warning anyone who walked by of the hazards of picking Rubio: "Obama 2.0." PolitickerNJ scanned the scarf-wrapped faces to see if anyone looked familiar, but couldn't immediately identify anyone from Matawan or Tenafly.
The latest polls – including one released today by Monmouth University – showed Rubio flickering in close to second place, but tied with his old pal Bush and a digit behind Ohio Governor John Kasich.
Bush?
"A relative of his knocked on my door the other day, canvassing for Jeb," a woman told PolitickerNJ at the Sanders rally.
"The nicest young man," she added.
Evidently it wasn't W. on that campaign detail.
According to pollster/political scientist Patrick Murray, "Donald Trump earns 30% support from voters likely to participate in Tuesday's Republican primary. He currently leads all other candidates by double digits, while four candidates vie for second place – John Kasich (14%), Marco Rubio (13%), Jeb Bush (13%), and Ted Cruz (12%).  Other candidates receive single digit support, including Chris Christie (6%), Carly Fiorina (5%), and Ben Carson (4%).  For most of these candidates, support levels are basically unchanged from Monmouth's New Hampshire poll last month.  The one exception is Bush, who has gained 9 points since January.  Again, it is important to remember that the vast majority of interviews for this poll were conducted before last night's GOP debate."
Jeb!
Jeb!
Jeb!
Jeb!
Jeb!
Was it really possible that the former Florida governor who pleaded with an audience to "please clap" could actually be gaining traction in Granite land?
"Volatility is the name of the game in 2016's first primary contest, just as it was in the first caucus state last week. While Trump's placement as the top finisher seems fairly secure at this point, the margin of victory and final order of the remaining candidates are still very much up for grabs," said Murray.
As for the Democrats, Clinton has picked up on Sanders, but she's still behind by double digits.
The Vermont senator currently holds a 52% to 42% lead over Clinton in New Hampshire's Democratic primary.
"This is a slightly tighter contest than the 53% to 39% lead Sanders held in Monmouth's January poll," said Murray. "Now that it is effectively a two person race – despite the fact that 28 names appear on Tuesday's ballot – since Martin O'Malley dropped out of the race, the number of likely voters who do not lean toward any candidate has gone up to 6% from 2% last month."
If the Republican fight for second place is "more exciting than anything else I've seen as a resident here of 30 years," according to one New Hampshire resident, Sanders's dominance over Clinton in New Hampshire is unmistakable.
Sanders has the look and feel of a grassroots progressive movement.
Doubt it?
A day earlier, a trio of establishment types used the word "progressive" no fewer than 20 times onstage to describe Clinton, who proceeded to radiate commander-in-chief vibes without diving in any gritty way into the deep disruptions within the daily modern lives of working Americans.
That's where Sanders – the Trammps' "Burn, Baby Burn" disco classic sounding through speakers at his "Feel the Bern" rally – lives and breathes.
"We need a political revolution," said the 74-year old on Sunday afternoon, grinning and shucking off his sports jacket and flinging it into the choir of young faces propped up behind behind him for the cameras to offset the age of their leader.
"You don't bring about change when people don't participate because they know that the people who hold office are too busy to pay attention; too busy raising money for super PACs," he said. One tenth of one percent possesses the country's wealth while ordinary Americans labor longer hours, 20 million of them without healthcare.
"When Wall Street crashed, you bailed them out," the candidate told the crowd. "Now it's time for them to bail you out. …I say to the Walton family [Wal-Mart], get off welfare and pay workers a living wage."
Trying to saw into Clinton's ready on day one story line, Sanders reminded his supporters that he opposed the Iraq War Resolution, which his opponent backed. He also voted against trade agreements similarly resisted by the AFL-CIO that Clinton's husband rammed in the 1990s: NAFTA and CAFTA.
What Sanders can do after New Hampshire in places like South Carolina remains a question mark. Clinton's backers are confident. But here, the Vermont senator has forced his way into the Republican narrative, the same way Christie keeps buffaloing himself into Democratic Party conversations.
"I fear Bernie more than Hillary," a young Massachusetts Republican told PolitickerNJ at Rubio's Super Bowl party.
Onstage, Rubio had fun with Sanders.
"We need free enterprise, not socialism, which is what Bernie Sanders wants," the senator said to jeers.
"He's a nice guy, Bernie," Rubio added, "and he's a socialist."
Reinforced jeers rained.
In the face of a mobilized grassroots army, will Clinton's establishment force field hold?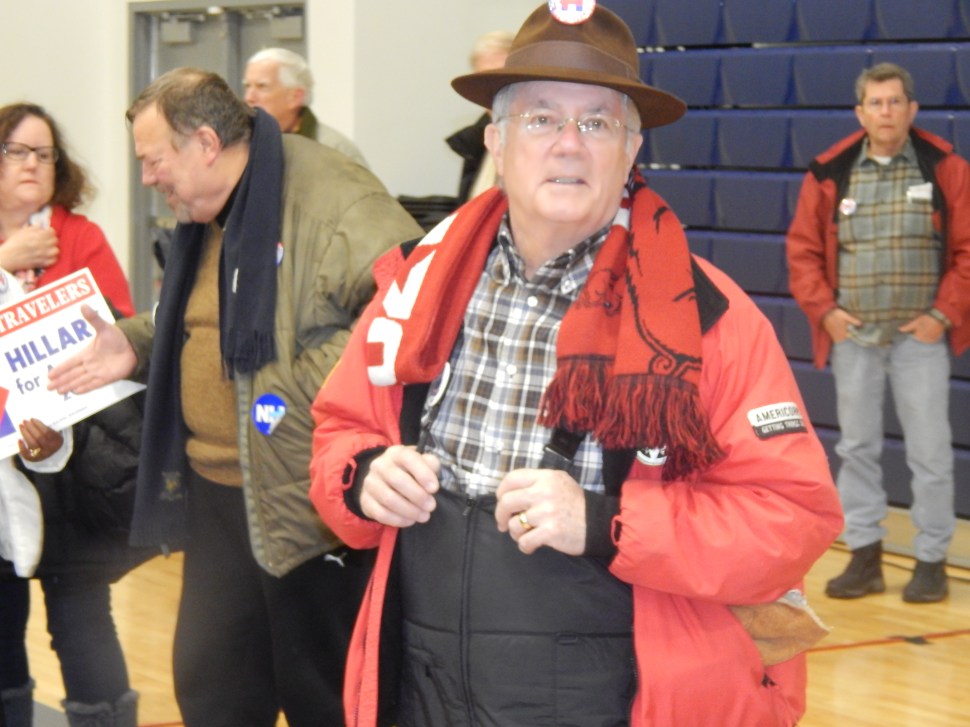 At her event on Saturday night, a quarter of the audience consisted of old pals from Arkansas, a presence that on the one hand demonstrated her lack of appeal to new voters and a troubling sign. But on the other, it showed her strength – the ability to maintain lasting relationships over a political lifetime.
"I knew Hillary when she was first lady," a man with a strong southern drawl boasted to PolitickerNJ on the line to the men's room.
What would possess someone to come all the way from Arkansas to the arctic north for another human being who wasn't the object of a tormented love affair or a blood relative?
"I'm loyal," the man explained.
So is U.S. Rep. Bill Pascrell (D-9), the 79-year old congressman from Paterson who trooped up to Manchester on Saturday and emphatically made the case for her.
The Clintons were there for him when he needed them. In 2012, in that brutal Democratic Party Primary in CD9 that threatened to snuff out Pascrell's political career, the former president cut robocalls and radio ads and, heading down the wire to Election Day, came to Paterson and stood onstage with Pascrell.
Now Pascrell in snow boots and windbreaker campaigned for Clinton.
As for who he fears in the oval office more than others on the other side.
He ticked off the names on one hand.
"I fear Cruz most, followed by Trump, followed by Christie," he said.
Pressed on why he doesn't want Christie, Pascrell said he doesn't trust a man who can look in the faces of the people who elect him and not tell the truth.
This weekend, however, Christie, in an unlikely role, at least according to the congressman's standard, was that truth-teller, New Hampshire style, when it came to Rubio. Democrats talked openly already about their terror of Rubio in a general election. Even Pascrell mentioned with a tinge of dread the possibility of a Rubio-John Kasich ticket. Tough. Very tough. Regionally tough for his candidate.
By the time New Hamsphire was over Tuesday night, could it be that Pascrell's third worst nightmare, Christie, could spare him the arguably worse agony of having to watch Clinton face Rubio? Or did Christie, as Granite State voters explain is their specialty, expose Rubio in time for Republicans to correct again and calibrate the right candidate to beat a Democrat come November?
Trying to demolish Rubio now by nibbling ferociously on his obvious Achilles Heel, was Christie again inserting himself – even if his own lifespan as a candidate was finished in this contest and his best option attack dog frenzy for the hardly perfect but arguably electable and establishment-powerful Jeb Bush – in heartbreaking payback fashion to Democrats?
Or was the anti-establishment wing of both parties – epitomized by the New Hampshire leads and fiery energy of Trump and Sanders – sufficiently strong to render those old rivalries between people like Christie and Pascrell and Bush and Clinton something closer to a last gasp amid these hard, snow covered rocks?