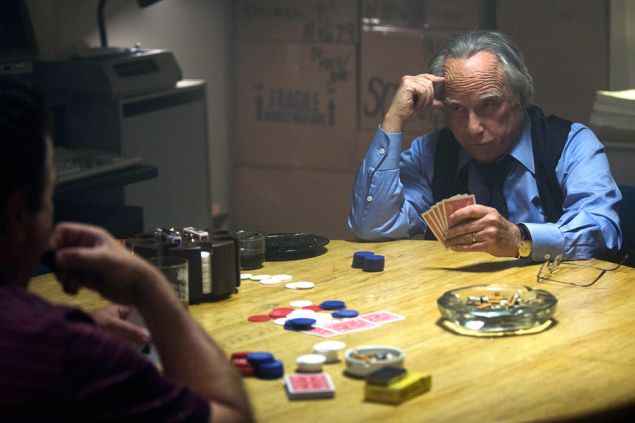 Everybody hates Bernie Madoff, and if last week you watched the ABC mini-series Madoff, starring the amazing Richard Dreyfuss, it was an opportunity to hate the Ponzi-schemer all over again.
In voiceover, Dreyfuss' "Bernie" explained the whys and hows of sucking people in, gaining their trust, and eventually screwing them over.
The behavior he exhibited was not only relatively basic, but oddly familiar, not because I ever met the convicted felon or deal with hedge funders who act that way, but because I started to recognize the tricks of Bernie's trade in how restaurants, stores, private schools, private clubs, even some parents, operate.
Here's how Madoffisms play out day-to-day:
"Present it as an exclusive thing."
Not everyone could invest with the former NASDAQ chairman. Just like not everyone gets into private school or receives  emails to the VIP sale at Bergdorf's. But people try, because we want to feel chosen. Restaurants seem notorious for this; they get patrons by telling them, they can't eat there.
Remember when The Waverly Inn reopened and it didn't take reservations? The only ones who could eat there were friends of owner Graydon Carter. Each day, Page 6 had a laundry list of celebs who were breaking bread at the Greenwich Village eatery. This, of course, made people apoplectic and put them on a mission to see if they knew someone who knew someone who knew the Vanity Fair editor to get in.
"Make them sweat, and then [say], 'I'm gonna make an exception.'"
By the time The Waverly Inn lifted the ban on regular folks, and my husband Neil, daughter Meg and I could dine there in time for the Christmas holiday, even though we had a lovely time, psychologically I felt as though I'd missed the boat; believing perhaps my meal would have tasted better if it had been with Gwyneth Paltrow at the next table.
"Trust is the basis of any long-term relationship."
Bernie gave clients an out: "If you don't like the way I do it, come up here, I'll write you a check;" something he never had to do because just hearing him offer gave investors a sense of security. I fell for this once or twice when dealing with my children's schools. No one enters a school thinking that it's not for the long haul. We need to believe that the place we send our children everyday is safe and that the staff will do right by them. There were times when I didn't think Meg or my son, Luke, were assigned the right teacher, or that a particular group of kids they were grouped with for reading were compatible. Discussing this with the admin led to a conciliatory look with the artful chaser: "We'll do whatever you want, but…I wish you believed that we knew what we were doing." And with that I'd acquiesce because our family was going to be there for years, and I needed desperately to believe in their expertise. My list of regrets in this area is short, but painful nonetheless, because I put my trust in an educator here and there who was not worthy of it.
"I don't pitch."
Bernie's clients did it for him, creating a feeding frenzy to get into his fund.
Ever apply to private nursery school for your child? Before one open house is even attended, the rumors and innuendos in the parent community swell: claims of inside info about how few spots there are; stories about someone who knows a family who had a recommendation from a muckety muck and even they didn't get in; and then there are the thousands forked over to consultants to help with application preparation. "If we don't get in, I'll just die," I once heard a mother say; and you know what? I believed her.
"The gold standard in seduction: the moment your client starts to think that he's the one getting one over on you."
I snagged the last pair. There was one left and I got it. I've said these phrases about Broadway show tickets, designer shoes, and, when my kids were little, everything from Pokemon cards to Beanie Babies, only to be proven wrong. I bought into what playwright Douglas Carter Beane called in As Bees In Honey Drown, "the hum, the hype, the buzz." I can't count the number of times an ad for an event screamed "sold out," yet when I called there were miraculously two tickets available. The high from my beat-the-system score gave way to confusion cum embarrassment when there seemed to be a number of empty seats to be had.
Bernie may be gone for 150 years, but the Madoff way of doing business is here to stay.
Lorraine Duffy Merkl is the author of the novels FAT CHICK and BACK TO WORK SHE GOES.