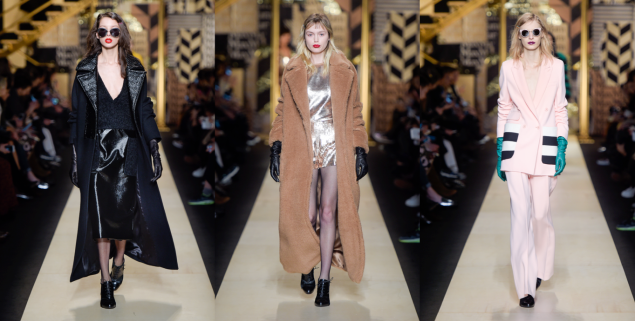 While most of the pop culture-consuming world had their eyes on Hollywood this past weekend for an orgy of Oscar events, the fashion flock was still busy traipsing about Europe. Sandwiched between the youthful and experimental vibe of London and the rigid guidelines of mode in Paris, Milan remains a major nucleus of style. It's home to mega fashion brands: Giorgio Armani, Versace, Dolce & Gabbana, Fendi, Prada, and more. But despite their corporate structures, these massive labels still retain a sense of creative playfulness.
Perhaps it has to do with the Italian confidence and their romantic embrace, but the collections that hit the runways during Milan Fashion Week, contained this bold sense of certainty. The brands here know what they excel at and when they focus their resources on that concept, the outcome is outstanding. For example, coating at Max Mara was beyond effective this season. Notorious for their iconic camel hair coat, creative director Ian Griffiths pushed further, rolling out patent leather slickers and fuzzy, teddy bear coats. Even the color pairings were vibrant: a light pink suit with black and white striped pockets was given an extra pop of color, thanks to turquoise leather gloves.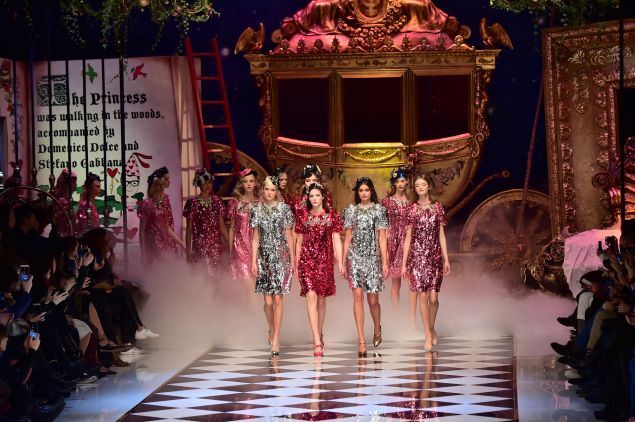 Dolce & Gabbana rolled out nearly 100 looks inspired by fairy tales, none of which were expected or boring in any sense. There were nods to Alice in Wonderland and an apple-printed frock in reference to Sleeping Beauty, each creation more fanciful than the last. Of course the finale was the most decorous; a parade of pink and silver sequined frocks stormed the runway, each of which was befitting of a modern day, iPhone-wielding princess.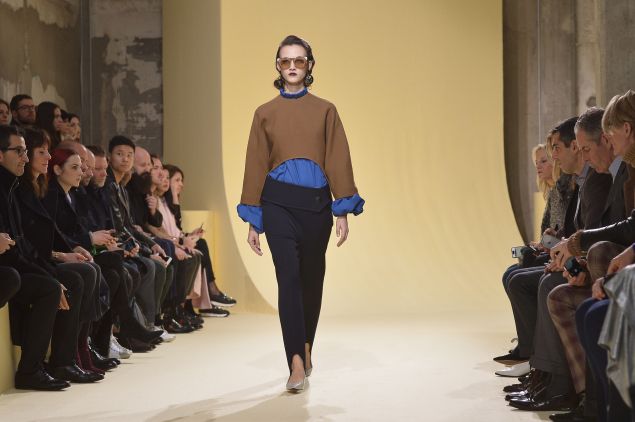 Color, texture and bold silhouettes have always been a trademark of Marni, but those details were particularly prominent this season. Consuelo Castiglioni's range was carefully (and smartly) edited down to 38 looks, each of which was poignant and effective. Oversized paillettes danced across boatneck tops and an ikat print was scribbled down the front of a herringbone jacket. But it was the lines in the collection that deserve the most attention. Ballooned sleeves in black added necessary weight to an abstract dress. High-waisted wool pants and skirts were delivered with cargo pockets and a matching oversized belt that must have measured at least five inches wide. And a curved hem cut through the bottom of skirts, tops and even a green fur poncho, allowing for a peek-a-boo effect.
At Ports 1961, creative director Natasa Cagalj offered up an attempt at deconstructed suiting. With influences of the '80s, '90s and Helmut Lang, slashed blazers and loose-fitting trousers had an electric zing to them. When paired with flat white sneakers or sock-like grey heels, the whole range felt new, fresh, exciting; words that aren't often associated with work appropriate separates.
For the Fall/Winter 2016 season, the sex appeal was turned way down. Even the usually sultry Peter Dundas substituted skimpy hemlines for fur coats and replaced mini dresses with velvet flares at Roberto Cavalli. His getups read like a wardrobe for the modern, moneyed hippie. After all, who else can pull off a silver lurex suit with a cropped bolero jacket, finished off with a denim shirt and a long purple velvet scarf?
Artfully styled layers stole the show at DSquared2, where Dean and Dan Caten named samurai and Victoriana as influences. Those themes were deftly delivered through patchwork fur coats, but the jodhpur pant was easily the champion of this show. In navy wool, khaki and camo print, it played well with tasseled sandals and layers of lace shirts.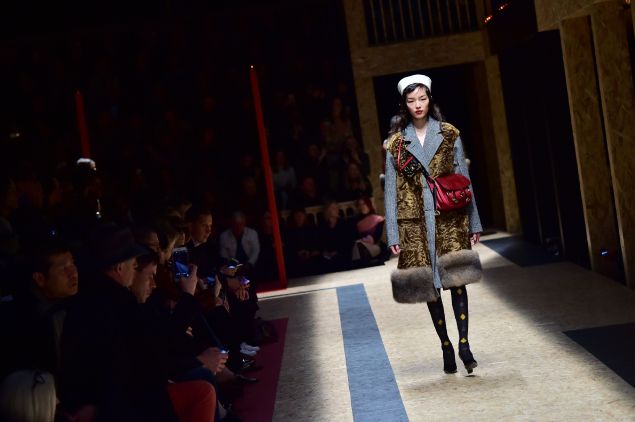 Also laying it on thick, in the literal sense, was Miuccia Prada. She may have used knit argyle tights as pants, but on top of that she piled hibiscus-print shirts, knit corsets and fur-trimmed leather jackets. An anorak with a vintage ski pattern played off of a blue and gold brocade skirt, while velvet dresses shared space with knit gloves. Layers upon layers of outdoor gear, in nylon and quilted canvas appeared to be surprisingly stylish. There was so much to look at in the collection, from sailor hats perched atop messy heads of hair to a collection of keys dangling from a necklace and even tiny books swinging from leather belts. Ms. Prada urges her customer to think about her creations as more than just clothing; the Prada shopper is complex and multifaceted, just like the modern woman. And what better way to celebrate that then to just embrace it?